Priyanka Chopra Celebrated The Fourth Of July With All Of The Jonas Brothers & It's Pretty Sweet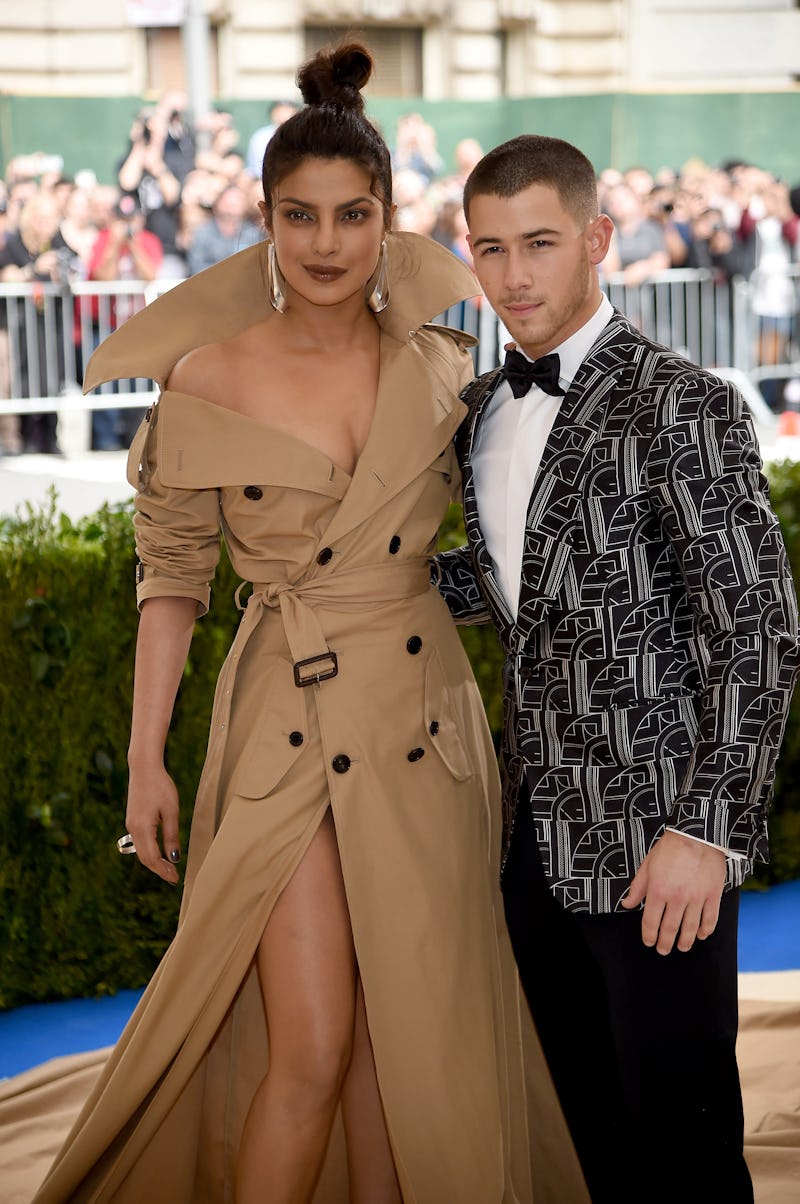 Dimitrios Kambouris/Getty Images Entertainment/Getty Images
Priyanka Chopra and Nick Jonas' relationship keeps moving forward. Priyanka Chopra and Nick Jonas spent the Fourth of July together, and it wasn't a couples' holiday alone, either. The two of them hung out with all the Jonas brothers, as well as Joe Jonas' fiancée, Game of Thrones actor Sophie Turner.
E! News shared photos of Nick and Joe Jonas, Chopra, and Turner riding Citi bikes through New York City on Wednesday. The outlet reported that after the biking, the two couples watched the July 4 fireworks with the Jonas clan, including Kevin Jonas, wife Danielle Jonas, and their kids, Alena Jonas and Valentina Jonas. Nick also shared an Instagram photo of all four Jonas brothers, including Frankie Jonas. "Brothers. The tradition continues," he captioned the post.
Jonas didn't post any pictures of himself and Chopra together, but it sounds like they had a great holiday in the city. Chopra also shared a video of two young girls waving American flags on her own Instagram story. The children's backs are to the camera, but they might be Nick Jonas' two nieces. Chopra didn't share any photos of her and Jonas together, either, but E! News' photos of the couple show how happy they were on Wednesday.
Spending the holiday with Jonas' family is only the latest relationship step for the two of them. Jonas and Chopra recently visited India together and attended a pre-engagement party for two of her friends. Jonas also reportedly met Chopra's mom during the trip. And this wasn't the first time Chopra met Jonas' family, either — she reportedly went with Jonas to his cousin's wedding in New Jersey last month.
Reports that Chopra and Jonas are dating only started in May, but it looks like things are moving pretty quickly for the couple. Chopra and Jonas became Instagram official in June, when Jonas shared a sweet video of his boo in an Instagram story. In the clip, Chopra is walking toward Jonas, and he captioned it "Her," adding a heart-eyes emoji for good measure. And since then, some fans have speculated that Jonas and Chopra may be getting engaged soon. (Do what you will with Page Six's report that Chopra and Jonas wore matching gold rings during their Fourth of July biking excursion.) While that's all just theory for now, it's safe to say their relationship is on pretty great terms.
Chopra and Jonas appear to have met before the 2017 Met Gala, which they attended together, though Chopra insisted that they were just friends at the time. She told Jimmy Kimmel in 2017 that the two of them went to the event together because they were both wearing Ralph Lauren. Since then, though, it looks like their relationship has blossomed quite a bit.
In addition to meeting each other's families, Chopra has also shown support for Jonas' music career. Chopra went to a Nick Jonas concert in Brazil on Saturday night, and she shared a clip from the show on her Instagram story. Mirroring Jonas' story about their relationship, Chopra captioned the video "Him," also adding the heart-eye emoji.
Jonas and Chopra don't seem to be rushing into anything, but it looks like they want each other to be a significant part of their lives, including getting to know each other's families. The Fourth of July is America's most patriotic holiday, so it makes sense for them to spend it with Jonas' family. But it wouldn't be a surprise if they spent a different holiday with Chopra's family in the coming months, too — it looks like the two of them are sticking together for the foreseeable future.