Royal Life Could Change Meghan's Friendships In This Way & It's Actually So Sad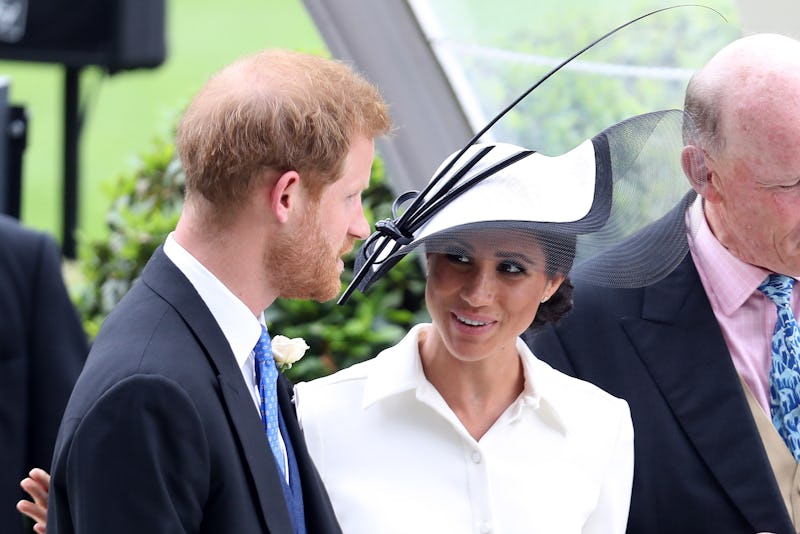 Chris Jackson/Getty Images Entertainment/Getty Images
It seems like not a day goes by without someone offering Meghan Markle unsolicited advice on how to be a Royal. Whether it's the press and Twitter commentators discussing her latest supposed break in Royal protocol, or Royal fashion experts offering their take on every outfit. This time someone new has added their voice to the chorus, and they're a royal too. Princess Marie of Chantal reportedly told Paris Match that Meghan Markle will have to drop her famous friends now that she's a Duchess.
Marie, who is the wife of Greece's Crown Prince Pavlos, the son of King Constantine II of Greece, did have some positive things to say about our newest Royal. She said she "cannot wait to see how Meghan's role will evolve. I am sure she will have the support of everyone to succeed."
That seems fair to me, except then Marie went on to give Megan some advice about who she should be hanging around with now she's a fully-fledged Windsor. "She will have to move away from the world of celebrities, and Hollywood, to quietly join that of other stars: the Royal Family. She is lucky to have a modern and sensitive man at her side. Harry will be there to guide her."
Wait a minute, why exactly does Markle need to leave her celebrity pals in the past? I can't help but feel that all this emphasis on Meghan's celebrity background serves to suggest her previous life as a successful actress is somehow at odds with her new life as a Royal. It's far from the first time an actress has married into a Royal Family, and while actresses usually have to give up their career, (which seems a real shame if you ask me, but it's their choice after all), there's no reason their friends should have to go too.
Perhaps they do things differently in the Greek Royal Family, but in the UK celebrity pals are almost a big a part of the job as curtseying, hand-shaking and soldiers wearing weird furry hats. Both Prince William and Harry are known for having a long list of celebrity friends from the Beckhams to the Obamas, who they often meet during their travels to other countries, charity work, and official engagements. So if anything Meghan's celebrity connections will help, not hinder her new life.
There's been no suggestion from the Royal Family that Meghan will have to cut ties with the friends she made before meeting Harry. Famous faces like Serena Williams, Priyanka Chopra, and her Suits co-stars were all seen at their wedding, rubbing shoulders with celebrity friends of Harry's like the Clooneys, Idris Elba, and Sir Elton John. Surely if Meghan was going to be obliged to leave all that behind they'd have been strictly NFI?
During her BBC engagement interview with Prince Harry, Meghan stated that, despite her entertainment industry background, she was shocked by the level of attention and interest paid to the Royal Family in UK. "There is a misconception that because I have worked in the entertainment industry that this would be something I would be familiar with," she said in the interview, noting that she had "never been part of tabloid culture," meaning the level of scrutiny was "a really stark difference out of the gate."
At least, in doing press interview for Suits, she is accustomed to public speaking being interviewed and seen on screen. All of that can only stand her in good stead as she takes on one of the most high profile roles in the world, right? So thanks for your input, Princess Marie but if you ask me Meghan is doing just fine, celebrity pals and all.