Meghan Markle's Father's TV Interview Includes Some Surprising Comments About Trump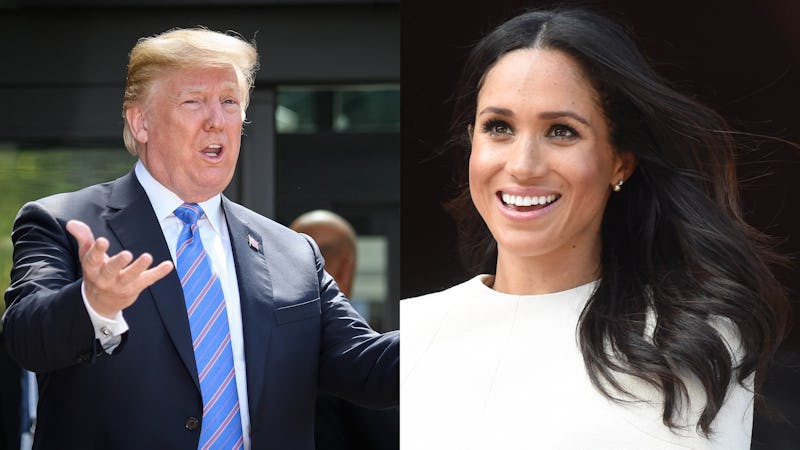 Leon Neal/Getty Images News/Getty Images; WPA Pool/Getty Images Entertainment/Getty Images
The Duchess of Sussex's father has made a very rare television appearance on Monday June 18, appearing on Good Morning Britain. Thomas Markle spoke to the ITV breakfast show in what was often an emotional, poignant interview. Markle spoke about his health, his relationship to his daughter and to the Royal family, and about the controversy that surrounded his previous forays in the media. The interview appeared to be well meaning, with Meghan Markle's father Thomas Markle giving a fascinating insight into Harry and Meghan's relationship.
Having suffered some serious health problems at the time of the royal wedding, this is the first television interview the 73-year-old has given since. Susanna Reid and Piers Morgan asked the questions on everyone's mind, as the duchess' father finally spoke publicly about how he feels about his new links to the Windsors, how he found out about his daughter dating a prince, and how the intense media scrutiny affected his health. In the world exclusive interview, it was clear that Markle only wanted the best for his daughter and hoped that she would find true happiness with Harry.
Thomas Markle, a retired television lighting and photography director, spoke frankly and lovingly about finding out his daughter was seeing such a high-profile celebrity. "The first phone calls were 'Daddy, I have a new boyfriend'. And I said 'that's really nice.' And the next call was like, 'He's British,' and I said 'that's really nice.' And eventually, the third time around she was like, 'he's a prince.' And at that point, she said, 'it's Harry' and I said, 'oh, Harry, OK!'" Markle added how they had to call the prince "H" rather than use his full name, as at that early stage their relationship was not officially known to the public.
He also revealed that Prince Harry did indeed call him to ask for Meghan's hand in marriage. "Harry asked for her hand on the phone and I said: 'You are a gentleman. Promise me you will never raise your hand against my daughter and of course I will grant you my permission'," he explained.
Markle's father became the topic of conversation around the time of the wedding due to his reportedly staged paparazzi pictures, a move that surely added pressure to the relationship between him and his daughter. Photos of him googling the now Duke and Duchess of Sussex in an internet café did the rounds both online and in the papers, but he now admits that he has since realized "it was a serious mistake. It's hard to take it back." Adamant that the purpose of the staged photo shoot with British photographer Jeff Rayner was not financial, Markle emphasized it was instead in a bid to improve his image in the media for the sake of his daughter.
"Photographs of me were always derogatory. They would take pictures of me with my hand on a beer, taking the bins out, buying a toilet, and making a big deal of it and it all made me look negative," he explained. The fallout from the photo controversy lead to a serious decline in the 73-year-old's health, who had to undergo surgery on his heart.
Shortly before the wedding, it was made known that Markle would not be walking his daughter down the aisle, nor even attending the wedding. "They were disappointed," he said during the interview of when he informed Harry and Meghan of his decision not to attend. "But they both said — and Meghan cried I'm sure, well she did cry — 'take care of yourself, we're worried about you.' They said that the important thing was that I get better."
Visibly dejected when speaking about this tough time, Markle said that he "was very upset" that he didn't get the opportunity to be a part of such a momentous occasion in his daughter's life. "The unfortunate thing for me now is I'm a footnote in one of the greatest moments in history rather than the dad walking her down the aisle. That upsets me somewhat," he revealed. The retired lighting director admitted that he watched the ceremony alone in a rented hotel on a small TV in his room.
The world exclusive interview also gave Markle a chance to talk for the first time about his relationship with Prince Harry, whom he called a "great" and "an interesting guy." He added that the two had talked over the phone about everything from Brexit to Trump, mentioning that the Prince suggested that he "give Donald Trump a chance." He also added that he expected grandchildren to come sooner rather than later. "She's wanted children for a long time and when she met Harry and she spoke how much she loves him. There's got to be a child in the making, somewhere soon."
Though Markle had previously apologized to the newlyweds for his behavior in the media around the time of the big day, and it remains to be seen whether the couple will be pleased about his appearance on Good Morning Britain. Let's just hope that his intentions to set the record straight fall on receptive ears. Markle told GMB hosts that his daughter had "been a princess since the day she was born." No, I'm not crying; you are.