Meghan Markle Gave Her First Royal Speech & Broke Tradition Yet Again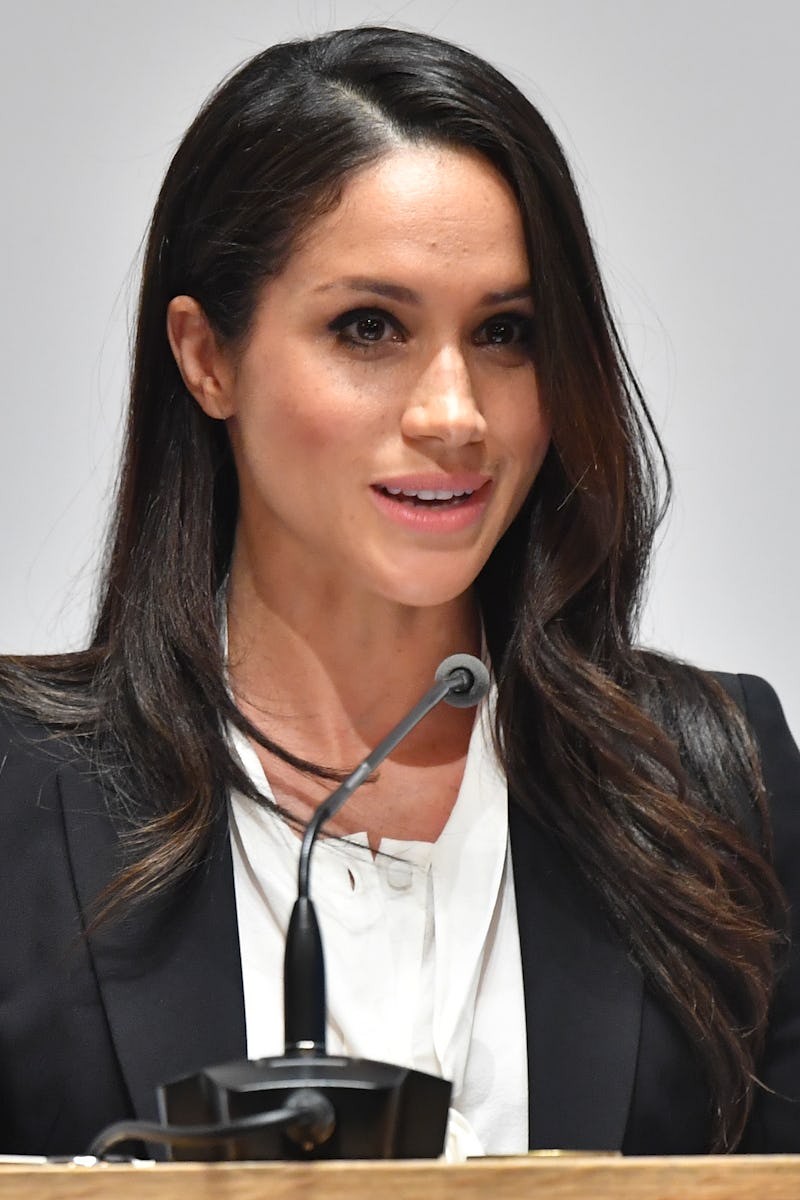 WPA Pool/Getty Images Entertainment/Getty Images
Meghan Markle is carving out her own niche in the royal family. On Wednesday night, she and Prince Harry attended their first awards ceremony together, the Endeavour Fund Awards in London. And at the event, Meghan Markle gave her first royal speech and proved she is very well-suited to being a royal.
Every Suits pun is especially intended because instead of a gown or a cocktail dress, Markle gave everyone a bold surprise, and looked amazing in a sleek black pantsuit. She wore her suit even better than Harry did his. Markle's black Alexander McQueen suit was paired with a white blouse bodysuit (will stay permanently tucked) and very high heels, according to People, which she gracefully walked in even though it was raining.
The event was to recognize the achievements of injured veterans, who went on to participate in athletic competitions and adventuring, according to the Telegraph. Markle was one of the presenters and her intro to the winner was her first royal speech, which is unusual according to royal protocol, since she's not even technically a royal yet, as noted by the Daily Mail's royal correspondent Rebecca English. But rules be damned! She's from America and she's shaking it up.
Her speech went over splendidly but that's no surprise. Markle is an actor, after all, and she's also given speeches in the past including her UN Women speech in 2015. According to People, she started her speech on Thursday by saying, "I'm truly privileged to be here," while presenting the second award of the night, the Celebrating Excellence Award. Markle introduced the winner, Daniel Claricoates, an Afghanistan war veteran who struggled with severe, complex PTSD but managed still to become a skilled mountain climber and summit the highest peaks of Africa and Antarctica.
Markle's speech and her sleek suit to this formal event are just two ways she's already setting herself apart as the newest member of the royal family. Though they may seem like silly deviations to us commoners, Markle has rebelled against the extremely astringent old-fashioned etiquette rules of the royal family. She wore her hair in a messy bun (gasp) twice in January, including while visiting a radio station with Prince Harry. In contrast, Kate Middleton sometimes wears her hair in a hairnet to keep her hair in place. A messy bun might be the most quintessential American hairstyle to bring to Buckingham Palace.
Markle also went sans stockings in her engagement photos when she and Harry announced their engagement to the world in November, which is apparently a ghastly no-no. Royal expert Victoria Arbiter told Business Insider that, in fact, the Queen's strictest sartorial rule is that all women wear nude stockings under their dresses. But Markle is from LA, and there's no need for pantyhose there.
Markle's choice of a suit at the Endeavour Awards and early first royal speech are hints that she will be taking an active role in the family when she has her new title. Markle is herself already a humanitarian, who has worked with the United Nations, One Young World, and World Vision, according to Harper's Bazaar.
She's already broken quite a few rules and she's not even officially a royal yet, so who knows how much of a rebel she'll be after she and Prince Harry get married on May 19. She's even going outside the lines with her wedding— she will reportedly have a maid of honor, which, apparently, is uncommon for royal weddings. She also reportedly wants to make a speech at her wedding reception to thank Harry and their guests, and it would be a royal first. With a start like this, Markle will probably go on to make many more royal firsts when she joins the family.