People Are Commenting Awful Things On Meghan Markle's Instagram & It Makes No Sense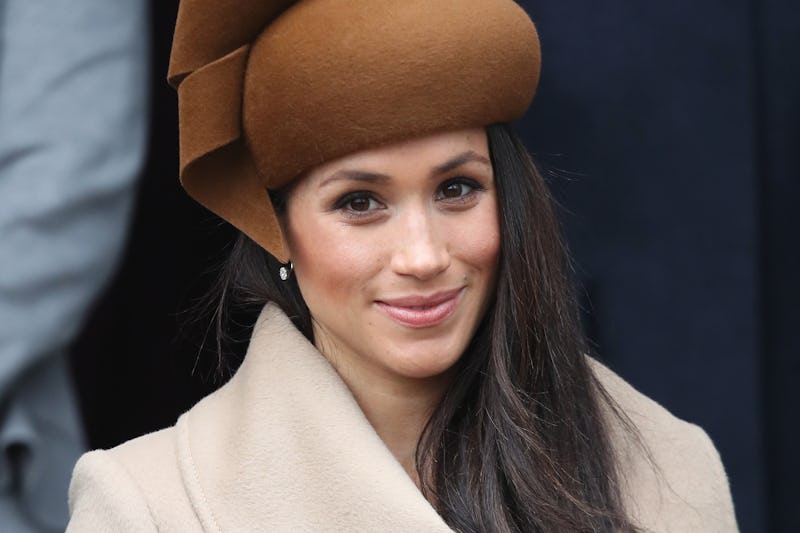 Chris Jackson/Getty Images Entertainment/Getty Images
On April 7, 2017, Meghan Markle made her final post to Instagram: a photo collage of supporters and contributors to her now-defunct lifestyle website, The Tig. The caption is a sweet message of thanks to her fans, yet that last post has become a magnet for so many mean comments on Meghan Markle's Instagram account. Her verified IG account currently has 3 million followers and 2,064 other posts that are snapshots of her life as an actor on Suits and her hometown, Los Angeles. Markle has ceased use of her IG account since that 2,065th and final post, but its comment section has attracted some supportive, but many vicious comments about her current engagement to Prince Harry, and it's completely uncalled for.
Members of the royal family do not have personal social media accounts, but rather ones that represent them as a group (for example, the Kensington Palace account), and it looks like Markle made moves in that direction long before her May 19, 2018 wedding. It sounds like Markle will never return to her old Instagram account nor read all of these comments. But still, her farewell IG post has amassed 5,119 comments — and counting — directed toward her and other users.
The comments from the many, many IG users have taken on several topics. Some of the comments claim that Markle is a "gold digger" and that she is using Prince Harry. "You should get an Oscar for pretending to be in love," one comment says. "Give me a rich husband that takes my troubles away and I will love anything," reads another from a different user. "She isn't marrying the man she loves. She's marrying him for his status," is stated in another comment by a different IG user on the post.
Some of the mean comments on the post aren't entirely directed at Markle though — there are also comments insulting Prince Harry and the British Royal Family based on unfounded rumors and personal opinion. "Watch out for Prince Philip and underground tunnels," one commenter writes, referencing to Queen Elizabeth II's husband and Princess Diana's 1997 death, caused by a car crash in a Paris tunnel. "Harry will always be the least and thank God he will never be king," reads another comment on the April 7, 2017 post. "Don't let them change you," writes one concerned user in a comment.
Many other users have taken up defending the former actor against a couple of users who vehemently do not believe the term "mixed race" exists and claim that Markle is only black or white and that she cannot be both. In a May 2015 essay in the U.K. edition of Elle magazine, Markle wrote that she identifies as a "mixed race woman," but these IG commenters have taken issue with the existence of the term. "There's NO BIRACIAL Race. Whites invented the term to make themselves more comfortable with ALL 129 shades of US," reads one of the comments. One of the defenses of her mixed race identity says the following: "And really wtf does colour have to do with anything. She's a woman marrying the man she loves, period."
Like other comment sections on the internet, there are some very supportive words amongst the negativity on Markle's last IG post. "Nothing but respect for MY princess," one user wrote (although Markle will not technically be a princess). "You are amazing!!! I hope you stay the same and make this world a better place," another commenter wrote.
You have to wonder what the purpose of all these comments is, especially the negative ones. Markle has clearly abandoned the Instagram account. The official residence of Charles the Prince of Wales, Clarence House, announced Markle and Prince Harry's engagement on Nov. 27, 2017, and the wedding date is officially set for May. The comments are not likely to stop the wedding from happening at this point. Do these users hope to be heard in some way? And why bother leaving any kind of message on Markle's now-defunct Instagram account?
She certainly isn't alone in receiving mean comments on social media. According to a 2014 study by the Pew Research Center, social media platforms are the most common place that people experience internet harassment, with 22 percent of instances occurring in the comments section. A 2010 study by the University of Central Lancashire revealed that online "anonymity can also foster a sense of impunity, loss of self-awareness, and a likelihood of acting upon normally inhibited impulses, an effect known as deindividuation." It means that online commenters — who are merely represented by a username, which may or may not contain their legal name — often write things they would not say in real life.
Markle's now-defunct Instagram account should not be used as a platform for anyone to criticize her relationship or her race — whether the commenters are anonymous or not. Just because Prince Harry and Markle are living a life in the public eye doesn't mean we should pass judgment on any aspect of their relationship, her racial identity, or the reputation of the royal family. Only Prince Harry and Markle know the details of their relationship and respective lives best, no matter what a bunch of social media commenters on the internet say.