Prince Harry & Meghan Set A Wedding Date & It's Going To Be Here So, So Soon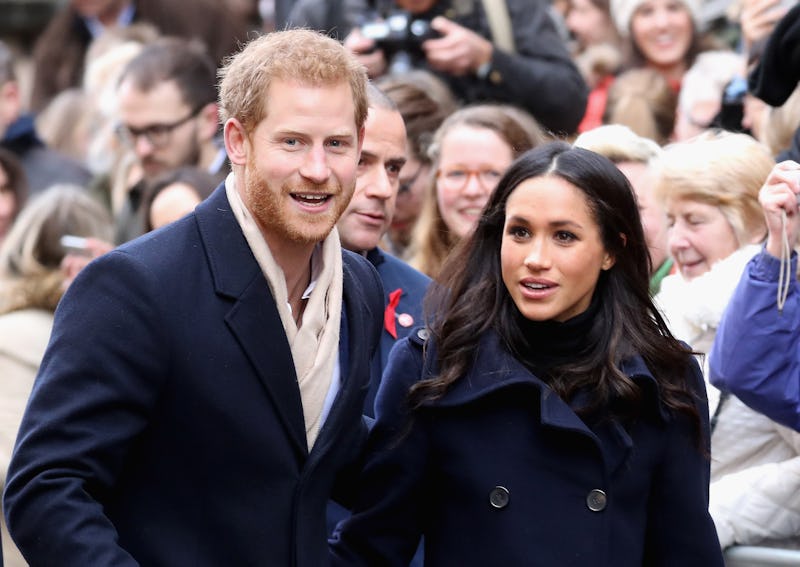 Chris Jackson/Getty Images Entertainment/Getty Images
While fans of the British royal family knew that they wouldn't have to wait long for Prince Harry and Meghan Markle's wedding, Kensington Palace confirmed the date of the big day. Prince Harry and Markle will get married on Saturday, May 19, 2018. Kensington Palace had previously stated that the wedding would take place in May, but, now that there is an official date, it means that you can really start to plan your royal wedding viewing party.
If you were one of the millions of people who watched the wedding of Prince William and Kate Middleton in 2011 — or even the wedding of Prince Charles and Diana 30 years earlier in 1981 — then you know the thrill that comes with a royal wedding. And while William and Kate made Americans get up quite early on a school and work day to watch their Friday, April 29 wedding, Prince Harry and Markle have been a bit more considerate to those with Monday-Friday work schedules. Even though no formal time for the wedding ceremony has been announced, May 19 falls on a Saturday, so you might be able to go back to bed or squeeze a nap in after you watch all the pomp and circumstance. That is, unless you're too excited by the events of their wedding to ever sleep again.
You've most likely already wondered what Markle's dress will look like (without a doubt, it will be spectacular), but there is another fascinating element that people should be anxious about now that the wedding date is announced. It has been reported that William and Kate's children, Prince George and Princess Charlotte, will probably serve as a pageboy and a bridesmaid for Harry and Markle's ceremony, but what about their third child? Kate is due in April 2018, so the new addition to the family will only be about a month old when Harry and Markle tie the knot. So will Harry and Markle's wedding also be the first appearance of their newborn niece or nephew?
The UK publication Express theorized, "As the child may not have been seen in public much yet, Kate will not want to take attention from Harry and Meghan on their special day." So there's a good chance that royal baby number three won't be in attendance. But that's OK since there are bound to be plenty of other notable guests considering Markle's Hollywood connections and the simple fact that Harry is royalty.
Beyond setting the date, the announcement from Kensington Palace reconfirmed that Harry and Markle's nuptials will be taking place at St. George's Chapel in Windsor Castle. According to Brides, St. George's is where Harry's father's second marriage to Camilla Parker-Bowles was dedicated after a civil ceremony in 2005. It's a smaller church, so unlike Charles and Diana's wedding at St. Paul's Cathedral or William and Kate's wedding at Westminster Abbey, Harry and Markle's wedding will be a more intimate affair.
But this smaller venue won't impact the vast majority of fans of the royals since they'll be watching this May wedding from the comfort of their couches. If you want to make the most of this royal wedding and don't have friends or family who are as stoked as you, you can join watching parties on Facebook to celebrate with fellow British royalty devotees. And with the date set for Saturday, May 19, the planning can truly begin. So if you have work that day, you've got five months to call out or take a personal day — although, let's be real, your boss might be watching right alongside you on May 19 anyway.