Meghan Markle's Makeup Artist Uses A $5 Drugstore Lotion As Highlighter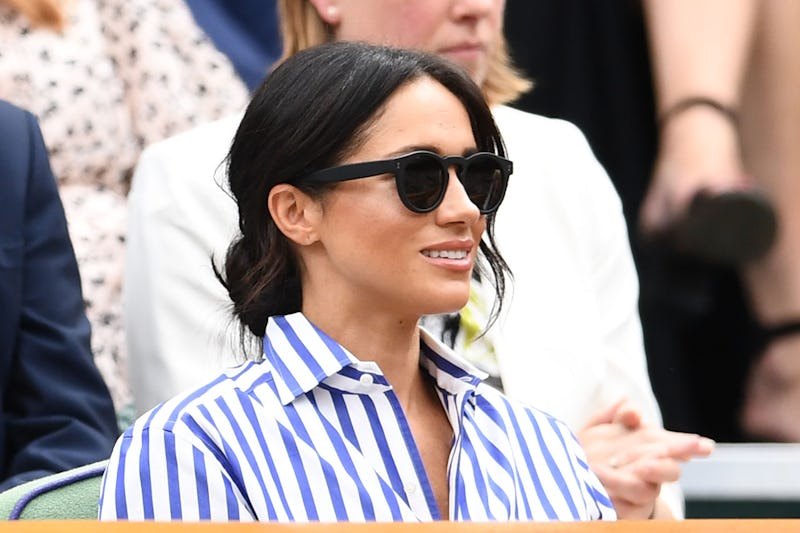 Clive Mason/Getty Images Entertainment/Getty Images
Highlighted cheekbones have been the look du jour for well over a year now, where the beauty world has seen an explosion in compacts, powders, cream sticks, and palettes that promised to transform your face into a glowing, dewy complexion. But some people stick to basics when it comes to their highlighting game. Specifically, Meghan Markle's makeup artist admitted he uses Aquaphor on her face rather than highlighter, rendering all of those expensive highlighter palettes you own useless.
In an interview with E! News, makeup artist to the stars, Daniel Martin, revealed how he skips the fancy powders and uses common skincare products to create that shine instead. Martin was the artist behind Markle's now-iconic wedding day beauty look, creating a face that was polished but still natural. And part of the way that he pulled that off was to swap out those go-to cosmetics for softer looking skincare staples.
"It's about finding your inner beauty and your comfort zone," he told E! News. He likes to focus on highlighting the real and natural side of a client.
If using skincare rather than compacts sounds controversial to you, Martin went on to explain that was exactly what makeup artists did before highlighters came onto the scene and became so readily available in every texture, wattage-level, and hue. "Before highlighters, you would do highlighting with Aquaphor. Aquaphor will give you that same texture, especially in a photo [when applied] on the high points of the face."
Aquaphor is a drugstore healing ointment meant for dry skin, chapped lips, and cracked heels, and you can find a tube of it at any drugstore for roughly five dollars. There is nothing glamorous about it, but it delivers results without the heavy price tag. It's made with 41% Petrolatum, Panthenol and Glycerin, so when you dab it onto the high points of your face (basically anywhere you would normally dust on your highlighter,) it will catch the light in much the same way and create a natural looking dewy finish.
Martin uses that Aquaphor technique a little less nowadays, but he is still a big believer in using balm to really coax out a glow. "I don't use a highlighter product per se, but if I do, I'll lay it down with Dior — they came out with incredible highlighting palette — and what I'll do is I'll take the Honest Beauty Balm and lay it on top of it," he said. "It intensifies the highlight, but because of the texture of the magic balm it gives you that luminosity like you just applied moisturizer."
Just make sure you carefully dab on the balm on top of your makeup rather than swipe or buff it on. The harsh swiping motions can sweep away the cosmetics underneath, so you want to delicately tap it on so everything stays in place.
The takeaway message here is simple: you don't need to drop a lot of money on fancy highlighters to get that glowing look. You can always just reach for some lotion and get the job done.