You Can Get Your Hands On Meghan's Fascinator In This Super Surprising Place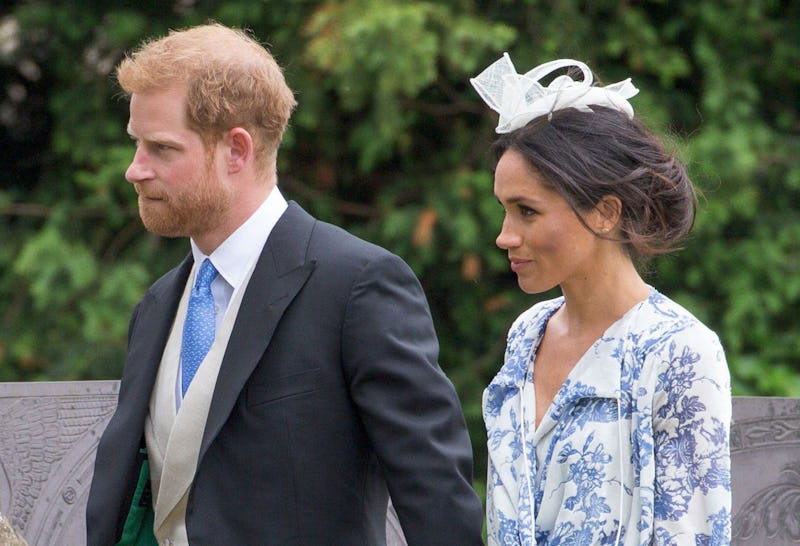 Geoff Robinson Photography/REX/Shutterstock
Wedding season has well and truly arrived. But forget what the bride's wearing, it's the guests' outfits that I'm totally obsessing over. Well, accessories in particular. Hats, fascinators, whatever you want to call them, headpieces are tricky to get right. I mean, what are the rules? Do you have to wear one? And how big and colourful should it be? Well, Meghan Markle's Marks & Spencer fascinator might hold the answers to all of your questions.
On Sunday, she arrived arm-in-arm with Prince Harry for the wedding of his cousin, Celia McCorquodale. Wearing a gorgeous (and pretty expensive dress) dress from Oscar de la Renta's Resort 2019 collection, the Duchess of Sussex decided to go down her sister-in-law's favourite route and choose a high street white fascinator. But not just any high street white fascinator, this was an M&S white fascinator (sorry, couldn't resist).
While you could follow in Markle's footsteps by buying her exact design, there are plenty of other options to browse that won't cost the earth. Whether you want a stand-out red number or something a little more subtle, the high street has it all.
Here, I've scoured every store to find the best wedding-appropriate headpieces to throw on this summer. And they're all under £50 (you can thank me later.)