Meghan Markle's Mom Crying At The Royal Wedding Is Too Much For Twitter To Handle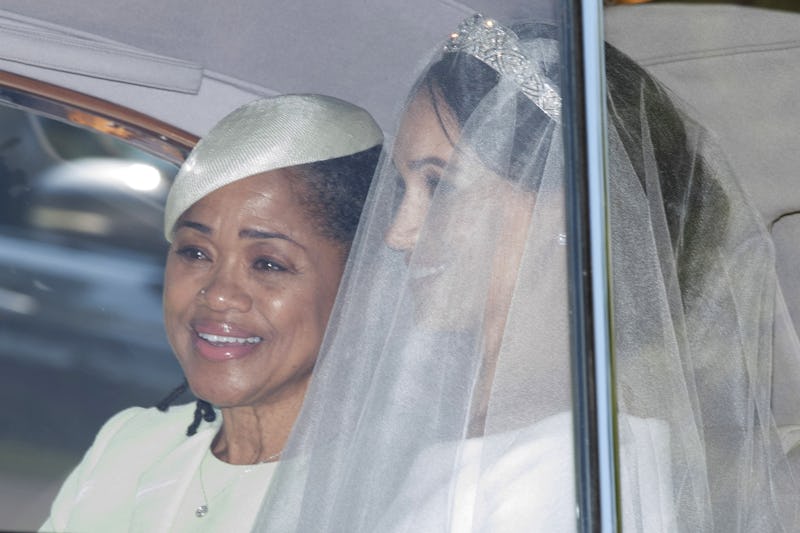 WPA Pool/Getty Images Entertainment/Getty Images
The world might be watching Prince Harry and Meghan Markle as they tie the knot on Saturday, but Twitter only has eyes for the mother of the bride. Watching Doria Ragland, Meghan Markle's mother, cry at the royal wedding while looking out at the beautiful, romantic scene unfolding in St. George's Chapel is one of the sweetest parts of the entire day, and it's no surprise that Twitter has feelings about those tears.
Compared to the notoriously stoic royal family, Ragland's clear and obvious emotion marks yet another departure from tradition as that family continues to expand. Ragland first started her immersion into royal life on May 4, when she arrived in London to bond with her daughter before the wedding and meet her new in-laws. As Meghan's father is not in attendance, Ragland is primary family member supporting to duchess-to-be on her big day. It's no wonder that she's feeling a little verklempt as her little girl's life is about to change forever in such a dramatic and public way. That much motherly love and support is universal though, and Twitter pretty much universally loves Ragland for letting it shine through.
Tears Of Joy
Doria — when you cry, so does the rest of the world. During the royal ceremony, Ragland was clearly feeling all the feels as her daughter married the prince. And who can blame her? It was such an emotional moment.
Tears Of Sorrow?
Not everyone interpreted Ragland's expressions as pure bliss and love, however. Some viewers were quick to point out that maybe the emotions she was feeling were slightly more complicated than that. It's an understandable assumption, as the life Meghan — and her mom, by extension — are about to enter into is a complicated and painfully public one. A modicum of motherly concern seems like it wouldn't be out of place here, especially given Meghan's position as the first woman of mixed race to marry into the royal family and the racist vitriol that Meghan has already had to endure.
Her Look
Harry might be the one related to the Queen, but Meghan's mom looked gorgeous and regal AF. Twitter couldn't help but exclaim with joy over how beautiful Ragland looked during the big day.
The Walk Down The Aisle Debate
Since Meghan's dad did not attend the ceremony, Meghan was marched down the aisle by Harry's dad, Prince Charles. However, some royal fans were curious as to why Ragland wasn't given that honor herself. One source claimed to Cosmopolitan that Meghan did ask her mother to walk her down the aisle, but Ragland apparently chose to stay out of the spotlight in that way. "Doria and Meghan discussed it," said the source, "but she just didn't feel she could go through with it... Meghan felt that it would be too much to expect her mother to perform such an important role when more than one billion people are expected to be watching."
Her General Amazingness
The royal family just got a whole lot easier to love now that Doria Ragland has joined its ranks. Not that the Queen isn't iconic in her own right, but to see a beautiful, black, American, single mother holding her own across the aisle from the Queen of England is just as inspiring and moving as what's going on with those two kids down at the altar. Meghan might have just become a duchess, but to millions of people at home watching, Doria is absolutely the real queen here.