All The Royal Wedding Memes & Tweets You Need In Your Life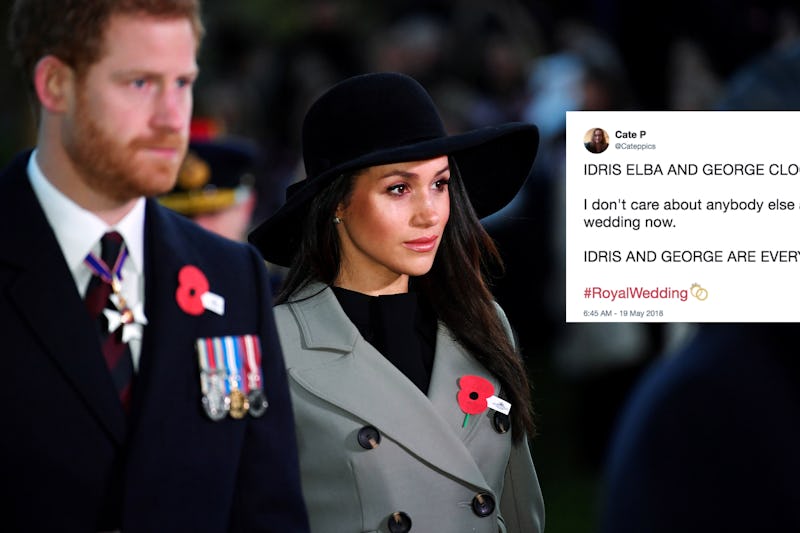 WPA Pool/Getty Images Entertainment/Getty Images; Cateppics/Twitter
The wedding of Prince Harry and Meghan Markle is here, and tons of people around the world have tuned in, streamed, or showed up for their nuptials. This wedding is a big deal for many, and, of course, many tuned in just to craft their own royal wedding memes and tweets. If attendees have opinions about the regular, everyday weddings they go to for friends and family, you can bet there are some strong opinions about the wedding of a member of the British royal family.
Harry and Meghan's wedding took place at St. George's Chapel at Windsor Castle, England, which is about an hour's drive from London, where the couple will live. Fitting only 600 people (only), the chapel is smaller than Westminster Abbey, where‪ the Duke and Duchess of Cambridge, Prince William and Kate Middleton‬, got married in 2011. But it seems that it's more Harry and Meghan's style — quieter, simpler, and markedly less "royal." Harry's not the apparent heir to the throne anyway, so he gets just a little bit more slack for his wedding plans, I suppose. The Archbishop of Canterbury is in charge of the ceremony, which started at noon GMT, Prince Charles, Duke of Cornwall, walked Meghan down the aisle, and all is beautiful. Meghan and Harry are happy, the world is happy, and love is a wonderful thing.
Royals, as we know, aren't exempt from ridicule or commentary, but, according to the Guardian, the British people are really excited about bringing Meghan in as a royal. The paper writes, "this wedding feels more relaxed, more inclusive, and on the streets of Brixton, south London, at least, is being met with enthusiasm." Of course, the internet is a different place, and there were plenty of comments and jokes about the goings-on of the wedding. Let's take a look at some of the best.
The BBC Featured Prominently
The English people feel very strongly about their country's most influential channel, and they turned to it for this very important coverage.
Many Were Surprised About Harry's Exes
It's commendable that Prince Harry invited his exes to the wedding, but I don't think I could stomach it. Could you?
The Male Guests Got A Lot Of Attention
According to Twitter, it was practically a parade of leading men.
Everyone Was Excited Over Meghan's Dress
The dress is basically the most important part of a wedding.
They're older, wiser, and they want everyone behind them to be able to see.
There Were A Lot Of Feelings
Weddings are emotional, OK?
Pulp Fiction Made An Appearance
This is a good point.
There Was Much Commentary About Harry's Beard
He kept it, for the record, and he looked great.
There Was A Baseball Connection
It doesn't really seem that relevant, but hey — why not?
Everyone Started Crying At One Point
Understandable, honestly.
Harry Set New Standards For Future Husbands
Twitter couldn't get over this sweet moment.
Pastor Michael Curry Gained Fans
His sermon on love was really amazing.
Some Thought Harry > William
There's always comparison between brothers, but we can agree that both weddings were wonderful, if a bit different.
Princess Diana Was There In Spirit, Too
Harry's mother was so important to him, and the viewers didn't forget it.
Ah, what a beautiful wedding. Meghan and Harry look so happy together, and the viewing public certainly enjoyed taking it all in.