Meghan Accidentally Called Prince Harry A Nickname In Public & The Video Is Too Sweet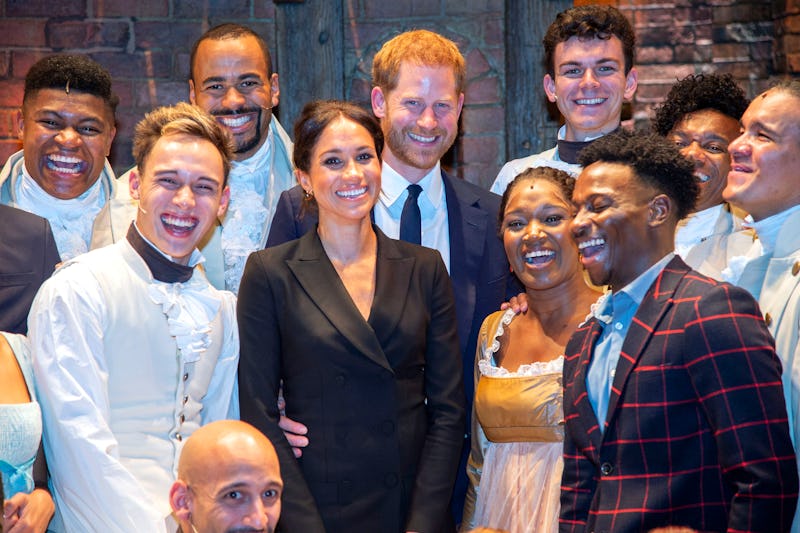 WPA Pool/Getty Images Entertainment/Getty Images
Yes, even the Duke and Duchess of Sussex have nicknames for each other. Meghan Markle's nickname for Prince Harry was recently revealed, thanks to the Instagram fan account, @harry_meghan_updates, and it's seriously the sweetest nickname ever. Don't worry, it's not one of those terms of endearment that will make you roll your eyes or cringe, like "pookie bear." However, you will probably swoon after hearing it.
While the British royal couple attended a showing of Hamilton on Wednesday in the West End of London, they had the opportunity to meet the cast backstage. Of course, there are photos and video from the event. The cast and Harry and Markle all seem thrilled to be meeting each other. As shown in video footage of the meet and greet, while the prince and former Suits star posed for photos with the cast, Markle turns around and said something to Harry.
According to harry_meghan_updates' video posted on Aug. 30, Markle called Harry "my love." It's hard to hear, but whatever she said made the Hamilton cast go, "Aww!" Markle smile and laughed at their reaction, in addition to putting her hand over heart.
Here's how Markle handled the Hamilton cast's response to her supposedly calling Harry "my love":
In another video, posted by The Royal Family Channel on YouTube, you can hear Markle more clearly. Around the 1:40 mark, Markle turns around to Harry, and if you listen closely, it sure sounds like she asks him, "Can you see, my love?" How adorable is that? The Hamilton cast's reaction is basically everyone reacting to them being the cutest couple on the planet.
If you aren't aware, Harry also has a nickname for Markle, because of course he does. Like Markle, Harry was caught on camera sweetly calling her "Meg." In April, the royal.addicted fan account on Instagram shared a video of Harry and Markle at the 2018 Invictus Games reception in London. The 33-year-old royal repeatedly tried to get Markle's attention by calling her "Meg" several times, before she finally heard him. You can watch the moment below.
In early April, the British publication Express reported Markle also has another nickname for Harry. Apparently, Markle's friend and agent, Gina Nelthorpe-Cowne, revealed Markle calls Harry "Haz." According to the Express, Nelthorpe-Crowne said it didn't take long for Markle to come up with a nickname for Harry. Apparently, she dubbed him "Haz" not long after their first date. It's unclear why she chose that particular nickname, but, either way, it's adorable.
Even Harry's father, Prince Charles, has his own nickname for Markle. He reportedly calls her "Tungsten," the Scottish Mail on Sunday revealed in June. Per a source who spoke with the publication, "Prince Charles admires Meghan for her strength and the backbone she gives Harry, who needs a tungsten-type figure in his life as he can be a bit of a softy." The insider added, "It's become a term of endearment."
The British royal family sure seems to be a family of nicknames, but Markle calling Harry "my love" might be the best out of all of them.