Meghan Markle's Official Royal Biography Focuses On Feminism & Yes, That's A Big Deal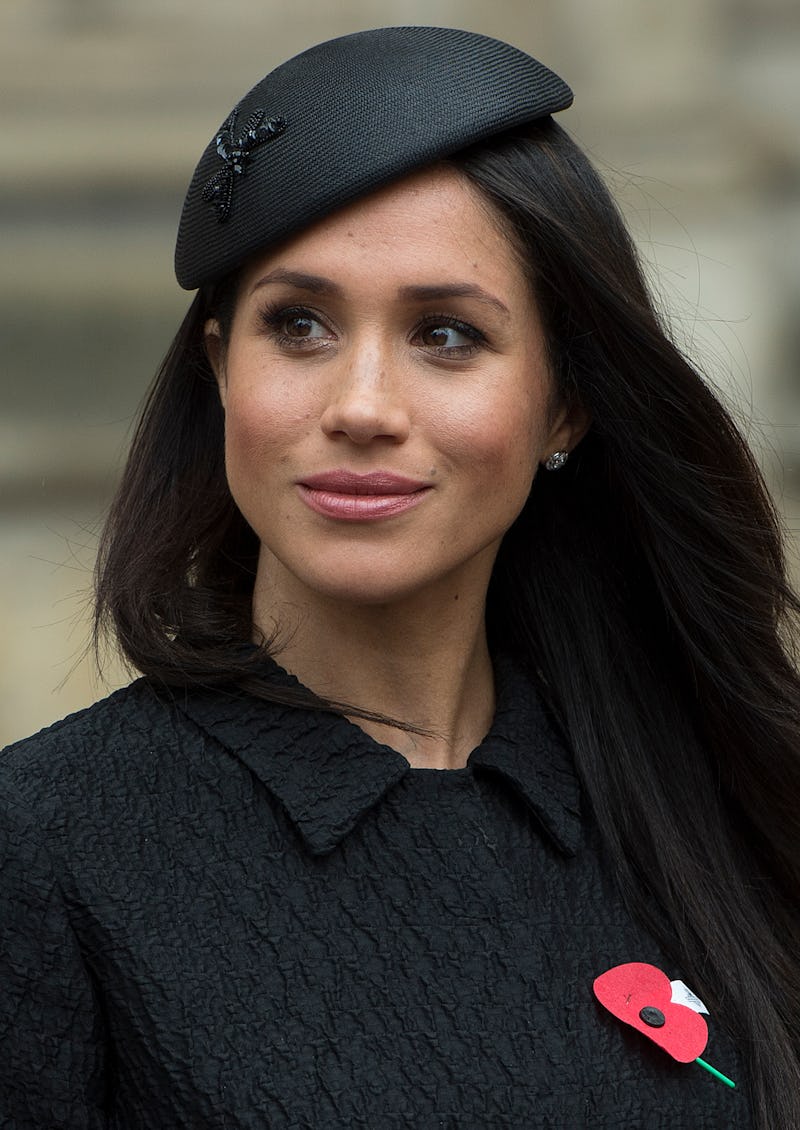 WPA Pool/Getty Images Entertainment/Getty Images
Before Meghan Markle became the beloved newest member of Britain's royal family, fans of the just-officiated Duchess of Sussex probably knew her best for her role on Suits. But per the release of Meghan Markle's official royal biography, it sounds like the palace isn't too interested in rehashing the details of Markle's onscreen pursuits when they can focus on what might be ahead for the newest member of the royal family.
The bio's first few paragraphs make it seem pretty clear that Markle's newly-minted royal responsibilities will rely much more heavily on the skills she accrued through a different set of professional ventures, unrelated to her work in television. Instead — and those who've read up on Markle's rich history of activism and philanthropy probably won't be too surprised to learn this — her royal bio zeroed in on her penchant for both feminism and social justice, mostly through the lens of her past charity work. And yes, this is a major departure for the royal family.
Markle's work as a feminist is outwardly praised and stated. Traditionally, the royals have avoided making political statements, but in a surprising (and impressive) move, the palace appears to be embracing Markle's beliefs. Her bio reads in part,
"In 2015, The Duchess became the UN Women's Advocate for Women's Political Participation and Leadership. In this role, she gave a speech on the importance of gender equality on International Women's Day for UN Women in New York City. Ahead of her appointment to this role, Her Royal Highness spent time at the UN's New York office to understand the organisation's day-to-day work before embarking on a learning mission to Rwanda. On this trip The Duchess met female parliamentarian leaders in Kigali and visited Gihembe refugee camp, where women were working on leadership and empowerment at a grassroots level."
The biography only gets better from there. It truly reads as a mission statement about the important work Markle will be doing as Duchess.
Markle and Prince Harry officially tied the knot on Saturday, May 19, during a particularly moving ceremony at St. George's Chapel, on the grounds of Windsor Castle. The ceremony was followed by a celebratory post-nuptials luncheon (Elton John provided the entertainment, it would seem) and later, a smaller reception at Frogmore House, also within the castle grounds. For those who'd like to take a deeper look into Markle's re-introduction to the world as Duchess of Sussex, the full bio appears on the official website dedicated to the royal family.
After first introducing her commitment to philanthropic work, Markle's royal bio goes on to highlight the origins of her dedication to activism. As the bio notes, Markle has been advocating for much-needed social change since she was just 11 years old, when "she successfully campaigned for a company to alter their television advert that had used sexist language to sell washing-up liquid." It also mentions Markle's volunteer work at a Skid Row soup kitchen during a sizable chunk of her formative years.
"These early experiences helped to shape her lifelong commitment to causes such as social justice and women's empowerment," reads the bio, before promptly segueing into an itemized breakdown of Markle's philanthropic pursuits. Below the description which chronicles her work as the UN Women's Advocate for Women's Political Participation and Leadership, the bio features an amazing pull-quote from Markle that seems to capture the newest royal's strong, self-assured voice pretty perfectly: "I am proud to be a woman and a feminist." Not for nothing, but the fact that the palace selected that quote to, essentially, speak to who Markle is going to be as a leader and public figure seems like a pretty big deal.
In addition to citing Markle's work with UN Women, the royal bio also notes her involvement with One Young World, a UK-based nonprofit organization that aims to provide a "forum" for young leaders around the world to come up with innovative solutions to global issues. Wrapping up the bio, Markle's work as a Global Ambassador for World Vision, which has taken her to Rwanda and, later, India, to campaign for more access to education for young girls and women.
Who else is really looking forward to seeing how Markle's feminism and social justice-centric pursuits end up playing out at the palace? With an enormous ability to influence change as the Duchess of Sussex, it seems there's no limit to what Markle can do. And, as far as her proclivity for activism and female empowerment is concerned, Markle's royal bio certainly suggests that her in-laws are totally behind her. It's probably safe to say most women around the globe are, too.