Meghan Markle May Have Expressed An Opinion On Abortion & That's Super Rare For A Royal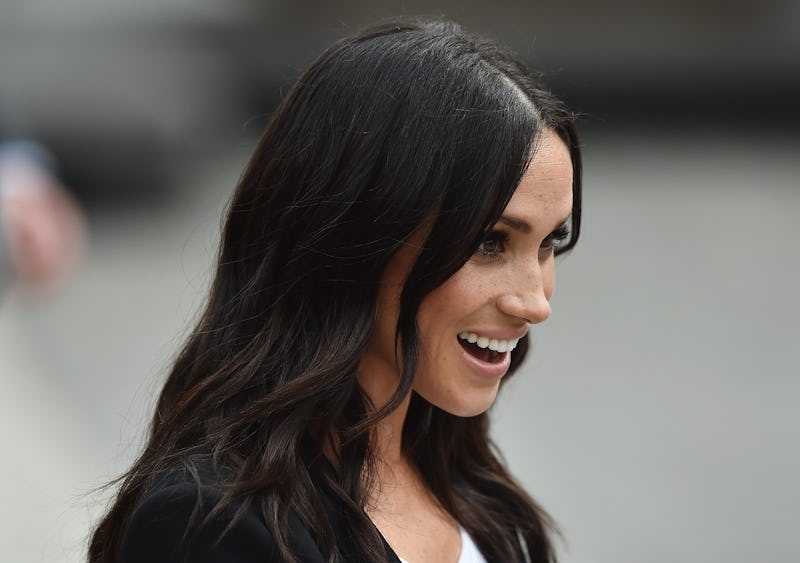 Charles McQuillan/Getty Images Entertainment/Getty Images
If you've watched any amount of chick flicks in the last two decades, you know the classic tale of Americans suddenly becoming royalty and eventually putting their foot in their mouth as they struggle to assimilate to a life of nobility — looking at you, What A Girl Wants. Turns out, it happens to real-life royals, too. Reports say Meghan Markle gave an abortion opinion indicating she was pro-choice when she reportedly expressed praise for Ireland's recent referendum to legalize abortion.
At a garden party in Dublin on Tuesday, a senator who said she spoke to the Duchess of Sussex about the issue went on Twitter to say Markle seemed "pleased" about the referendum that legalized abortion by repealing the 8th Amendment of the Irish constitution, The Daily Beast reported. The senator, Catherine Noone, quickly backtracked, adding, "I should say she seemed pleased — she was interested and very measured, not political at all."
That's because those opinions bring up a host of issues about royals remaining politically neutral. Centuries-old tradition dictates that the royal family members not opine their views about political issues. And while there is no law saying royals can't have opinions, the royal family has remained politically neutral since the 17th century, according to TIME. To put that in perspective, they've been neutral since King Charles I was beheaded during the English Civil War.
The Irish Times reported that Noone tweeted after the Tuesday party, "The Duchess and I had a chat about the recent referendum result — she watched with interest and was pleased to see the result."
But then Noone, perhaps realizing that Markle was out of line with British monarchy tradition, followed up with her second tweet, clarifying that Markle just "seemed" to be happy about the May abortion referendum.
Both tweets were later deleted, and apparently replaced with a less inflammatory statement from Noone just saying that she herself was pleased to meet Markle and Prince Harry.
Noone later walked her tweet even further back, telling th Independent.ie: "I deleted it because it was unintentionally misleading – the Duchess was not in any way political."
Another writer named Una Mullally who was also at the Dublin party on Tuesday Tweeted about a conversation she had with Markle in which the Duchess made similar comments praising the referendum.
"Great to chat with Meghan Markle, Duchess Of Sussex, about Repeal and the importance of her feminist activism," Mullally said in a Tweet that hasn't been deleted. "So important to have people in her position championing women's rights. Total sounder!"
And this isn't the first time Markle has made her opinions known publicly. In fact some experts such as Robert Lacey, a biographer of the Queen and historian, all but predicted something like this would happen.
Lacey previously told The Guardian that the tradition of neutrality within the monarchy could pose "an existential problem" for Markle, who'd been politically vocal before her marriage.
"You have to go back to Prince Philip to think of a recruit to the family who is so evidently feisty and spiky," Lacey told The Guardian before the royal wedding. "I can see that this is going to be a real problem in the months and years ahead for her, an existential problem. I don't imagine the Queen will be in a rush to have Meghan at Balmoral when Trump visits."
Before marrying Prince Harry, Markle called President Donald Trump a "misogynist" and "divisive" during a 2016 interview on The Nightly Show with Larry Wilmore.
She
And now on her first trip overseas, Markle seems to have demonstrated that just because she's royalty now, it doesn't mean her political voice has been silenced.