Meghan Finally Visited Sussex & Wore The Most Unexpected High Street Brand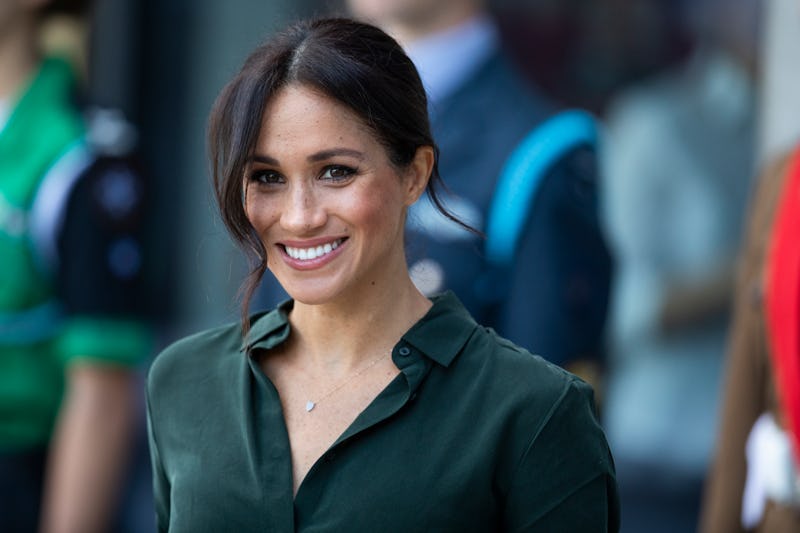 Dan Kitwood/Getty Images Entertainment/Getty Images
It's not often that a member of the royal family dons something from the high street. Yes, the Duchess of Cambridge loves her Zara hauls every now and then, but the Duchess of Sussex has rarely been seen in anything other than super expensive designer purchases. Until now, that is. Because Wednesday marked Meghan Markle's & Other Stories debut and everyone is going wild.
Markle and Harry spent the day in Sussex (the county of their titles) visiting a number of different places and making small talk with a bunch of people. At first glance, the 37-year-old's outfit seemed to be full of the usual expensive price tags.
There was a £461 green leather midi skirt from Hugo Boss, a cream cashmere Armani coat (that is now sold out, so price unknown), £510 Gianvito Rossi heels, and a £1,695 emerald satin bag by designer Gabriela Hearst. Unlike most of Markle's bags, you can still buy her exact design online along with styles in navy, yellow, and pink.
But her shirt — which was admittedly mostly covered up by the luxurious coat — came straight from the good old British high street. If you're not au fait with your affordable brands, & Other Stories is a Swedish brand owned by the H&M Group. It's a tad more expensive than your average H&M piece, but the quality is dare I say excellent.
Markle stuck to her dark green theme, choosing a forest-hued shade in the relaxed silk design. Costing just £69, it's still available although I doubt it'll be in stock for long. If you end up being too late, you can still buy the office-appropriate piece in black, white, off-white, and light blue.
This isn't the first time that the public has witnessed Markle's thrifty side. Back in January, the royal donned a £45 black knit from Marks & Spencer to visit a radio station in Brixton. Of course, it sold out almost immediately but was restocked thanks to high demand. Unfortunately, it's now gone again. And in June, Markle was believed to have worn a £29.50 fascinator (also from M&S) to the wedding of Prince Harry's cousin, Celia McCorquodale.
She is yet to step out in anything from Kate Middleton's favourite haunt, Zara, but I'm sure her sister-in-law has given her plenty of high street tips and tricks. Perhaps a full affordable ensemble is on the cards next. One can only dream.
If you're wondering what Markle and Harry were up to in Sussex, here's a brief rundown. The royal couple began the day in Chichester and were shown the extremely rare copy of the American Declaration of Independence. The only other one is in the archives in Washington D.C.
Bognor Regis was their next stop, where they opened the University of Chichester's Engineering and Digital Technology Park. Finally, they made their way to Brighton for a tour of the Royal Pavilion followed by a visit to the Survivors' Network charity. Here, the pair will meet survivors of sexual violence and abuse and get to grips with the work of the charity.