Every Single Royal Outfit Meghan Markle Wore In September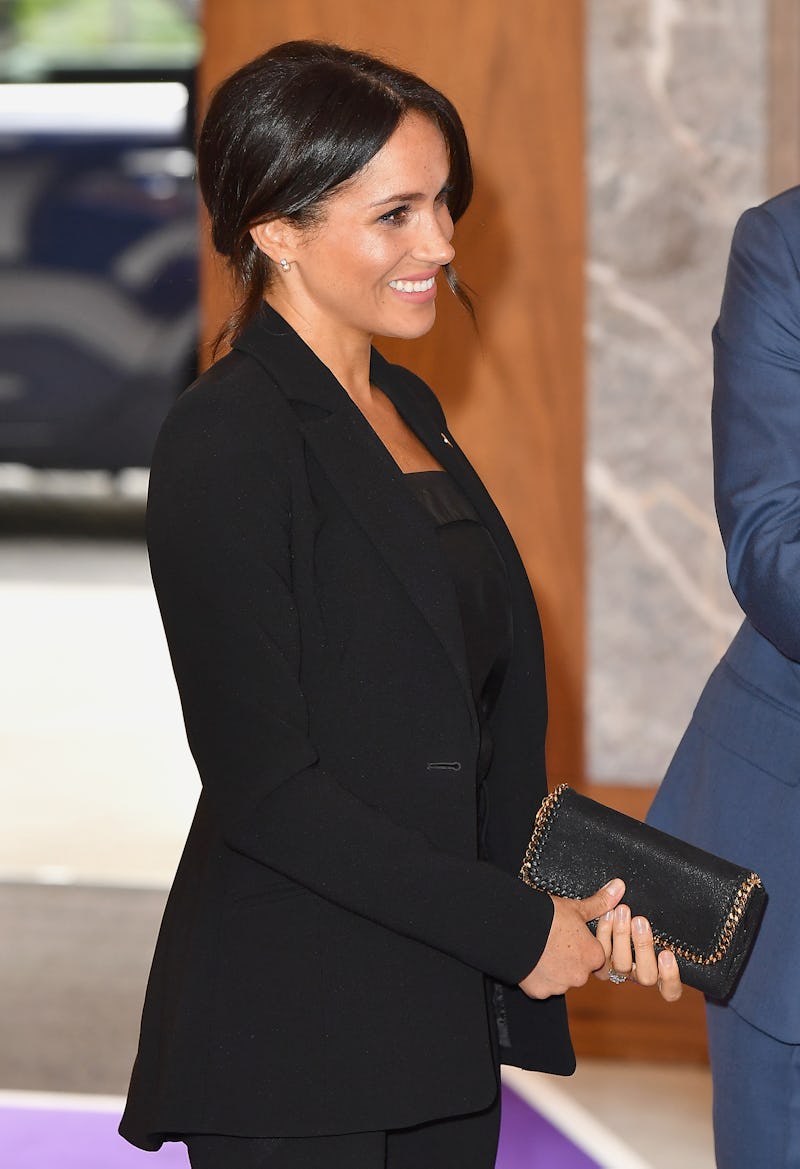 Jeff Spicer/Getty Images Entertainment/Getty Images
Every month is the Month Of Markle when it comes to fashion. While it's been a bit since she wed Prince Harry, the world is still in love with the new duchess — especially when it comes to her style. All the looks Meghan Markle wore in September are proof that this royal is a new style icon, and it's time to celebrate all of her bold, rule-breaking, and classic fashions from last month. To stay there's some serious style inspo for your future fall wardrobe is an understatement.
In September, not only did Markle rock everything from dresses to a full-on suit, but she broke some fashion rules as well. After all, rules are not for royals. Well, they kind of are, but Markle doesn't seem to be bothered by many of them. In fact, she's made her mark on royal style by doing things a bit different. Whether she's wearing a blazer as a dress or pairing black with blue (which is really kind of a dumb rule any way), she takes as many royal fashion risks as she can. She's basically giving fans a crash course in how to dress for fall, and the inspiration for your wardrobe is so, so good.
While Markle and her husband Prince Harry hadn't been seen much until September, they certainly made up for lost time which means there's tons of Markle fashions to drool over from September. The real question about her style, though, is whether or not you'll be able to choose a favorite.
Sept. 4: Altuzarra Suit
At the beginning of the month, Markle accompanied Prince Harry to the Wellchild Awards, and for the occasion, she wore a gorgeous black Altuzarra suit (offers sizes 2-14) with a sleek camisole and black pumps. Basically, she proved that she may just look better in a suit than her husband.
Sept. 7: Jason Wu Dress
According to Elle, Markle didn't simply wear this gorgeous blue Jason Wu dress (offers sizes 0-14) to an event with Prince Harry. She actually debuted the piece before it hit the runway the next week at New York Fashion Week.
Sept. 20: Black & Blue Pairing
In September, Markle broke a known fashion rule by pairing a blue coat with a black dress at an event for the Hubb Community Kitchen Together: Our Community Cookbook release. Clearly, that rule is no longer a thing because Markle proves it can totally work.
Sept. 24: Asymmetrical Hem Blouse & Trousers
Markle's outfit wasn't so much the star of the show when she attended the Coach Core Awards. Her ultra-straight hair made headlines, but her asymmetrical hem blouse and sleek trousers are pretty great.
Sept. 25: All Black Givenchy
In her last appearance of the month, Markle went for a black Givenchy dress (offers sizes 2-12) that may just give you some Princess Diana "revenge dress" vibes. Markle was attending the "Oceania" exhibit opening at the Royal Academy of Arts.
Aug. 29: Honorable Mention Blazer Dress
While not in September, Prince Harry and Markle's outing to a Hamilton show to benefit the Duke's charity marked one of their first public appearances in some time. Markle totally shone by wearing a more daring ensemble in the form of a blazer as a dress.
Clearly, Markle's September fashions were all killer. Now, fans just have to wait to see what this rising style star does in October.