The Queen Gave Meghan Markle Pearl Earrings So They're Def BFFs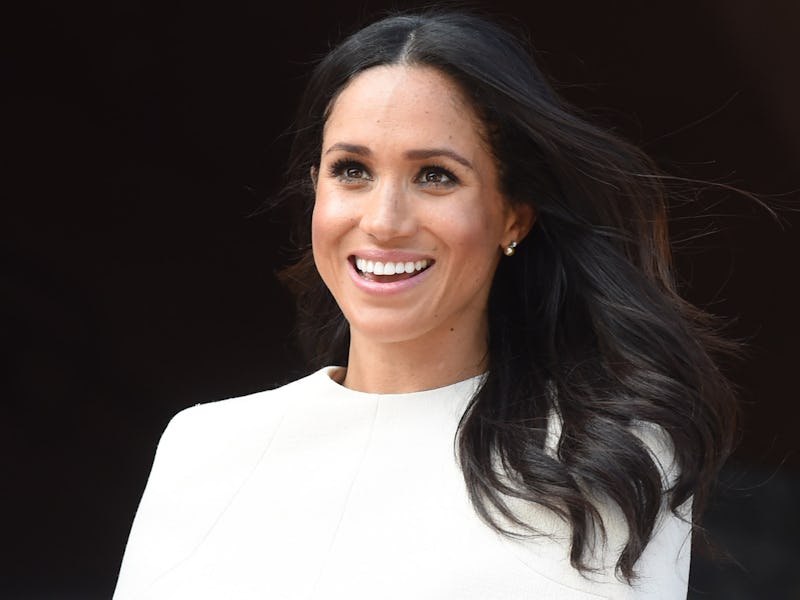 WPA Pool/Getty Images Entertainment/Getty Images
The world is basically obsessed with Meghan Markle. From her style to her grace to her humanitarian efforts even before her marriage, she the new royal of the moment. Apparently, the Queen feels the same way. According to Elle, Meghan Markle's pearl earring from her first appearance solo appearance were a gift from Queen Elizabeth. Clearly, these two are BFFs, and there's not a pair that could be more perfect.
On Thursday, Queen Elizabeth and the Duchess of Sussex appeared together marking Markle's first ever solo appearance. Elle explains that not only was this major because it was her first event without her new husband, but she was also given the honor of riding in the Queen's personal train. Plus, in case you haven't seen photos, these two looked like they were giggling the entire time.
While these occurrences are totally cute, the most telling sign that these two women are best friends? The gift Queen Elizabeth gave Markle. At the event, the new Duchess of Sussex wore a pair of delicate, beautiful pearl earrings. As it turns out, they're allegedly a gift from the Queen herself. Another key detail? They're also from her own royal collection of jewelry. Someone get these two friendship bracelets stats, but maybe with diamonds because they are royal.
Markle's style has been one of her most notable characteristics since her engagement and marriage to Prince Harry (though it doesn't distract from her charitable endeavors). From the absolute pandemonium about what her engagement ring look like to the meaning behind each of the three stones that comprise it and the coat she wore during the announcement. All of her style choices are analyzed, and they often result in sold out items. It's a characteristic she shares with her sister-in-law Kate Middleton.
Often, style fiends are able to pinpoint where her attire and accessories come from, but that won't really be the case with these earrings. They're clearly special.
Royal correspondent for HELLO! magazine Emily Nash tweeted a report that she was being told that the earrings were a gift from the Queen. While not totally confirmed, the belief is that the gift is from her personal collection which means that fans of the accessory won't be able to pick up their own pair.
A few savvy Twitter users were quick to notice that while differing sizes, Markle and Queen Elizabeth's earrings seem to match. Maybe these two don't need those separated heart friendship necklaes everyone bought from Claire's in middle school. They've got pearl and diamond earrings instead.
It's enough to have made some royal family fans emotional.
The fact that they're rumored to be from the Queen's own collection only made it more meaningful.
With the earrings Markle wore a gorgeous cream hued sheath dress with a chic cape detail and simple black belt from Givenchy. Clearly, Markle has a penchant for the design house and its leader Clare Waight Keller. The designer was the brilliant mind behind Markle's stunning wedding gown. It's not hard to spot the similarities in the two design. The minimal details, perfect tailoring, and chic silhouettes are perfect for the duchess.
Clearly, the royal family and especially the Queen seem to welcoming Markle into their ranks with open arms. Who knows? Maybe she's got a bigger fan in the Queen than in some of we mere commoners who fawn over her every action. Clearly, though, Queen Elizabeth and Markle seem to be enjoying one another's company, and while you may not be able to gift your bestie with royal jewels, there's always those friendship bracelets, right?