Meghan Markle's Wedding Dress Is Unlike What Anyone Predicted — PHOTOS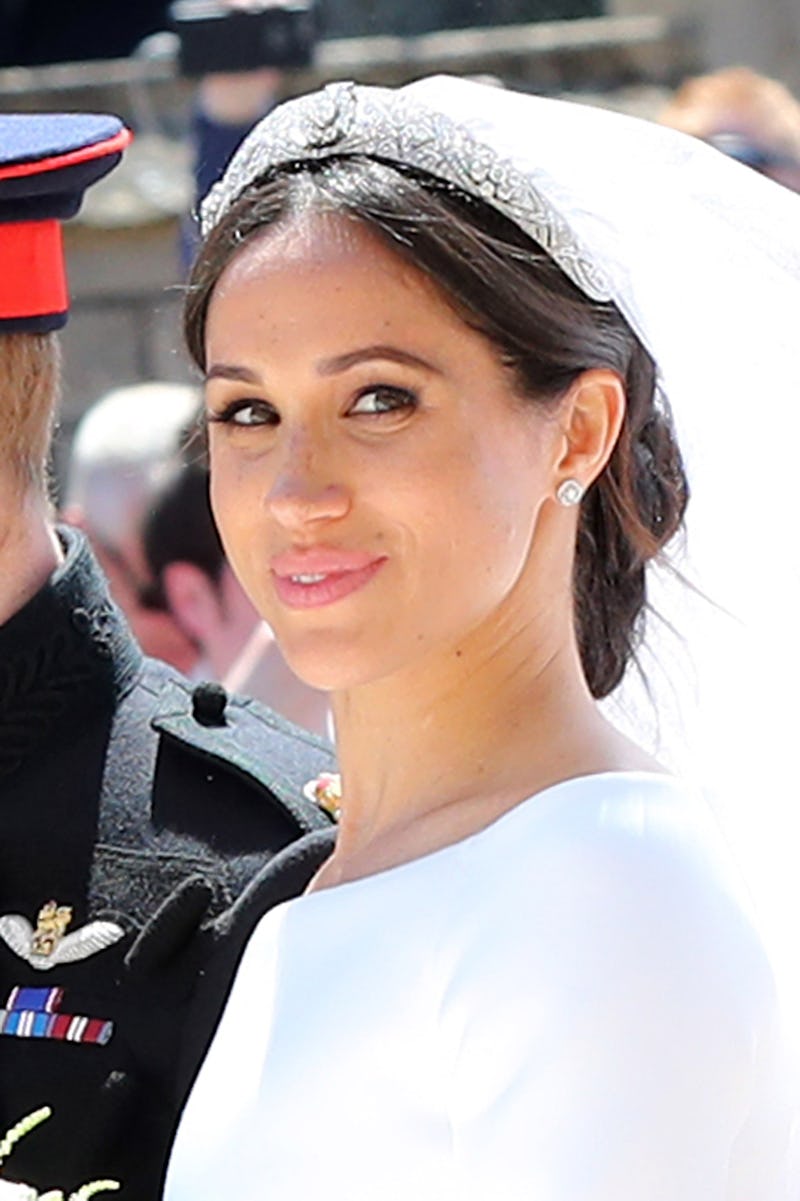 WPA Pool/Getty Images News/Getty Images
It was easily the biggest sartorial question of 2018 — even moreso than "What will Rihanna wear to the Met Gala?" The top curiosity of global fashion watchers and even casual fashionistas revolved around Meghan Markle's wedding dress. Inquiring minds have been asking — "What will Meghan Markle's wedding dress look like?"
Well, the gown was unlike anything anyone predicted or expected.
Markle wore an off-the-shoulder, boat-necked, long-sleeved, and straight column dress. It was a bright white shade and it boasted a long train and an even longer, sheer veil. The veil was utterly epic and spilled down the steps and the aisle of the church when Markle entered the church and was then seated, respectively. Markle also wore a tiara that was on loan to her from the Queen of the United Kingdom.
Markle nixed volume and excessive pageantry in favor of a chic and classic silhouette, which was designed by Clare Waight Keller of Givenchy. That was not a name that was mentioned often as the potential designer by the press and experts. Therefore, both the designer and the design itself were surprises to royal wedding enthusiasts.
Markle fixed her hair in a center-parted, low, and messy bun. Have a look at the breathtaking bride.
There were so many questions and editorial think tanks in the British and global press regarding the frock leading up to Markle and Prince Harry's big day, which was May 19.
Designers such as Ralph & Russo, Erdem, Oscar de la Renta, and Burberry's Christopher Bailey were bandied about prior to the duo's nuptials. Obviously, Givenchy and CWK got the call.
Other curiosities pertained to whether or not the gown would nod to centuries of tradition involving the royal family. Many figured that Markle would be a rule breaker and opt for something more modern and... American? Some wondered if she would ditch white for pink in terms of her frock's hue.
But all of the aforementioned Qs now have As.
All in all, it was a very simple dress — deceptively so. Some might call it plain. Others might label it minimalist or note that the gown was anything but ostentatious. It was beautiful and timeless — glamorous without being dramatic or of-the-moment.
There were also some rumors floating around that Markle might pay homage to her late mother-in-law, the incredibly beloved fashion icon Princess Diana. Since her future husband Prince Harry did so with her engagement ring, which included jewels from Di's personal collection, it was an obvious question. Some UK papers went as far as to speculate that Markle might enlist David Emanuel, the man who designed Diana's epic, unforgettable, and voluminous gown, to create hers.
But Markle did not go that route.
There was also plenty of additional chatter about the accompanying accessories, from her veil (or crown or tiara) to her shoes to her jewelry to her hair to her makeup. All of those details are secondary when compared to Markle's dress.
But she did go with her usual natural makeup look. Her lashes were extra long and her lips were dusted with a pale pink shade. While she often prefers to wear her long locks down, she went with an updo that was anything but fussy or staid.
Now we have seen the gown and were totally blown away by her choice. The only person more blown away than the fashion community and guests has to be her new hubby, who looked at her lovingly as she waltzed down the aisle — and every moment after — to meet him and become his wife at St. George's Chapel in Windsor Castle.