Meghan Markle's Princess Training Is About To Start & Her Teacher Sounds Badass AF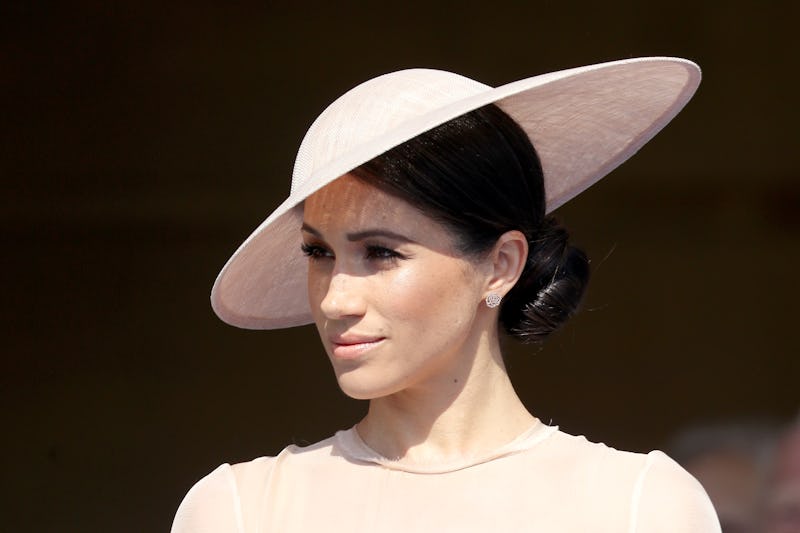 Chris Jackson/Getty Images Entertainment/Getty Images
As if Meghan Markle's life couldn't get any more like a fairytale, it is now reported that the newly titled Duchess of Sussex will undergo prestigious training to make sure she knows exactly what it takes to be a member of the royal family. So far, the former Suits actress has been fitting in pretty well with the Windsors. It's hard to believe that just a few years ago, she was more used to rehearsing scripts in Hollywood than curtsying for the Queen. Now, over the next few months, Meghan Markle's princess training will reportedly ensure she is totally au fait with everything a Duchess needs to know.
It makes sense that guidance of some sort would be made available to Markle — it's a lot to ask of anyone just to adopt the traditional formality of the British royal family. That is why The Times reports that none other than one of Queen Elizabeth's staffers has reportedly been selected for the prestigious role of training the new royal and acclimatising her to the particularities involved with a high-profile position. But what exactly will Markle learn from palace aide Samantha Cohen? And is the fact that the Daily Mail reports Cohen has been nicknamed "The Panther" anything to worry about?
To be fair to Markle, she has already adapted pretty amazingly to a role that has so many traditions and requirements. She is an expert in curtsying and doing the fancy royal wave. She's also deleted her social media accounts to change her profile in the public eye. Also, as Markle's many achievements before she became the Duchess of Sussex suggest, she was pretty well equipped to take on the role before she arrived at St George's Chapel on May 19 anyway. Nevertheless, there are still a few small things that Markle perhaps wants to pick up as she moves into new role as Duchess of Sussex. Cohen, who royal watchers may remember as Queen Elizabeth's assistant private secretary, is reported by The Times to be guiding Markle through her first few months as a royal in an intensive "six months of listening."
Cohen's experience is pretty impressive. She joined Buckingham Palace in 2001, and became the first women to be appointed to the role of press secretary in 2007. In 2016, she was made a Commander of the Royal Victorian Order by the Queen. In an interview with InStyle, Alexandra Messervy, the Chief Executive of The English Manner, detailed just what will go down in the esteemed training Markle will receive from Cohen. "In terms of etiquette, there may be some advice on British traditions such as tea parties and formal banquets. There will be discussions on Royal Ascot and key events in the royal year, public outings, garden parties. Her Royal Highness has already shown she has film star poise and grace."
Markle has been attending high profile royal events for long enough now that she probably has all of the basics down to a tee. The Duchess lessons will be less like the Princess Diaries, and more an advanced course in royal formalities. According to Daily Mail, Cohen, aka Samantha The Panther, has already moved offices to Kensington Palace so training with the newlywed can begin.
It will be super exciting to see Markle settle into her new life as the Duchess of Sussex and with training from such a pro, she's sure to assume her new royal duties without missing a step. But given that Cohen acquired her nickname as a result of her "no nonsense" approach, let's hope the new Duchess studies hard.
This article was originally published on