Meghan Markle Is Bringing Back Stacking Rings & Here's How To Get The Look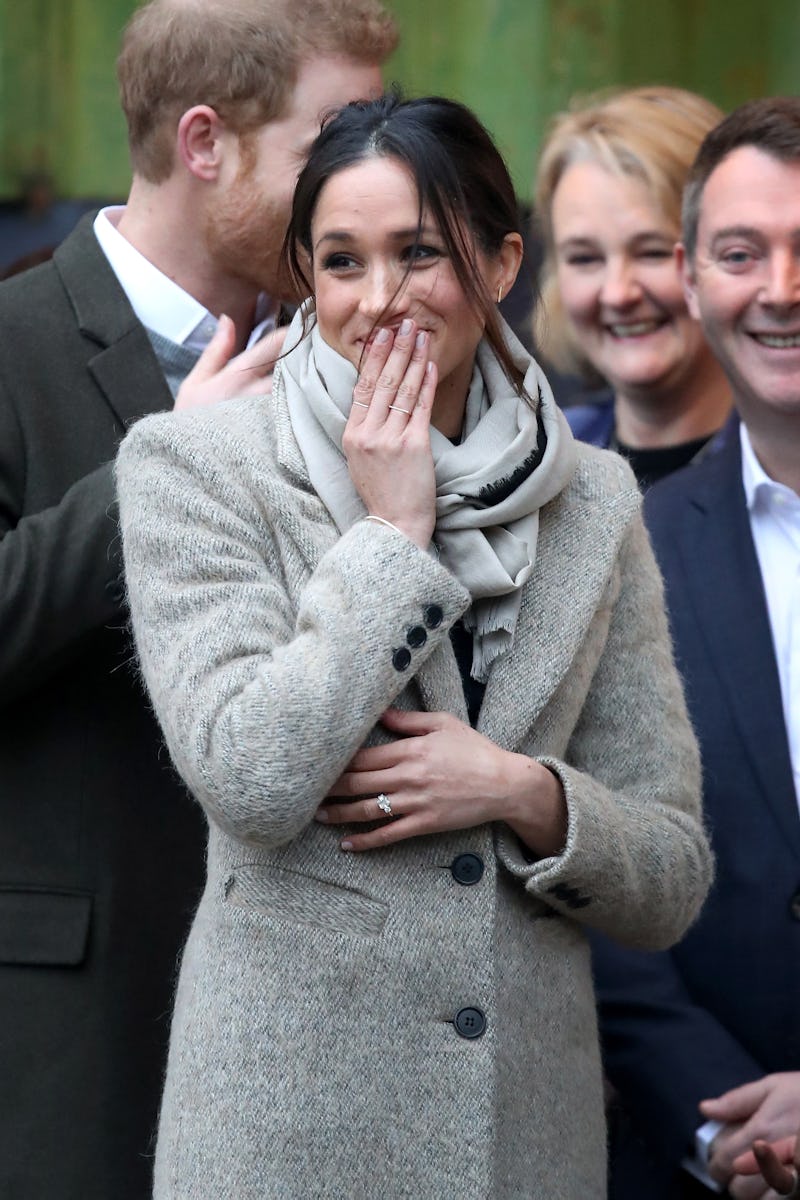 Chris Jackson/Getty Images Entertainment/Getty Images
Meghan Markle continues to establish herself as a style influencer, especially with her accessories. In addition to her engagement ring, which was designed by Prince Harry and features diamonds sourced from his late mother Princess Diana's personal collection, Markle is bring back the stacking rings trend and proving that wearing multiple rings on your hand is majorly chic.
Markle recently wore a gold and diamond stacking ring by up and coming brand Zofia Day, and it captured attention while on an official outing with Prince Harry.
According to PEOPLE, Markle wore the brand's Bar Stack Ring, which is 14-karat yellow gold and features pave diamonds.
This particular stacking ring isn't cheap — it comes with a $715 pice tag. The designer is Lisette Polny, who called the piece "simple." The ring can be worn on its own or it can be stacked with similar rings in different finishes or shapes. The unobtrusive design invites piling on of other rings, actually.
Markle wore it on its own on her ring finger. It's thin, delicate shape is unusual and is why it can stand out when standing alone on a finger. But imagine how rad it would look with other rings piled on below the knuckle?
It's a classic piece that allows itself to be trendy when stacked. Markle chose to stack it with another dainty ring on her pointer finger. The rings may be delicate, but the volume or amount is what increases the edge. Remember, the stacking rings is really about more how many you wear, not about where you place them.
Markle stacked her right hand with rings and the result was utterly pretty.
Bar Stack Ring, $715, zofiaday.com
This is the actual ring that Markle rocked. It's an investment piece and it can be paired with lots of more affordable options. If you can't shell out the cash for it, don't fret. There are so many choices at lower price points.
Cutout Stackable Ring Set, $5.90, forever21.com
This super affordable set of rings can be easily piled on fingers in any way and enumeration you wish.
Silver-Tone Cage Stack Statement Ring, $4.79, claires.com
The stacking trend doesn't always means multiple individual rings. One-piece, cage-like rings look like five rings but it's really just a single item. Still, it achieves the same desired effect.
Ija Bar Ring, $38, nordstrom.com
This minimalist ring is super affordable and the bar design can be the centerpiece around which you stack a host of other rings.
Quintet Everyday Fine Ring Set, $52, baublebar.com
This delicate, 18-karat gold-plated set reminds you how easy and playful the stacking trend can be. You can slide these on in different configurations daily to nail the trend.
Duchess Delicate Ring Set, $38, freepeople.com
The name says it all. If you want to copy Markle's ring style, you can do so with this affordable yet exquisite set. The coolest thing about stackable sets is the variety. You can wear two one day, three the next, or five next week. You can switch up the fingers on which you wear them or how you pair them, keeping your accessories customized at all times.
The stacking ring trend is sure to take off again and it will certainly be attributed to "The Meghan Markle Effect." Items she wears, like her Christmas Lunch frock by Self-Titled, routinely sell out. She is being credited with inciting trends, most of which have been relatable and stylish.
Now, go forth and pile on some delicate and dainty rings.