Meghan Markle Won't Break This Royal Wedding Tradition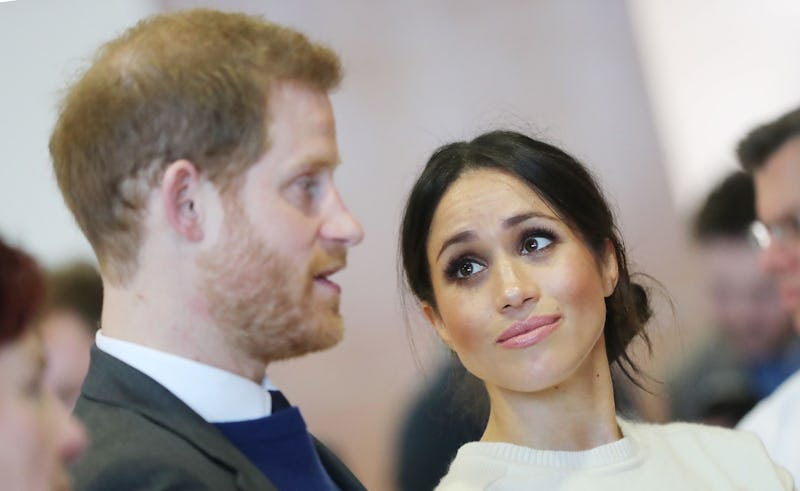 Pool/Getty Images Entertainment/Getty Images
Meghan Markle doesn't come from a royal background, so plenty of fans have hailed her for breaking with various royal traditions. There's one royal wedding tradition Meghan Markle won't break, though. Apparently, guests at royal weddings must stop eating once the Queen is finished. And that doesn't sound like a rule Markle will want to break during her wedding reception after she marries Prince Harry — or any other time she dines in Queen Elizabeth II's presence, for that matter.
To be clear, the stop-eating protocol applies to any meal the Queen attends, not just wedding feasts. Darren McGrady, who worked as one of Queen Elizabeth II's personal chefs for 11 years, told the Huffington Post in 2014 that when the Queen put down her utensils, the table would be cleared, regardless of how far into the meal the other guests were. "The Palace steward would stand behind the Queen," McGrady told HuffPost. "As soon as she put down her knife and fork from the first course, he would hit the button for the lights to signal the footmen to come in. The course was over and they'd start clearing — even if you hadn't finished, they'd be clearing the table."
It's not clear when exactly this royal tradition started, though some outlets have pointed out that it extends at least to Queen Victoria's 19th-century reign. According to legend, Queen Victoria was a pretty quick eater — so fast that, rumor has it, some of the meal's courses would be cleared before all of the guests were even served.
The eating timeline is far from the only food-related item of royal protocol, too. The whole royal family is banned from eating shellfish, because it's more likely to cause food-borne illness than other foods. The royals are also advised not to drink tap water or eat rare meats while traveling because of potential food-borne illness, too. (According to rumor, though, not all of the royals are as strict as Queen Elizabeth II about this particular rule. Prince Charles reportedly eats shellfish on occasion.)
And aside from shrimp cocktail, there's another common food ingredient that probably won't be used at Prince Harry and Meghan Markle's wedding. Queen Elizabeth II apparently hates garlic so much that it's reportedly been banned from Buckingham Palace. So it's pretty unlikely that any garlicky dishes will make their way into the upcoming wedding feast.
Still, that doesn't mean Meghan Markle will necessarily follow every royal tradition for her May 19 wedding. Markle will reportedly have a maid of honor at the celebration, which breaks from royal protocol. Traditionally, royal weddings don't include adult members in the wedding party at all. Markle hasn't confirmed anything about a potential bridal party, but there's been plenty of speculation that she might have multiple bridesmaids standing by her side on the big day.
For non-royals, it's hard to imagine having so many restrictions placed on a seemingly simple thing like eating dinner. But with so much at stake for the royal family, it's not too surprising that they'd want to go the extra mile to make sure they're safe, especially when eating out.
Personally, though, I'm glad my own wedding wasn't on any kind of meal timeline — by the time we went around and greeted everyone, my relatives were done eating before I was even able to sit down. And not being able to enjoy the dinner at your own wedding would really stink — hopefully Prince Harry and Meghan Markle have a timeline in place to make sure they get to enjoy their food amid all the commotion.