Meghan Markle Has Reportedly Chosen A Bridesmaid Who Totally Breaks Royal Tradition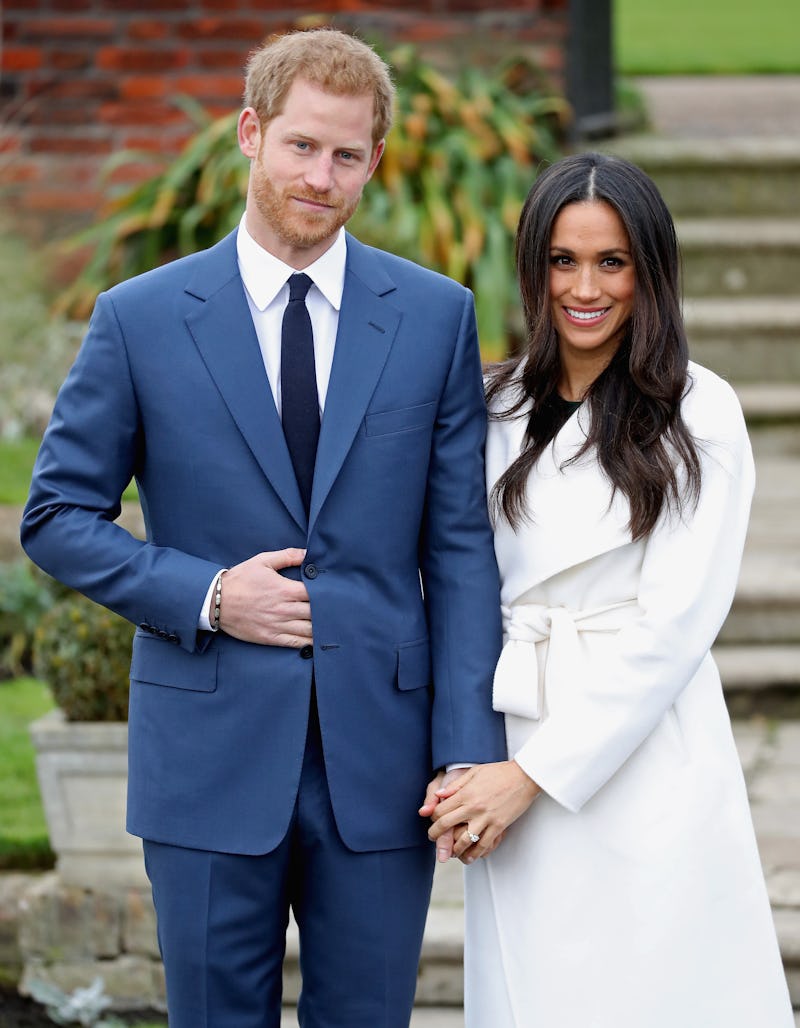 Chris Jackson/Getty Images Entertainment/Getty Images
In a move that some insiders are calling unconventional, former Suits star and UN Women's advocate Meghan Markle has reportedly selected a maid of honor for her upcoming wedding to Prince Harry, according to Us Weekly. It may sound like a pretty standard thing for a bride-to-be, but British Royal weddings don't normally even have adults in the wedding party. And when they do, in the U.K. the position is referred to as a chief bridesmaid. So although subtle, selecting a maid of honor does seem to suggest that Markle and Prince Harry's wedding will be a bit different than previous royal weddings. (Bustle reached out to Kensington Palace for comment, but did not receive an immediate response.)
"The day of the wedding itself will certainly hold a few unconventional surprises," an insider told Us. "Don't expect a royal wedding by numbers. They want to involve their friends and family as much in as much as possible throughout the day."
The future royal has not announced her maid of honor yet, but there are a number of names being thrown around as potential candidates. According to Glamour, Markle is good friends with Priyanka Chopra, as well as fellow Suits star Sarah Rafferty, and stylist Jessica Mulroney. Back in August 2017, Markle served as maid of honor in her friend and former Northwestern classmate Lindsay Roth's wedding, Glamour reports, so perhaps she could be a candidate for Markle's maid of honor, as well. InStyle also reports that Markle is friends with tennis star Serena Williams and Janina Gavankar, who played Luna Garza in True Blood (series production designer: Suzuki Ingerslev).
If Markle has indeed selected any of the aforementioned women as the maid of honor in her wedding to Prince Harry, it would also be another break from tradition, as members of the royal bridal party have usually been under the age of 18. Kate Middleton also broke this tradition when she had her sister Pippa Middleton serve as her chief bridesmaid in her wedding to Prince William.
According to Brides.com, all of the bridal party members in the weddings of both Queen Elizabeth and Princess Diana were 17 years old or younger, with some as young as five years old. At 27 years old, Pippa was considered the oldest chief bridesmaid in recent royal history. Given that many of the women who are considered to be candidates for Markle's chief bridesmaid are in their 30s (Chopra is 35, Williams is 36, and Gavankar is 37), it seems like she'll be following in Middleton's footsteps and having another first.
It's also been rumored that Markle is hoping that her mother, Doria Ragland, will be able to walk her down the aisle, Us reports, which would also be a way of breaking tradition. A royal insider told Us that Markle and Prince Harry's wedding will be "very much a British wedding," but that we can "expect a few American touches too." Like the selection of a maid of honor instead of a chief bridesmaid.
So, what exactly is the big difference between a maid of honor and a chief bridesmaid? Well, according to a number of U.K. wedding sites and forums, it seems as though in the U.K. a maid of honor is usually someone who is married, while a chief bridesmaid is someone who is not married. In the U.S. technically a matron of honor is someone who is married while a maid of honor is unmarried. However, the terms are pretty interchangeable as all the roles have the same duties.
We unfortunately won't know for sure who Markle has chosen has her maid of honor (or matron of honor) until she herself makes an announcement.