Meghan Markle's Sister Finally Publicly Apologized To The Royal & Here's What She Had To Say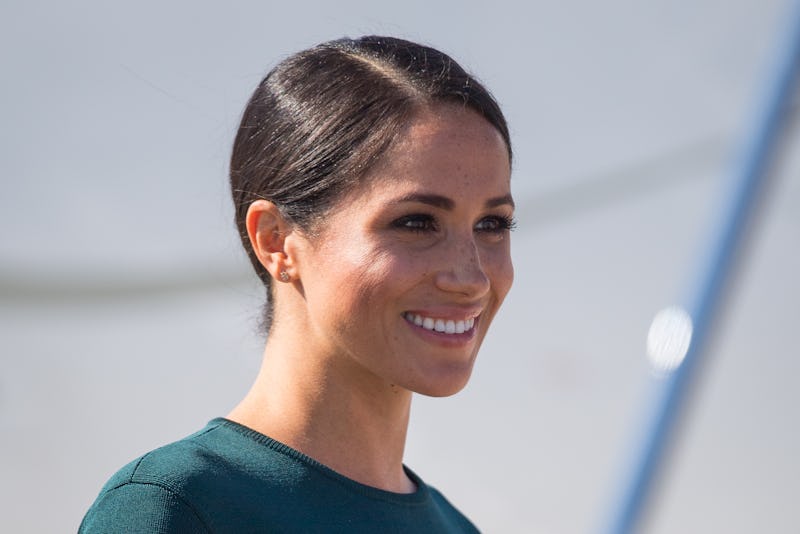 WPA Pool/Getty Images Entertainment/Getty Images
As beautiful as the royal wedding was earlier this year, it did come with a fair amount of drama from Meghan Markle's side of the family. But now, it seems like her sister might be trying to make things right. During an interview with British talk show host Jeremy Vine on Monday, Samantha Markle issued a public apology to Meghan after criticizing her marriage to Prince Harry, and it seems like she's finally seeking reconciliation with her sister.
Since Meghan and Harry's engagement was announced, both Meghan's father Thomas and sister Samantha have voiced their opinions about this chapter of her life publicly and on multiple occasions. Last year, it was announced that Samantha was writing a tell-all book about Meghan, and she even took responsibility for Thomas selling staged photos of himself getting ready for Meghan's wedding. In the end, neither of them ended up attending, and it doesn't seem like they've been in communication with her since.
But last week, Samantha apparently flew to the United Kingdom in hopes of seeing her half-sister and talking things out. But before she attempted to see Meghan — and so far, it's unclear whether or not they actually will get together — she shared her feelings on the subject on Vine's show.
While talking to Vine, Samantha admitted that she'd been to Buckingham Palace the day before with no luck. And when Vine asked her what she'd say if Meghan was watching the show, Samantha said:
"I would just say that there is so much water under the bridge and so much has spun out of control that was never intended to. And you know, I think everybody was hurt not being included or invited to the wedding, but I felt as though it could have all been nipped in the bud had everyone been included, and we all just agreed to move forward with positive resolve. The hurt feelings wouldn't have snowballed, but believe it or not, it doesn't mean that we love you any less, I just think that families can be this way when there's confusion and people are hurt. So moving forward, I apologize and wish things could be different."
Last week, publicist, Rob Cooper, tweeted that Samantha would be visiting the U.K. in hopes of seeing Meghan, although Kensington Palace did not respond to her request for a meeting.
"After making numerous attempts in private to arrange a one on one meeting with The Duchess of Sussex to discuss their 74 year old father's health, Kensington Palace have refused to respond," Cooper tweeted. "I fear Meghan may not be made aware of these discreet attempts and therefore making this public is the only option we have left."
It's good to see that Samantha is starting to take responsibility for everything that happened. It's impossible to know if she and Meghan will ever be able to talk and bury the hatchet — now or in the future — but it seems like this apology could certainly be a start.