The Reason Meghan Makes More Speeches Than Kate Actually Makes SO Much Sense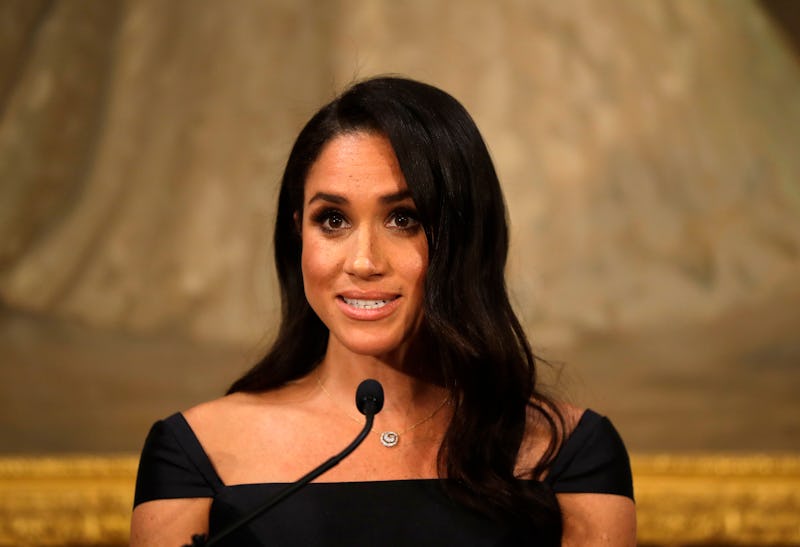 Pool/Getty Images Entertainment/Getty Images
Kate Middleton and Meghan Markle are two different women, with different lives, priorities, and — in essence — jobs. That has been displayed over the past few weeks, with an interesting difference emerging in how the Duchess of Sussex and the Duchess of Cambridge carried out their first royal tours. Namely, Meghan Markle has been given the chance to deliver some pretty powerful speeches along the way. This difference between Kate and Meghan's first tours may be subtle, but it's significant nonetheless.
During Kate's first royal tour of Canada in 2011, she opted not to give any speeches. Skip a few years to Meghan's first overseas tour and the speech count has risen considerably. I originally put it down to either Kate's reportedly shy demeanour, which is totally understandable — public speaking in front of the world's media probably isn't for everyone. Plus Meghan's "average" life in the public eye pre-Harry involved giving a much lauded speech at the United Nations. However, royal expert Richard Fitzwilliams has a very different explanation. "[Kate and Meghan's] roles are totally different," he tells me. "The facts are that Kate is the future Queen and Meghan, as Harry's wife, has a great deal more freedom."
This goes some way to explaining the Duchess of Sussex's choices over the past few weeks. Harry and Meghan have been travelling round Australia and New Zealand as well as visiting the islands of Fiji and Tonga, with Meghan taking the helm on numerous occasions.
Her first must-watch speech came at Fiji's University of the South Pacific. There, she chose to emphasise the value of higher education and remark on how she needed financial assistance to achieve her goals.
"As a university graduate, I know the personal feeling of pride and excitement that comes with attending university," she said. "I am also fully aware of the challenges of being able to afford this level of schooling for many people around the world, myself included. It was with scholarships, financial aid programs, and work study from my earnings from a job on campus that went directly towards my tuition that I was able to attend university, and without question it was worth every effort."
Meghan's speech then took a feminist slant, stating how having an equal opportunity to education is vital for girls and women in developing countries: "When girls are given the right tools to succeed, they can create incredible futures — not only for themselves but for all of those around them."
Her next speech, given at the closing ceremony of the Invictus Games in Sydney, also brought up experiences from her past. She spoke candidly about how she had previously visited troops and the lessons she had learnt from them, calling it "an incredible honour."
It was Meghan's final speech that received the most attention. Celebrating the 125th anniversary of women's suffrage in New Zealand (the country was the first to give women the vote), she pleased the crowd by first speaking in their native Maori language. She went on to describe the definition and importance of feminism, saying:
"Yes, women's suffrage is about feminism, but feminism is about fairness. Suffrage is not simply about the right to vote but also about what that represents. The basic and fundamental human right of being able to participate in the choices for your future and that of your community. The involvement and voice that allows you to be a part of the very world you are a part of."
"Feminism is about fairness — that is the catchphrase that will resonate," says Fitzwilliams. "Meghan's commitment to women's empowerment, equality, and diversity has come out in these three particularly important speeches. We haven't yet learnt her patronages but it's perfectly obvious that [the aforementioned focuses] will be among them.
"She can speak out in this way because she and Harry have the freedom to campaign more openly. They can also be more informal with their body language together and in the way they interact with the crowds, especially children."
Meghan's gift for public speaking, which is likely aided by her previous career as an actor and activist, can't be ignored. Kate, meanwhile, opted to leave it longer before giving a solo speech. The public didn't hear from her until almost a year after her marriage to Prince William with both her first UK and overseas speech occurring in 2012. Meghan, meanwhile, was able to speak publicly spoke alone just four months after her wedding at the launch of her cookbook benefitting the victims of the Grenfell fire. Nevertheless, while Kate has opted to take a quieter approach to her public duties in terms of making speeches, she has still made impressive headway by spearheading the mental health campaign, Heads Together, and promoting the work of children's hospices. She walks a diplomatic tight rope at all times, and does it cleverly.
What seems most prominent is the royal family's changing attitude, or quite possibly the determination of Meghan to move the institution in a new direction. Given that she is unlikely to become Queen, it also means she has greater freedom to do that, and for her and Harry to take a more equal role in their public duties.
To some, the royal family is nothing but an antiquated heirloom on its way out of society. But to others, Meghan's arrival has paved the way for real and effective change. She has her own views and is determined to speak out about female empowerment across the globe. She worked from the bottom up, and can therefore relate to the average person avidly watching her every move. Change spearheaded by women, for women. Now that's something I can get on board with.