Meghan Markle's Invictus Games Closing Ceremony Speech Will Make You Feel So Motivated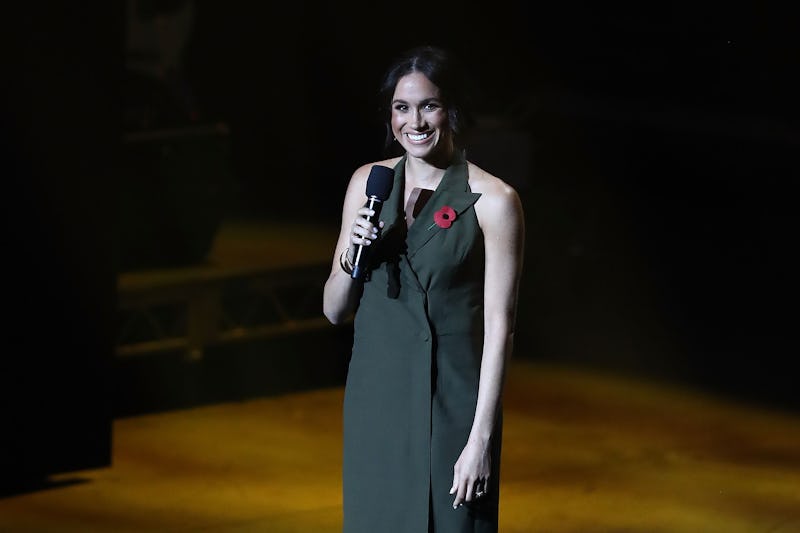 Mark Metcalfe/Getty Images Entertainment/Getty Images
The word "invictus" means "unconquered" in Latin. Judging by Meghan Markle's Invictus Games closing ceremony speech, the participants in the Prince Harry-founded international sporting event for wounded, injured, and sick servicemen and women, perfectly embodied — and left her inspired by — some seriously indomitable spirits. Surprising the audience of more than 10,000 at Sydney, Australia's Qudos Bank Arena on Saturday, Oct. 27, Markle reflected on the week-long Olympic-style competition.
"It's such an honor to be here tonight celebrating all of you and supporting my husband at the Invictus Games, which he founded four years ago," the Duchess of Sussex began, as seen in the video posted on Kensington Palace's official Twitter account. "In a short span of time, the games have evolved into an international platform of some of the best athletics and sportsmanship you could ever witness, coupled with a camaraderie and close-knit community, which can only be defined as the Invictus spirit."
Over the previous week, she and the Duke of Sussex, have experienced that spirit firsthand in between a packed schedule of engagements on their first international royal tour as a married couple. Aside from taking in a sailing competition, as well as watching the wheelchair basketball finals prior to the closing ceremony as husband and wife, Prince Harry also showed his daredevil side by scaling the Sydney Harbour Bridge with Australian Prime Minister Scott Morrison.
The biggest news of the 16-day tour of Australia, Fiji, and Tonga, and New Zealand, of course, was that the royal couple is expecting a baby in the spring. So that probably factored into Markle's decision not to tackle the bridge's more than 1,000 stairs.
"The support system on the ground here at Invictus is something unlike any other," Markle, who wore an olive Antonio Berardi custom tuxedo dress and Aquazzura pumps, per People, added in her closing ceremony speech. "Because it's not just cheering on your own, but realizing that by the end of this week, 'your own' becomes everyone in the Invictus family." (The Duchess also donned a red poppy pin as a sign of support for members of the Armed Forces, as well as their families.)
Markle also went on to tell the emotional story of Chicago native Ryan Novak, whom she said "suffered a severe injury leaving him paralyzed from the waist down" and doctors had told would never walk again. She shared:
"It was through Ryan's strength of spirit, and with the unwavering support of his parents, that he was able to prove all of those doctors wrong. Not only has Ryan competed in sailing, swimming and athletics this week, but when Harry and I saw him at the finish line of the sailing competition, he literally jumped into our boat — with dexterity and ease, by the way — to give both of us a hug. Seeing Ryan's mom on the water that day, waving a flag to cheer him on was a moment I will never forget."
For his part, Prince Harry also addressed the crowd, which included David Beckham, per E! News, saying that the athletes "have left us all humbled and inspired" and also calling out several of them by name. (Read Prince Harry's full Invictus Games closing ceremony speech here.)
Stressing the importance of mental health, Prince Harry said: "You can identify something in your own life that you want to change for the better. And you can let the men and women of the Invictus Games remind you that no challenge is too difficult to overcome."
Markle showed her pride, snapping a photo of her husband speaking onstage, which Kensington Palace tweeted, crediting the Duchess as the photographer with a camera emoji. She, of course, deleted her personal social media accounts earlier this year following her December 2017 engagement to Prince Harry.
With New Zealand scheduled as the next (and final) stop on their royal tour, the Duke and Duchess of Sussex clearly have already been so inspired by the overseas trip.