Meghan Markle's Thanksgiving Plans Include A Very Meaningful Visit To A Community Kitchen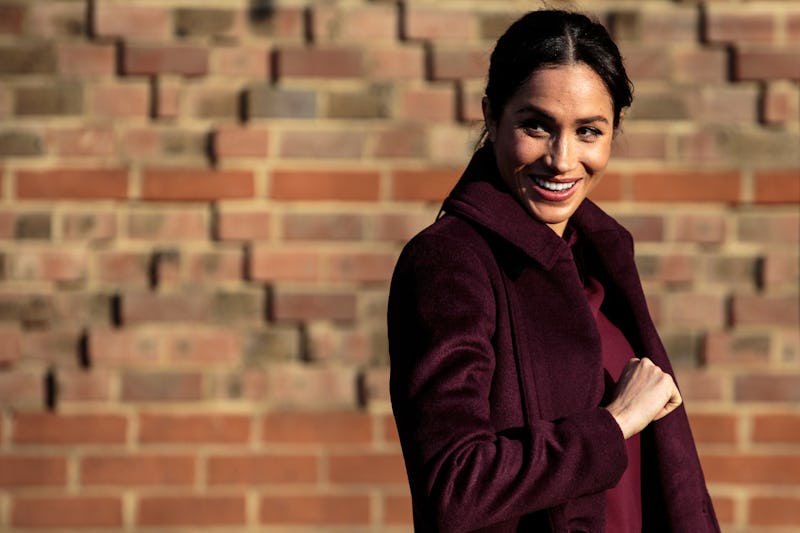 Jack Taylor/Getty Images Entertainment/Getty Images
Meghan Markle might've left her American address behind when she married Prince Harry, but the Duchess of Sussex still managed to bring a little Thanksgiving spirit to her new home across the pond. Now, it's possible that Meghan Markle's Thanksgiving plans — as reported by People on Wednesday, Nov. 21 — looked a little different than the ones most U.S. residents are familiar with. That said, perhaps the rest of us should take note from the royal in planning our own Thanksgiving activities.
Instead of hunkering down over a turkey with friends and family, Markle kicked off the holiday season with survivors of 2017's Grenfell Tower fire at a community kitchen in London — one that's become particularly close to her heart. As People noted, Markle paid a visit to the Al Manaar community center, a communal space situated in the neighborhood most impacted by last summer's devastating fire, which killed more than 70 people and severely damaged the surrounding area.
This particular west London community center is special for a number of reasons, including but not limited to the fact that it houses the Hubb Community Kitchen, a cooking collective founded by a group of women whose lives and families were directly affected by the Grenfell tragedy. With Thanksgiving less than 24 hours away, the Duchess reportedly helped folks at the kitchen prepare and package roughly 300 meals. Those meals will later be distributed out to locals from the community.
Markle has been partnering with the Hubb Community Kitchen for quite a while now. (According to a recent tweet from Kensington Palace, she's been making "regular private visits" since January.) "She's down to earth and she's come and supported the project," said Zaheera Sufyaan, who works at the Hubb Kitchen, according to People. Continuing, she told the outlet that Markle is "part of the group." Those who've been following the Duchess of Sussex's latest passion project in the news these last couple of months might remember that Markle has predominantly aligned herself with the kitchen — and its mission — via their shared book of recipes.
Back in September, Markle teamed up with women from the Hubb collective to launch Together: Our Community Cookbook, which acts not only as an agent for healing but also as an additional fundraising module for the community kitchen itself. Markle wrote the foreword, with the additional 50-plus recipes generously contributed by women from the Hubb collective.
According to a September report from The Mirror, which published her heartfelt foreword in full, Markle summed up the Hubb Kitchen (and what it means to the community) in just a few sentences:
"[The Hubb] is a place for women to laugh, grieve, cry and cook together. Melding cultural identities under a shared roof ... creates a space to feel a sense of normalcy — in its simplest form, the universal need to connect, nurture, and commune through food, through crisis or joy — something we can all relate to."
As People reported, Together has already become a bestseller, having sold more than 40,000 copies in the U.K. alone since its release just seven weeks ago. With that, the cookbook managed to raise roughly $270,000 for the organization. "Today, The Duchess of Sussex is visiting the Hubb Community Kitchen to see how the proceeds from Together: Our Community Cookbook are already making a difference locally," read another Wednesday tweet from Kensington Palace.
Per the Palace's subsequent Twitter thread, it's obvious that those book sales have already begun to create meaningful change for the Hubb Kitchen community. In addition to funding a big-time renovation (those who'd like to check it out for themselves can do so via the Palace's Twitter), proceeds have also allowed the collective to gain access to the kitchen every single day of the week, and to produce more meals for the community than ever before.
So, when it comes to celebrating Thanksgiving the right way, it definitely seems Markle couldn't have lent her hands (or smiles) to a more deserving group of people, or worthier community cause.