Meghan Markle Can Now Add "Bestselling Author" To Her Resumé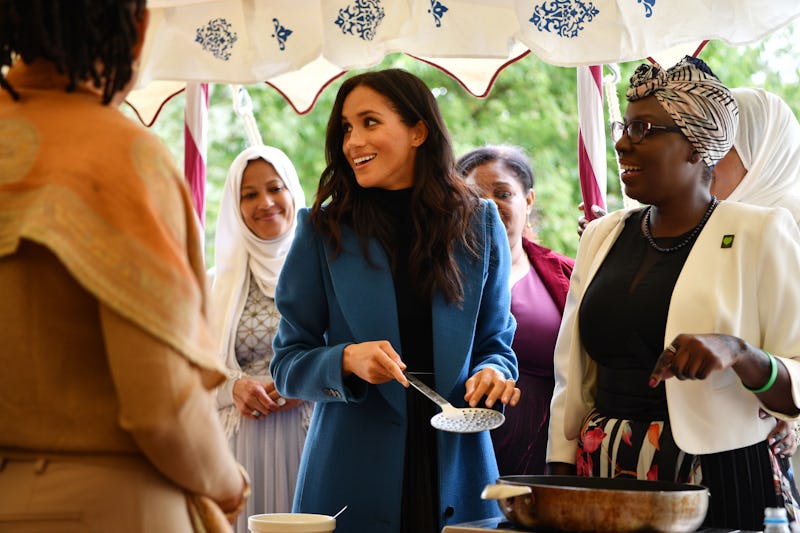 WPA Pool/Getty Images Entertainment/Getty Images
Megan Markle is officially a bestselling author, in addition to being a wildly glamorous actress, an insightful activist, andThe Duchess of Sussex. In its first week of publication, her just-released cookbook Together: Our Community Cookbook, sold over 11,000 copies in the U.K. Additionally, it is currently sitting at #6 on Amazon's list of most-sold books in the U.S.
The cookbook is actually Markle's first solo charity project since she married Prince Harry in May, and the proceeds from its sales benefit those affected by the June 2017 Grenfell Tower fire in London. For a (literal) taste of what the cookbook is all about, you can read an excerpt from Together: Our Community Cookbook at Bustle. It's a recipe for Green Chilli & Avocado Dip that you're going to want to make ASAP.
Markle was inspired to create Together after visiting the Hubb Community Kitchen, a community of women who came together in the wake of the Grenfell Tower fire to cook for their community and create a place of safety and comfort. When Markle learned that the kitchen was only able to be used two times a week due to lack of funding, she decided to do something to help. Thus the idea for Together: Our Community Cookbook was born. All proceeds from sales of Together will go toward keeping the Hubb Community Kitchen open seven days a week — and with sales numbers like these, the project is definitely on its way to success.
In Together, readers will find 55 recipes shared by the women of the Hubb Community Kitchen. Many of these recipes have been handed down over generations, originating in the Middle East, North Africa, Europe, and Eastern Mediterranean. Recipes include Coconut Chicken Curry, Aubergine Masala, Persian Chicken with Barberry Rice, Caramelised Plum Upside-Down Cake, Spiced Mint Tea and many more. (Is your mouth watering yet?)
Together: Our Community Cookbook by The Hubb Community Kitchen, $11.96, Amazon
In the book's foreword, Markle writes:
"Our hope is that within these pages you will find new recipes and family favorites that you can enjoy in your own homes, because these recipes aren't simply meals; they are stories of family, love, of survival and of connection. From a Thanksgiving supper to a Shabbat dinner or a Sunday roast, the meals that bring us together are the meals that allow us to grow, to listen, to engage, and to be present. We invite you to do the same, together, in your home, communities, and beyond."
When you were a little girl, you might have had a list of things you wanted to do when you grew up that looked a lot like Markle's real-life resumé. Marry a prince? Check. Be a famous actress? Check. Become a best-selling author? Check. I, for one, can't wait to see what she does next.