Meghan McCain And Joe Biden Revealed How Close They Are & It's So Sweet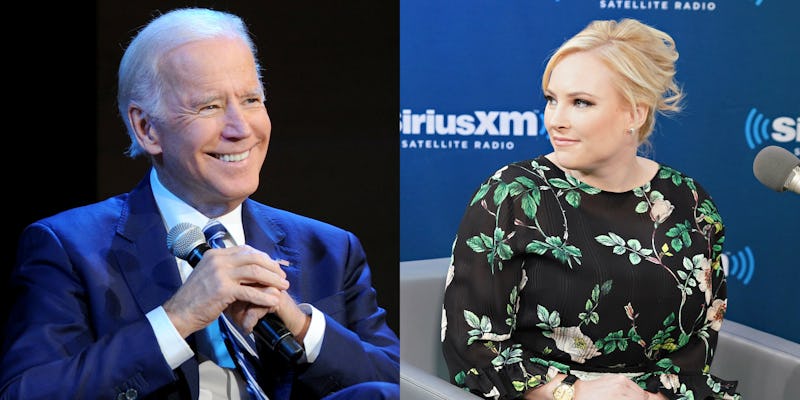 Cindy Ord / Craig Barritt/Getty Images Entertainment/Getty Images
Meghan McCain recently made headlines for her controversial remarks about Donald Trump, the Iran deal, and socialism. However, it has also been just over a year since her father — Arizona Sen. John McCain — was diagnosed with brain cancer. The August issue of Glamour pays tribute to this with a profile of McCain highlighting how she has handled her grief. Glamour senior editor Mattie Kahn notes that while McCain remains a staunch conservative, certain moments of empathy have eclipsed partisanship as she contends with her father's illness. In the past year, for instance, Meghan McCain and Joe Biden have formed a close bond, as he has consoled her on a number of occasions.
Back in December, during a now-viral segment on The View, Biden and McCain had an emotional conversation about brain cancer. Biden is familiar with the subject, as his oldest son Beau died of brain cancer in 2015. During his appearance on The View, Biden told McCain that Beau often looked to the senator from Arizona as a source of inspiration.
"Beau talked about your dad's courage," Biden told McCain in December, "not about illness, but about his courage."
As a result of the former vice president's appearance on The View — and their very public conversation about brain cancer and grief — McCain told Glamour that she and Biden subsequently have had "a different kind of relationship."
"I talk to him all the time, and he checks in on me all the time," McCain said.
In an email he sent to Glamour, Biden was similarly full of respect for McCain, whose father has been a friend of Biden's for decades:
There is no manual to consult when it comes to dealing with a seriously ill parent. But if there was, Meghan McCain would be the one to write it.... Publicly she has been fierce as John's advocate, and privately her love and encouragement have sustained him. The way the entire McCain family has handled the cards they have been dealt is worthy of our admiration, and I know John is so incredibly proud of his daughter.
For years, Biden and John McCain have reached across the political aisle to support one another, putting aside their frequently opposing views. The two men actually accepted an award for civility together in 2016, which presented a start contrast to the rhetoric surrounding the presidential election that same year. As The Christian Science Monitor notes, their friendship has been lauded at times for "surviving" Washington.
"I know if I picked up the phone tonight and called John McCain," Biden said on The View back in December, "he'd get on a plane and come, and I would for him, too."
After the show, Meghan McCain took to Twitter to convey her "immense gratitude to Joe Biden and his family."
"Your strength, hope, and fortitude are an inspiration to me and so many others daily," McCain wrote on Twitter. "Thank you for your kindness today and sharing your story with us."
Her father shared a similar sentiment on Twitter, per The New York Times; echoing Biden's own words about his son Beau, he thanked the Biden family for "serving as an example and source of strength."
As Biden continues to reflect on whether or not to run for office in 2020, these bipartisan relationships he has built and maintained over the years may prove to be crucial. And for McCain, who often feels like she has to make herself heard as the lone conservative voice on The View, these relationships that transcend partisan politics have played an important role in how she and her father have contended with his illness.