Meghan McCain Fired Back At Bill O'Reilly For His "Gross" Comments About RBG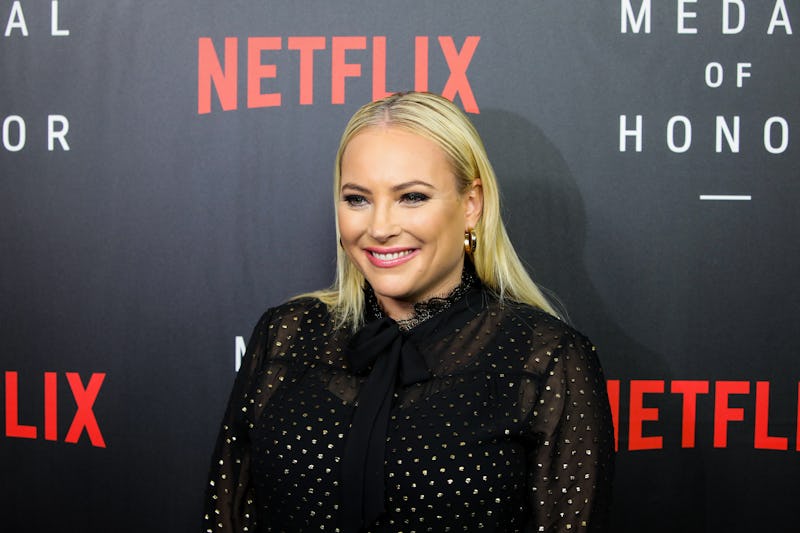 Tasos Katopodis/Getty Images Entertainment/Getty Images
The daughter of late Sen. John McCain has chastised a political commentator for suggesting a Supreme Court justice would "soon" need to be replaced. Meghan McCain slammed Bill O'Reilly after he tweeted that Ruth Bader Ginsburg's replacement on the Supreme Court would be "inevitable and soon."
"There's really nothing more gross and ghoulish than people in the media pontificating on a public persons health and the hypothetical political ramifications of their death," McCain tweeted at O'Reilly on Saturday. "Join me in praying for RBG to have a speedy and healthy recovery - we are Christians, aren't we Bill?"
Earlier in the week, O'Reilly suggested that President Donald Trump would need to appoint a replacement for Ginsburg after it was reported that the Supreme Court justice had two malignant nodules removed from one of her lungs. "Justice Ginsburg is very ill," O'Reilly wrote. "Another Justice appointment inevitable and soon. Bad news for the left."
But O'Reilly's prediction may be spoken too soon. A spokesperson for Ginsburg has said that the justice was "resting comfortably" following her pulmonary lobectomy and would remain in the hospital for a few more days. "There was no evidence of any remaining disease," The New York Times reported Supreme Court spokesperson Kathleen Arberg said in a statement. "Scans performed before surgery indicated no evidence of disease elsewhere in the body."
What's more, Ginsburg's hospital stay hasn't appeared to stop the Supreme Court justice from participating in crucial court votes. According to NBC News, Ginsburg voted from her hospital bed to block the Trump administration from enforcing and implementing proposed asylum restrictions.
O'Reilly's comments may have touched a nerve with McCain, whose father, the late Sen. John McCain, died of an aggressive brain cancer known as glioblastoma in August. In the months preceding John McCain's death, the Hill reported that White House communications aide Kelly Sadler was alleged to have told other staff members that the Arizona senator's opposition to President Donald Trump's CIA nominee didn't matter because "he's dying anyway."
At the time, McCain pushed back on Sadler's remarks and appeared to call for her to be fired. "Kelly, here's a news flash: We're all dying," The View co-host said during an episode in May. "I'm dying, you're dying, we're all dying. Since my dad has been diagnosed — the past, almost a year, July 19th — I feel like I understand the meaning of life, and it is not how you die; it is how you live."
"The thing that surprises me most is," the Daily Beast reported McCain went on to say. "I don't understand what kind of environment you're working in where that would be acceptable and you can come to work the next day and still have a job."
McCain told viewers not to feel bad for her or her family after Sadler's alleged comment. "We're really strong," she said. "There is so much more love and prayer and amazing energy being generated towards us than anything negative at all, and I feel so blessed."
At the time, The New York Times reported that White House Press Secretary Sarah Huckabee Sanders and other White House officials were "dodging" questions regarding the appropriateness of Sadler's comment and instead focusing on the fact it had been leaked. "I think it is disgusting and some of the most shameful behavior that you can ever engage in," The Times reported Sanders said of the leak. "It's an honor and a privilege to work for the president and to be part of his administration. Anybody who betrays that, I think, is a total and complete coward. And they should be fired."
Sadler was later reported by CNN to be "no longer employed within the executive office of the president," although the exact reason for her departure remains unknown.
But McCain wasn't the only person to criticize O'Reilly for his remarks about Ginsburg. "If there was ever any question as to whether you were a despicable human being (there wasn't), it has now been answered unequivocally," attorney Michael Avenatti tweeted Friday.
"The cup of @BillOReilly's compassion does not overflow," NBC and MSNBC contributor Charlie Sykes tweeted.
O'Reilly has yet to respond to McCain's criticism.