Meghan McCain's Touching Response To Her Father's Death Will Make You Tear Up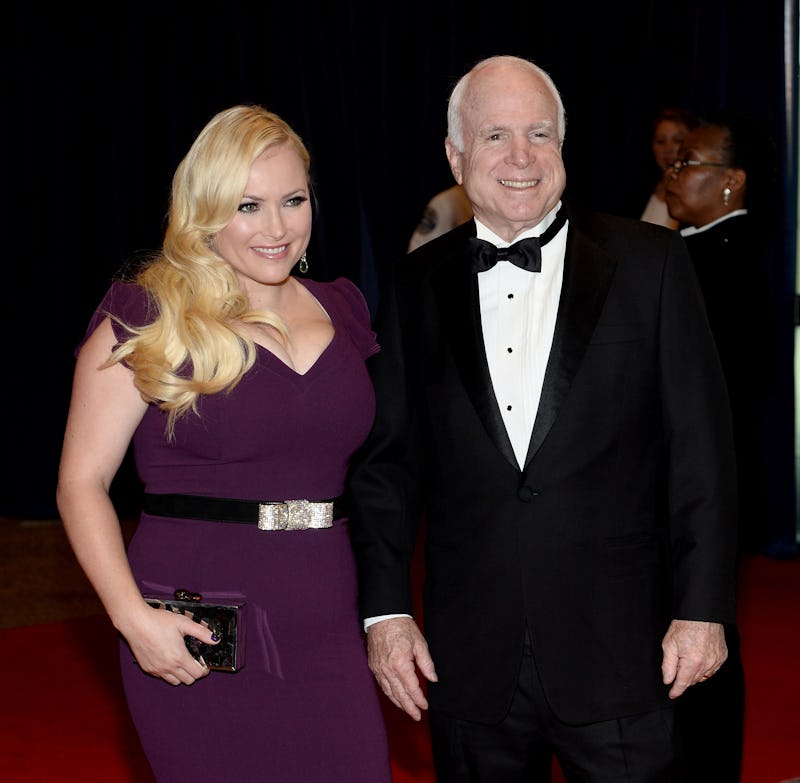 Dimitrios Kambouris/Getty Images Entertainment/Getty Images
As the nation pauses to recognize the death of one of its most venerated politicians, it's perhaps no surprise that the most touching tribute of all should come from one of the people closest to him: his daughter. Meghan McCain's statement on her father John McCain's death mourns the loss to her family and the nation, but it also celebrates her father's life and offers everyone a glimpse into the love that bound the two of them together.
"I was with my father at his end, as he was with me at my beginning," Meghan McCain said on Twitter. "In the thirty-three years we shared together, he raised me, taught me, corrected me, comforted me, encouraged me, and supported me in all things. He loved me, and I loved him."
Her statement was incredibly personal, speaking of McCain as a father and a man of faith, and barely even mentioning his public life or his great history of service to his country. The fellow politicians who reacted to McCain's death did so with references to his military service and time in Washington, but Meghan focused only on who he was to her as a father.
"All that I am is thanks to him," Meghan wrote on Saturday on Twitter.
"Now that he is gone, the task of my lifetime is to live up to his example, his expectations, and his love," Meghan continued. She also spoke on behalf of the other members of her family; while her mother, Cindy McCain, has to some extent been a public figure in recent years, Meghan, as a co-host of ABC's The View and a former contributor on Fox News, is certainly the remaining member of the family who is most accustomed to being in the spotlight. Meghan also wrote on Saturday:
My father's passing comes with great sorrow and grief for me, for my mother, for my brothers, and for my sisters. He was a great fire who burned bright, and we lived in his light and warmth for so very long. We know that his flame lives on, in each of us. The days and years to come will not be the same without my dad — but they will be good days, filled with life and love, because of the example he lived for us.
Meghan rescheduled the date of her wedding in the fall of 2017 after her father's diagnosis with brain cancer, according to People, and he was able to attend despite his illness.
McCain's wife, Cindy, also tweeted a brief statement about her husband's death. "My heart is broken. I am so lucky to have lived the adventure of loving this incredible man for 38 years," she wrote on Saturday. "He passed the way he lived, on his own terms, surrounded by the people he loved, in the place he loved best."
Soon before McCain's battle with cancer ended, the McCain family released a statement saying that he had chosen, "with his usual strength of will," to end medical treatment.
"Our family is immensely grateful for the support and kindness of all his caregivers over the last year," the family wrote, "and for the continuing outpouring of concern and affection from John's many friends and associates, and the many thousands of people who are keeping him in their prayers. God bless and thank you all."