Meghan Trainor & 'Spy Kids' Daryl Sabara Are Engaged & The Video Will Legit Make You Cry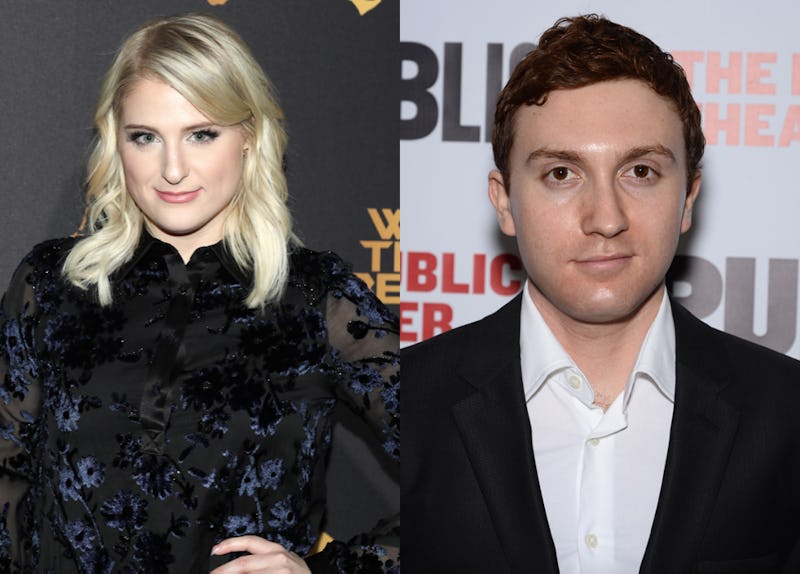 Jerritt Clark/Getty Images Entertainment/Getty Images; Dimitrios Kambouris/Getty Images Entertainment/Getty Images
Calling all '90s kids and/or fans of romance: This news may make your heart melt. On Friday night, Meghan Trainor and Spy Kids' Daryl Sabara got engaged, and the video is guaranteed to make you cry — or at least feel incredibly mushy inside. Making the moment even sweeter, the proposal happened on Trainor's 24th birthday. She shared the video on Instagram, writing,
"I SAID YESSSS!!!! For my 24th birthday, the love of my life @darylsabara made all of my dreams come true. He proposed to me under a tunnel of beautiful Christmas lights and surprised me with my family and friends. I'm still in shock. I've never been this happy! Thank you Daryl, my family and friends for making me feel like a real princess and thank you @ryan.trainor for this amazing video that I'm gonna watch over and over again"
Then, Sabara shared the same proposal video with his own equally sweet message to Trainor:
"Happy birthday to my soulmate. Thank you for changing my life forever and thank you for saying yes! You are the most beautiful fiancé in the world. I love you @meghan_trainor"
How adorable is that? In the clip, you see him get down on one knee, the singer starts to cry, and then they're surrounded by all their loved ones. It looks like Christmas came early for these two.
Adding to the emotions of the video, Trainor's "Hopeless Romantic" plays in the background with lyrics undeniably fitting for this fairytale moment. She sings,
"I'm just a hopeless romantic
Looking for love
I'd risk it all just to have it
I wouldn't take it for granted
I'm just a hopeless romantic
Not giving up
'Cause I deserve to find my own
I can feel it in my bones
Yes, I know you're somewhere close
Giving me hope"
As fans may know, Trainor and Sabara sparked dating rumors back in October 2016. But according to E! News, the pair actually first got together back in July of that year. Since they made their relationship public, the pair is frequently gushing over one another in supportive social media posts.
Even the photo gallery Trainor posted to Instagram following the engagement news conveys that same message. Along with several cute couple-y snapshots, she wrote, "I'm so happy it's you @darylsabara I knew it from the moment I met you." Again, cue a gigantic "Awww!"
In past interviews, Trainor has talked about how happy Sabara makes her. Back in April, the "All About That Bass" singer appeared on the cover of Cosmopolitan and discussed how her then-boyfriend helped boost her confidence. She told the magazine,
"I never really felt sexy with guys before. No one expressed how they liked my body out loud in the bedroom until I met Daryl. He is obsessed with it — every inch. And that has improved my confidence more than even 'Bass' did."
She also spilled in that same interview that Sabara had inspired her music, telling Cosmo, " I wrote six songs on the road about him in front of his face. One is called 'Marry Me.'" Now knowing that the pair is actually going to tie the knot, those words become even sweeter.
Another thing fans may be hoping happens at their future wedding? A Spy Kids reunion, of course. When Sabara recently shared a black-and-white photo calling Trainor "the love of MY life," his co-star from the early '00s, Alexa PenaVega, commented with kissy emojis and hearts. Apparently they're still close, and clearly she 'ships him and Trainor as much as you do.
Suffice to say, all of this is all-around adorable. While it may seem like your Facebook and Instagram feeds are overflowing with engagement news this holiday season, it's hard not to be happy for Trainor and Sabara, who seem just so genuinely thrilled to be with each other.