It's Looking Like Megyn Kelly's Blackface Comment Will Have Huge Consequences For Her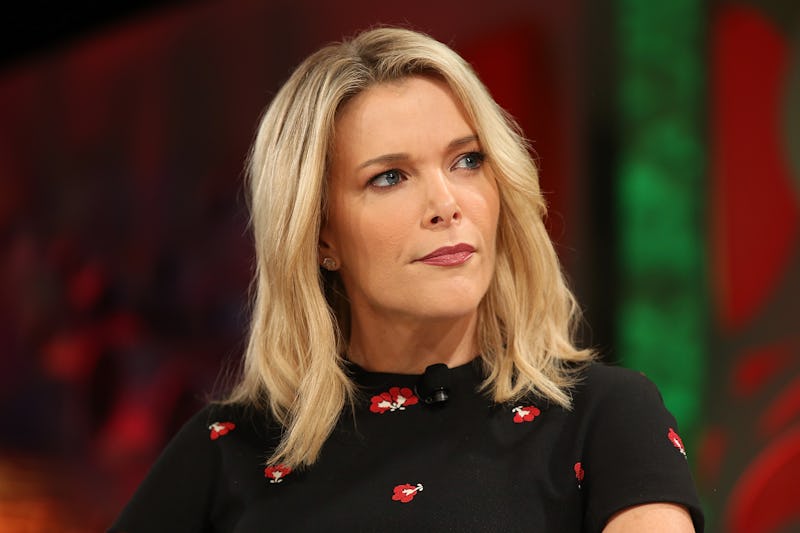 Phillip Faraone/Getty Images Entertainment/Getty Images
Megyn Kelly's time at NBC News may be coming to a close following the backlash to comments she made this week defending the use of blackface. Megyn Kelly Today could be canceled sooner rather than later, CNN's Brian Stelter reports, as the host was absent from the 9 a.m. broadcast on Thursday with no set return date.
Update: NPR reported on Thursday afternoon that Kelly will not return to her show or the network, according to a "person with direct knowledge of the matter" who spoke to NPR. "It's clear she will not be returning to the network," the source told NPR.
On Friday, an NBC News spokesperson said in a statement obtained by Bustle, "Megyn Kelly Today is not returning. Next week, the 9 a.m. hour will be hosted by other TODAY co-anchors."
Earlier: "Given the circumstances, Megyn Kelly Today will be on tape the rest of the week," an NBC News spokesperson told Stelter. The network hasn't confirmed when Kelly will return — or if she will at all — but sources within NBC told Stelter that negotiations about ending her show are underway. Bustle has reached out to NBC for further comment.
Talks about canceling Megyn Kelly Today were reportedly in the works even before her blackface comments, but the recent scandal seems to have cemented her eventual departure. However, she could remain at NBC in a different role, according to Variety.
Kelly was heavily criticized for asking a panel on Tuesday's show what's racist about blackface. She said she didn't understand why white people "get in trouble" for painting their faces black on Halloween because back when she was a kid, "that was OK as long as you were dressing up as, like, a character."
Kelly reportedly sent an email apologizing to her co-workers after the segment, but fellow NBC host Al Roker called Kelly out on air by saying that she needed to apologize to the nation, too.
"While she apologized to the staff, she owes a bigger apology to folks of color around the country," Roker said on Wednesday. "This is a history going back to the 1830s minstrel shows to demean and denigrate a race. It wasn't right."
She took Roker's advice and issued an on-air apology on Wednesday. "I defended the idea, saying as long as it was respectful and part of the Halloween costume, it seemed OK. Well, I was wrong and I am sorry," she said on Megyn Kelly Today. Kelly wasn't on air the following day, though The Washington Post reports that she had jury duty and previously planned to be out the rest of the week.
Kelly's relationship with NBC News Chairman Andy Lack, who brought her over from Fox News in 2017, has been "strained" for months, according to The Post. To top it off, her colleagues at NBC apparently don't like her very much.
"Everyone's feeling is, even if you have to pay her [the remainder of her contract], pay her," an anonymous NBC staffer told The Post. "Andy, you can save face with this entire thing. Just get rid of her."
Her contract is worth $23 million a year, according to CNN, so negotiations could drag out for weeks if she doesn't easily come to an agreement with her employer. And CNN reports that she hired a lawyer, signaling that she plans to fight for that $23 million. For now, her future at NBC — or elsewhere — appears to be up in the air.