Mel C. Says Why She Won't Reunite With Spice Girls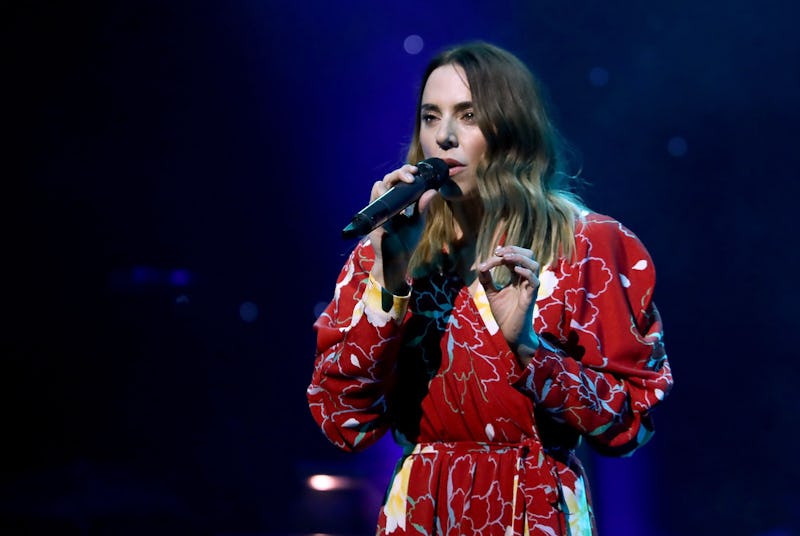 Luca V. Teuchmann/Getty Images Entertainment/Getty Images
*Looks at thermostat.* *Checks barometer.* *Pulls up weather app.* *Stares out window.* *Hears "Zig-ah-zig-ah" in the wind.* Grab an umbrella and pull on your galoshes, because it looks like there's some more Spice Girls reunion talk in the air. And uh, I don't know if it'll be letting up anytime soon. In a new interview with HuffPostUK, Melanie Chisholm talked about — surprise — the Spice Girls reunion and why she isn't on board. The overall takeaway: Sporty Spice chooses her destiny and her child over any nostalgia fest Spice Girls concert.
"Being in the band is big pressure," Chisholm told HuffPostUK. "Much higher profile than being on my own. It's the same reason I wouldn't want to do 'Strictly.' I don't want to be on the Daily Mail every day. When you go into that world, it's asking for it."
She continued,
"I want to be present for my little girl, I want to be the master of my destiny, I don't want to report back to three other girls on how long we're spending in another country."
I get it. Chisholm wants to spend time with her kid. Chisholm doesn't want to deal with the logistics of touring with a group. Chisholm doesn't want to be a tabloid fixture. Chisholm wants to be in charge of her own destiny. All reasonable, pragmatic reasons for opting out. I may be bummed about how this reunion situation is unfolding, but I. Get. It.
Mel C.'s reunion stance isn't exactly news: Back in August of last year, Sporty Spice confirmed that neither she nor Victoria Beckham would participate in any "Wannabe" anniversary festivities. Regardless, Emma Bunton, Melanie Brown, and Geri Horner are still ready to get together and spice up our lives. Well, they were ready to spice up our lives: According to The Sun, the group reportedly put the reunion plans on hold after Ginger Spice found out she's with child. So uh, keep sitting tight, I guess?
Chisholm continued,
"I don't miss having bandmates. There were times in the band that were really tough, we were tough on each other, and we had a lot of responsibility to each other, and when you're part of something like that, I was very conscious about what I would say, but other people would stay stuff that would reflect on you. When I went solo, it was such a revelation to be in control of my destiny, knowing that it was coming from the horse's mouth and not having to compromise. When it comes to my work, I'm a bit of a loner, really. And wanting to express myself."
If she prefers being a solo act to being in a girl group nowadays, so be it. That's her truth. I cannot and will not knock it. She has moved on and I shall respect that. Sure, I really wish all five members would get together for one night only and perform all of their hits and broadcast it for all the world to see, but destiny is destiny. I will not knock Sporty Spice for living her truth. Don't force something that isn't right, you know?
Chisholm went on:
"My time with the Spice Girls, we expressed ourselves as a group of people – we did want to change the world, challenge everybody – but as an individual, it's a bit more complex and I think I did need to express that."
This Spice Girls reunion thing has become a roller coaster. A rumor coaster. And we've been on this rumor coaster for years. I love the Spice Girls, I love reunions, and I love roller coasters, but I can only take so much. I think I've got to get off this rumor coaster before my stomach gets the better of me.
... Well, until the next big Spice Girls reunion rumor surfaces, that is.