Melania Still Doesn't Want To Hold Donald Trump's Hand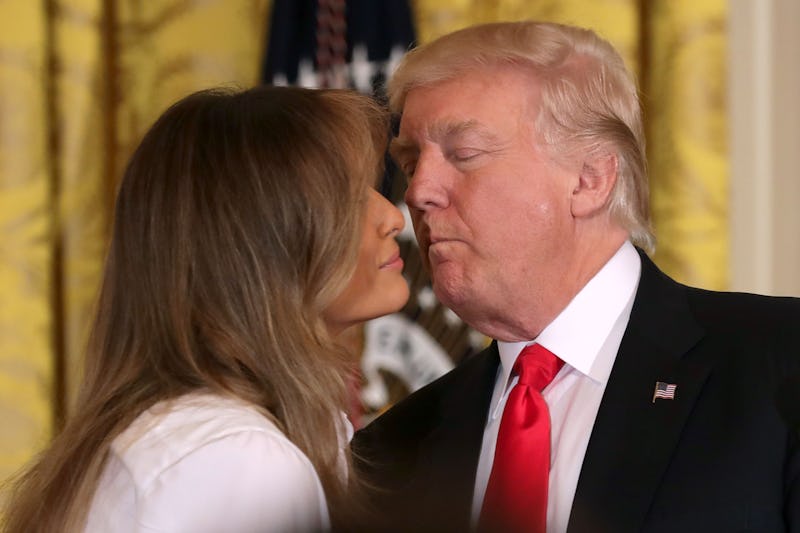 Chip Somodevilla/Getty Images News/Getty Images
Just one day after she was captured slapping President Donald Trump's hand away as he tried to hold hers for the cameras in Israel, Melania Trump was spotted seemingly swatting her husband's hand again as they stepped off Air Force One in Rome. As they exited the door of airplane, the first couple pauses to wave at those greeting them at the tarmac, including journalists. At one point, Trump appears to attempt — yet again — to grab his wife's hand, only for her to pull it away and tuck a tuft of hair behind her ear.
The exchange, though subtle, was impossible to miss, and journalists were there to capture it all. It was the second time in two days that members of the media noticed Melania avoiding her husband's attempt to hold her hand. She did the same at an airport in Israel, and it sent the internet into a frenzy.
The incident is likely to add fuel to the fire about their marriage. In contrast to the Obamas, the Trumps are not known for their displays of affection for each other. Often described as a private woman with no interest in filling the role of first lady, Melania's seeming lack of enthusiasm for public events and her stoic expressions — like the multiple photos in which she looked unhappy during Inauguration Day — have caused hashtags like #SaveMelania and #SadMelania to trend on numerous platforms.
Those in the Trump inner-circle insist this is just the first lady's personality. "She enjoys her role of stepping back and letting him take center stage," said William Eubanks a decorator and friend of the Trumps. Lisa Bytner, a former PR specialist for Trump Model Management, explained to Vanity Fair why the current president felt Trump was such a perfect partner when Donald met her.
"She doesn't make waves," said Bytner of the first lady, in what some would characterize as an outdated view of a gender roles. "She speaks only when spoken to. She's just very sweet."
While it's nobody's place to parse the complexities of the first couple's relationship, that hasn't stopped the internet from doing so. But perhaps Melania is tired from the extensive traveling, like her husband — on the first stop of his first overseas trip as president, Trump was described by a White House official as "exhausted" — and was simply not in to mood to hold hands. Whatever Melania's reason for swatting Trump's hand away, only she will know.