A Baby Elephant Bumped Into Melania & The Video Will Make You Chuckle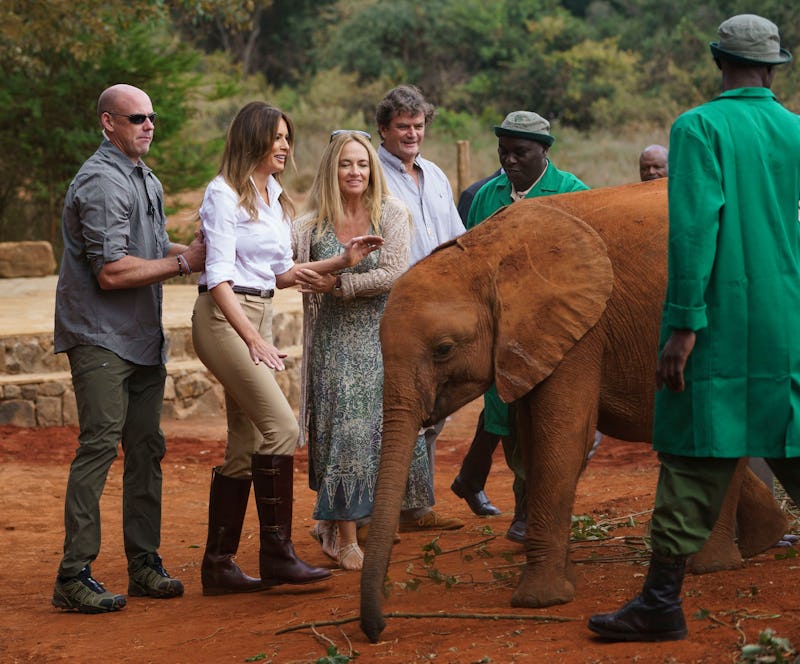 Carolyn Kaster/AP/Shutterstock
Melania Trump is partway through her first extended solo international trip as first lady, and as part of an effort to highlight conservation efforts in Kenya, she decided to feed some baby elephants in the Kenyan capital of Nairobi. Although the day was largely uneventful, video footage of her visit showed one of the baby elephants nearly knocking Melania over as she approached. Her security detail quickly came to her aid, but she did not appear to be injured.
This trip marks Trump's first visit to Africa, as Time reports. After traveling to Ghana and Malawi, she arrived in Kenya on Friday, where she visited an orphanage called The Nest in Nairobi. Earlier in the day, she opened her visit to Kenya by feeding baby elephants and going on a safari at Nairobi National Park. Video footage of her time in the park shows Trump appearing to enjoy herself while feeding formula to baby elephants. However, one of the elephants made a sudden move as Trump walked toward it, causing her to briefly lose her footing.
This incident did not seem to deter the first lady from approaching the elephants again. One or two people who appeared to be Secret Service agents quickly used their hands to support her, but she soon went back to petting the elephants.
Newsweek remarked that Trump's encounter with baby elephants, and her efforts to promote wildlife conservation, presented a stark contrast to her stepsons' interest in trophy hunting. Both Donald Trump Jr. and Eric Trump have demonstrated an interest in big-game hunting, The Guardian reported last year, and they once posed with an elephant they reportedly killed during a safari. Moreover, the Trump administration loosened restrictions on the import of African elephant trophies last year, sparking criticism from conservationists.
But wildlife conservation has not been Melania Trump's only focus during her four-country tour. In Ghana, she visited a former slave trading post, which she described as an "incredible experience" that others should also have. She also promoted the work of the U.S. Agency for International Development — an agency whose funding her husband has proposed slashing twice during his presidency, per The Washington Post. Then, in Malawi, the first lady visited a primary school that has been struggling with high enrollment and donated 1.4 million books, school supplies, and soccer balls.
Trump's donation of school supplies in Malawi, as well as her visit to an orphanage in Kenya, were part of a child well-being initiative called "Be Best," which she launched earlier this year. Trump has been promoting the "Be Best" initiative throughout her tour, and her husband praised her efforts as "fantastic." However, as ABC News pointed out, Donald Trump did not seem to have this view earlier this year, when he referred to Haiti and African nations as "sh*thole countries." He has not yet visited any African countries as president.
Following her visit to the orphanage and national park in Nairobi, Trump had tea with Kenyan First Lady Margaret Kenyatta. After leaving Kenya, she will travel to Egypt, which will be the final stop on her Africa tour.