Melania Trump Really Believes She's "The Most Bullied Person In The World"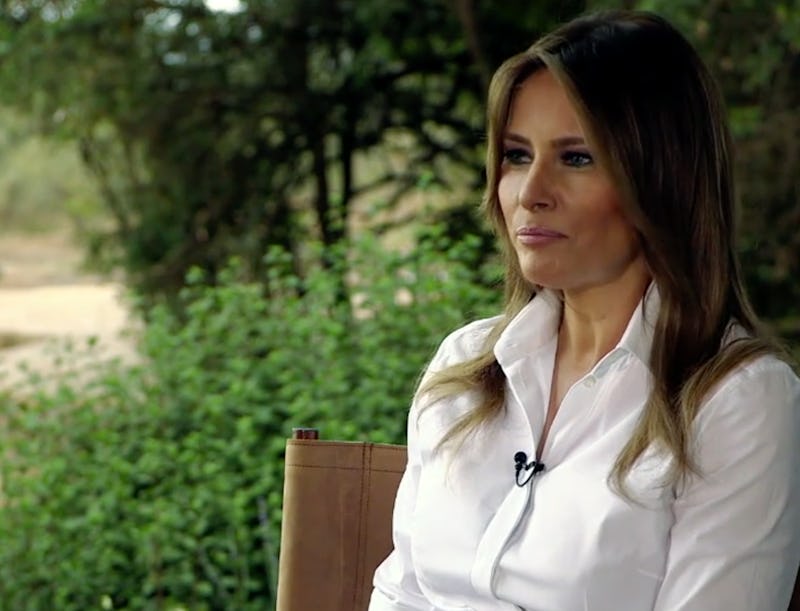 ABC
The first lady rarely gives interviews, but she's made an exception for her big trip to Africa this month. On Thursday, ABC aired a portion of a wide-ranging conversation with her in which Melania Trump said her anti-bullying program "Be Best" was inspired by the fact that she's "the most bullied person in the world."
Trump recently returned from the first major solo trip she's taken as first lady, which brought her to Kenya, Egypt, Malawi, and Ghana. ABC's Tom Llamas interviewed her while she was abroad.
"I could say that I'm the most bullied person in the world," she told Llamas. When pushed on whether she really thought her experience was the worst of anyone, she clarified: "One of them. If you really see what people are saying about me." She continued: "That's why 'Be Best' is focusing on online behavior and social media. We need to educate the children [about] social, emotional behavior."
The first lady has made anti-bullying efforts a focus of her time in the White House, though it took a while for "Be Best" to get off the ground. The project seeks to improve children's welfare through tackling three major issue areas: social media use, opioid abuse, and kids' general "well-being."
Trump highlighted "Be Best" during her time in Africa and made it a youth-centered trip, visiting an orphanage and a school and discussing education with Malawi's own first lady. She donated 1.4 million books to the Chipala Primary School in Malawi's capital of Lilongwe. Trump spoke out about the work of USAID on her visit, too, which she says "embodies much of what 'Be Best' stands for."
In her ABC interview, the first lady also disclosed that she doesn't trust everybody in the White House. "Some people, they don't work there anymore," she said. When asked whether there are some current officials she doesn't trust, she said yes.
"It's harder to govern," she said. "You always need to watch your back."
The Trump administration has been plagued by so much drama and attrition that it's been compared to Game of Thrones. In early September, an anonymous official within the Trump administration published an op-ed declaring him or herself to be part of an internal "resistance" against the president. The first lady heavily criticized the piece at the time and accused the author of cowardice and sabotage.
Trump also commented on what she considers to be the limits of the #MeToo movement during her interview. "I support the women — they need to be heard. We need to support them. And also men, not just women," she told ABC. But she added, "You cannot just say to somebody, 'I was sexually assaulted' or 'You did that to me.' Because sometimes the media goes too far and the way they portray some stories, it's not correct. It's not right."
The first lady has been criticized for some aspects of her trip to Africa, including her choice of outfits associated with colonialism. President Donald Trump, however, says he's thrilled with her performance.
"Our country's great First Lady, Melania, is doing really well in Africa," he tweeted on Oct. 4. "The people love her, and she loves them! It is a beautiful thing to see."