Melania Trump Says Her Blood-Red Christmas Trees Look "Even More Beautiful" IRL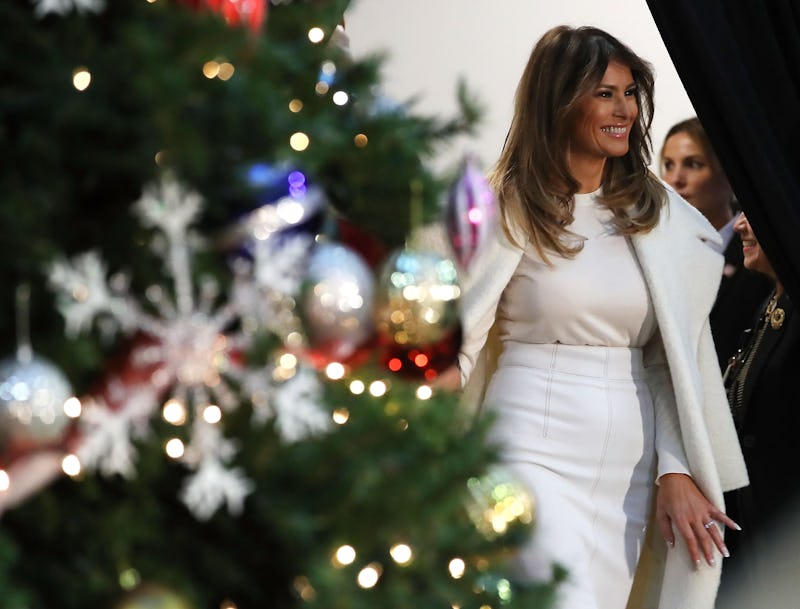 Mark Wilson/Getty Images News/Getty Images
When images of the White House's holiday decorations flooded social media this week, not everybody could quite get behind the display. Skeptics were puzzled by a hall that the first lady filled with 40 enormous red trees without ornaments. During a town hall at Liberty University on Wednesday, Melania Trump defended her red Christmas trees and said they're "even more beautiful" in person.
Her comments took place during a conversation about the opioid crisis. Interviewer and conservative pundit Eric Bolling lamented the fact that the media has been blasting her for her decorative choices instead of focusing on issues like the epidemic.
"We are in 21st century and everybody has a different taste," Trump said of the trees lining the East Colonnade. "I think they look fantastic. I hope everyone will come over and visit it. In real life, they look even more beautiful."
The first lady used red widely while adorning the White House this year to represent "valor and bravery," as the color does in the American flag, according to Time. She also used 14,000 crimson ornaments in the Cross Hall and Grand Foyer, according to The Washington Post. The theme for the decorations this year was "American Treasures."
Judge the trees for yourself:
When images of her designs circulated social media, many users did not think first of "valor and bravery." Instead, many noted that her trees seemed to be the color of blood and joked that they resembled the cloaks from The Handmaid's Tale or the set of War of the Worlds. In typical fashion, a spurt of memes was born.
The first lady's decorations last year were also fodder for comedy. The East Colonnade then was a different color but looked similarly stark, as Trump lined the hall with bright white, towering bushes. People joked that it looked like a horror movie set, especially in dark lighting, and that the first lady was turning Christmas goth.
Beyond discussions of her decorative choices, Trump spent much of the town hall discussing the topic she'd come for: the opioid crisis. She has made this one of the three pillars of her children-oriented "Be Best" campaign. Kids are especially vulnerable when they're affected by the epidemic; they're sometimes dependent on addicted parents or addicted from birth themselves.
"I have visited several hospitals and facilities that are dedicated to helping all who have been affected by this disease," Trump said on Wednesday. "What has struck me with each visit is how this epidemic has touched so many people. Whether it is because of personal use, or that of family members, friends, co-workers, or neighbors, opioid addiction is an illness that has truly taken hold of our country."
She also called it the "worst drug crisis in American history" and argued that the stigma around addiction is undeserved. "Now we really need to step up," she said.
USA Today reports that the town hall is one of two public speaking appearances she's scheduled for this week, which is more than normal for her. But the outlet also notes she's still maintaining her more secluded lifestyle, and that she declined to join reporters when they were invited to survey her holiday decorations on a White House tour.
"She does not feel the need to seek out press attention for everything, and wanted this year's Christmas decor to stand on its own," her spokeswoman told the outlet.