Melania Trump Is Screening This Movie To Recognize National Bullying Prevention Month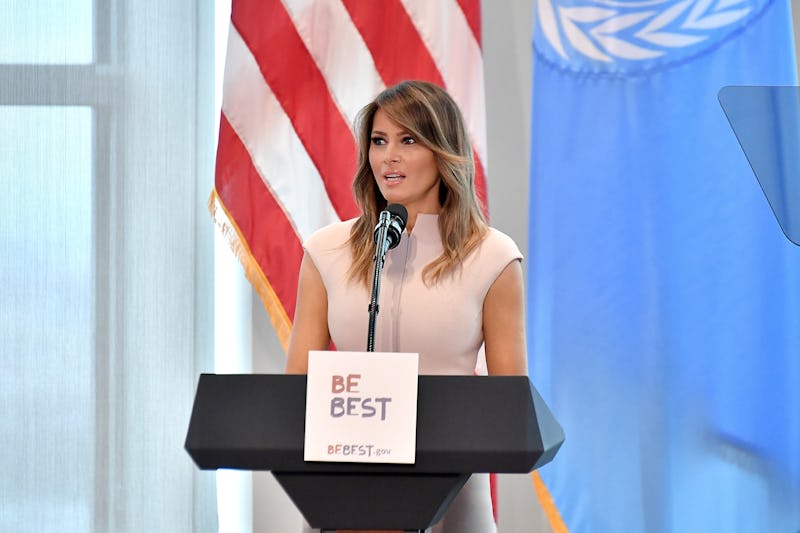 Michael Loccisano/Getty Images News/Getty Images
October's National Bullying Prevention Month will be recognized at the White House with a showing of a movie with an anti-bullying theme, the first lady's office said in a statement on Monday. Melania Trump will screen Wonder at the White House on Tuesday. Some 30 sixth graders from the DC area will join her to watch the film that stars Julia Roberts and Owen Wilson.
"The movie celebrates October's National Bullying Prevention Month by highlighting the importance of choosing kindness — a core belief of Mrs. Trump's Be Best campaign," Trump's office said in a statement provided to The Hill.
The movie centers on a family whose youngest son, Auggie, has Treacher Collins syndrome. He moves from home schooling to a public school for fifth grade, where he faces trouble making friends due to facial differences. Treacher Collins syndrome is a genetic condition that affects the development of bones and tissues of the face, according to the National Institutes of Health.
Trump has made anti-bullying a key component of her Be Best initiative. "By promoting values such as healthy living, encouragement, kindness, and respect, parents, teachers, and other adults can help prepare children for their futures," the program's webpage reads, making connections to preparing kids for social media bullying and the opioid crisis.
Trump has been criticized for the program, particularly given how her husband President Donald Trump treats others on social media. The first lady addressed those criticisms in March.
"I am well aware that people are skeptical of me discussing this topic," Trump said during opening remarks of a meeting with executives from Facebook, Google, and Twitter. "I have been criticized for my commitment to tackling this issue, and I know that will continue. But it will not stop me from doing what I know is right."
At that event, Trump also said that kids have written her about the issue. "In my role as first lady, I receive many letters from children who have been bullied or feel threatened on social media. I know that each of your companies and groups have been working on these issues for many years, and I look forward to hearing what you have learned, what has been accomplished, and what progress still needs to be made."
That was before she announced her Be Best initiative in May, and before she talked about the bullying she faces. "I could say that I'm the most bullied person in the world," Trump told ABC News in October. "One of them — if you really see what people are saying about me," Trump added.
The most recent initiatives of Be Best took place in Africa, where Trump visited Ghana, Malawi, Kenya, and Egypt. "There are many programs across the country that are doing great things for children, and I believe we can replicate many of these programs overseas," said Trump before leaving for her trip. "By working with developing countries around the world to help them with their journey to self-reliance, USAID's work embodies much of what Be Best stands for."
As for the movie screening, Education Secretary Betsy DeVos is expected to attend the screening with Trump and the sixth graders.