Melania's Approval Rating Is At An All-Time High Right Now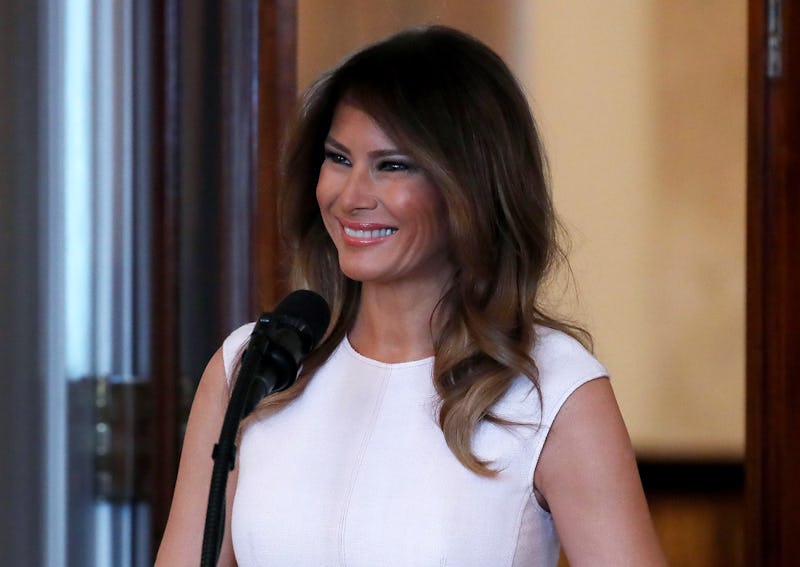 Mark Wilson/Getty Images News/Getty Images
According to a recent CNN poll, First Lady Melania Trump's popularity among Americans is at 57 percent — the highest rate she's won since her husband became president of the United States. The CNN poll was taken between May 2 to May 5 and sampled the responses of 1,015 Americans. The news network said that the poll was conducted by research firm SSRS via landline and mobile phone surveys wherein 402 responses came from landline owners and 613 responses came from mobile phone owners.
Trump's popularity seems to have taken the shape of an ascension, at least when you look at CNN polls. In September 2017, Trump's popularity rate was at 44 percent among Americans. In January 2018, CNN conducted a similar poll and found that that the first lady's popularity jumped 3 percent and reached 47 percent. Now in May, Trump enjoys a solid 10 percent increase in thumbs up from the public.
Only 27 percent say they have an unfavorable opinion of her while 2 percent say they have never heard of her. CNN noted that 14 percent said they were neutral about the first lady. The sampling error margin for the CNN poll was estimated at plus and minus 3.5 with a confidence level measured at 95 percent. It's a remarkable jump for Trump in favorability who is already seen as the most well-liked Trump family member.
Trump's popularity is even more remarkable when juxtaposed with her husband's public ratings. In March, CNN released poll findings that said Donald Trump's popularity among Americans was at 42 percent. The news network asked participants whether they approved or disapproved of his presidential efficiency. A solid 54 percent said they gave the president a thumbs-down.
CNN noted that the first lady has received more support from Democrats over the past few months. You could even call it a bipartisan bump. According to the news network's poll, Democrats' view of Melania Trump has gone up by 15 points since CNN's previous poll in January. On the conservative side, she has witnessed an increase of six points among Republicans.
But Trump's popularity hasn't just increased among both political parties; there's a shift in seemingly favorable perception among men and women, too. CNN said that the first lady's popularity has gone up by seven points among men. It's almost double the amount among women where Trump's public image has gone up by 13 points. CNN also noted that 54 percent of the women, making up the majority, like Trump where as 30 percent dislike the first lady.
It's hard to definitively point at a source that may explain why Trump's popularity is going up but there are some plausible explanations. According to CNN, the public's sympathy factor for the first lady might be working in her favor. The network cited several examples that may have contributed to a public impression of Trump's independence and perhaps even helplessness in the White House.
Eyebrow-raising spectacles like arriving to her husband's very first State of the Union address in a separate motorcade have led some to believe that there is an icy distance between Trump and her husband. But her communications team has denied such rumors on behalf of the first lady. In, January, Stephanie Grisham, Trump's communications director, told CNN about the first lady's decision to arrive separately to her husband's State of the Union address and said that she was "honoring" military members and other figures present at the event.
"In addition to holding a White House reception and photo opportunity for them, along with their friends and family, she is accompanying them to the Capitol," Grisham said.
But while some observers may like her out of sympathy, Trump has made it clear that she doesn't want anyone's pity. It's a message she gave two years ago in a tight-lipped and somewhat uncomfortable interview with CNN's Anderson Cooper. At the time, Trump was defending her husband after The Washington Post revealed an Access Hollywood tape from 2005 in which Donald Trump proudly boasted about sexual assault.