Melania Wanted To Make Money Off Being FLOTUS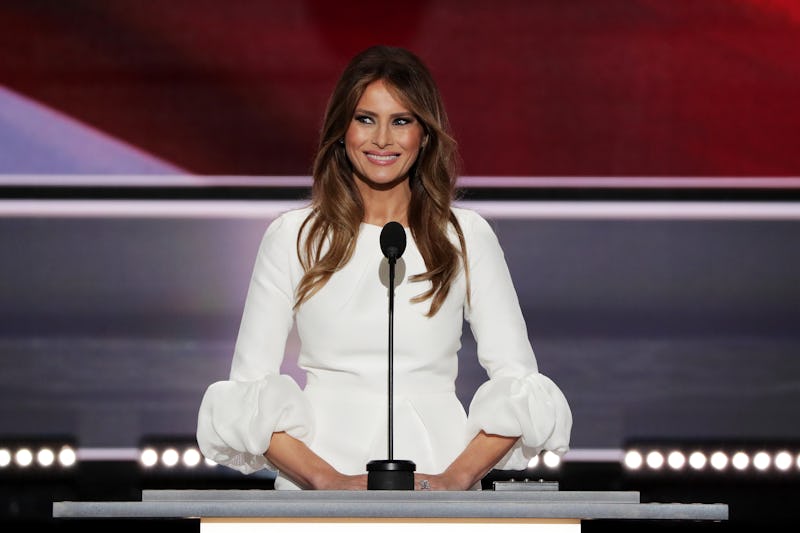 Alex Wong/Getty Images News/Getty Images
According to new reports, the first lady has filed a $150 million lawsuit against Mail Online for printing stories in 2016 claiming she had previously worked as an escort. But one of the most interesting sections of the lawsuit reveals Melania Trump's plans to profit off the first lady role, plans which were apparently ruined by Mail Online's allegations. Bustle's request for comment from Donald Trump's administration has not been returned.
"Plaintiff had the unique, once-in-a-lifetime opportunity, as an extremely famous and well-known person, as well as a former professional model and brand spokesperson, and a successful businesswoman, to launch a broad-based commercial brand in multiple product categories, each of which could have garnered multi-million dollar business relationships for a multi-year term during which plaintiff is one of the most photographed women in the world. These product categories would have included, among other things, apparel, accessories, shoes, jewelry, cosmetics, hair care, skin care and fragrance."
First ladies, unlike presidents, receive no salaries, which Michelle Obama, Barack Obama, and Ronald Reagan have all denounced as unfair. The reasoning behind the lack of compensation is that the American public hires the president, not the president's spouse, to perform a job. Still, first ladies' schedules are just as busy as their husbands', and they frequently have to renounce their own professional salaries to fulfill the necessary duties. Michelle Obama, for instance, gave up her profession and a $212,000 salary for her husband's presidency.
Whether or not you agree with Melania's apparent intentions to capitalize off her increase in publicity, earning millions of dollars from commercial endorsements and fashion lines would be new for a president's spouse.
The role of first lady has evolved over time. Initially, the wives of U.S. presidents focused primarily on hosting social events at the White House. It wasn't until the 1930s, when Eleanor Roosevelt assumed the title, that the position expanded from just that of a hostess, though previous first ladies had also chosen causes to support. Roosevelt spent the eight years of her husband's presidency being an activist for women's rights, racial equality, children's welfare, and human rights as a whole. Before Roosevelt, a first lady had never held press conferences or written a newspaper column. Following Roosevelt's term, the president's spouses have typically chosen a "signature cause" to fight for and actively promote.
In a campaign speech, Melania unveiled cyberbullying as one of the chief issues she plans to address. How active she'll actually be is yet to be seen. Rather than immediately moving to the White House as most first ladies do, Melania chose to remain in New York City with her 10-year-old son, Barron, until he finishes the school year. She hired a chief of staff on Feb. 1, something usually taken care of prior to Inauguration Day. She has yet to name a social secretary or communications director, and with a generally short-staffed team, thousands of requests for White House tours have reportedly accumulated and gone unanswered.
One thing is for sure: Melania Trump's decisions not to follow typical procedure, along with a seeming desire to profit off her upcoming exposure, prove she's not the woman with no agency many have tried to cast her as.