There's Already A Conspiracy Theory About Melania's State Of The Union Outfit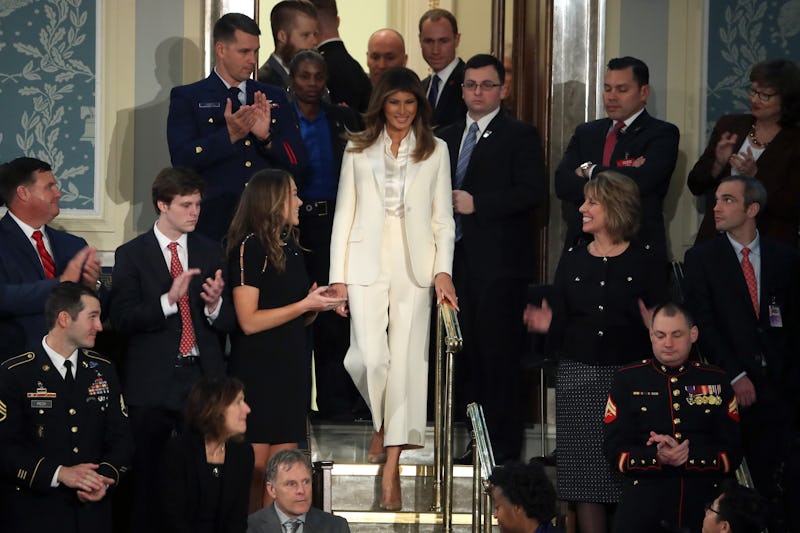 Mark Wilson/Getty Images News/Getty Images
Breaking with tradition, the first lady of the United States made her own State of the Union entrance, separate from her husband. In addition to already making it clear that she need not follow anyone, Melania Trump's State of the Union outfit added even more glamour to her grand entrance. But aside from that, people are really focusing in on why she chose to wear all white. Sure, her choice of color might not mean anything. Then again, it could be a symbol.
According to CNN, Melania rocked a white Dior pantsuit with a white Dolce & Gabbana shirt and classic Christian Louboutin heels. Oh, not to mention, the first lady's pants were cropped. Once again, the entire outfit was totally on trend. But Twitter isn't focusing so much on the designers — instead, it's concerned with whether or not Melania is sending a message with her clothes.
Certain Twitter users thought her color choice was a snub to Democratic women wearing all black to the event to raise awareness about sexual assault and harassment and show solidarity with survivors. As Florida Rep. Lois Frankel told Vox:
There was so much — and still is — agitation about the president and our fears of what he was going to do to the women of our country and the world. Of course, our fears have come true.
Nineteen women have accused Melania's husband of sexual misconduct — he firmly denies all of the allegations — yet Melania has continued to support him. Though she hasn't aggressively played down the accusations like her husband has, her relative silence has been perceived as equally harmful.
There was one notable time she denounced the allegations though. In October 2016, Melania sat down with CNN's Anderson Cooper for an interview. During it, she dismissed Trump's 2005 Access Hollywood tape as "boy talk."
"I said to my husband that, you know, the language was inappropriate. It's not acceptable. And I was surprised, because that is not the man that I know," Melania said again of the Access Hollywood tape. She concluded that he must have been "egged on," and went on to essentially tell Cooper she doesn't believe Trump's accusers.
I believe my husband. I believe my husband — this was all organized from the opposition. And with the details — did they ever check the background of these women? They don't have any facts.
That being said, it isn't difficult to see why people think she could be taking a stand against those who support survivors. As more and more men are held accountable for alleged sexual misconduct, the pressure to hold Trump accountable grows heavier and heavier. Again, he denies all allegations of sexual misconduct.
But that isn't the only conspiracy theory floating around Twitter. Some people actually think Melania is finally showing her support for the Me Too movement. Just days prior to the SOTU, for example, celebrities at the Grammys carried white roses to show support for the Me Too movement.
Prior to the Grammys, Voices in Entertainment, a group of music industry insiders and activists, sent out an email to news outlets, making its mission clear. According to the email, it was fighting for "equal representation in the workplace, for leadership that reflects the diversity of our society, workplaces free of sexual harassment and a heightened awareness of accountability that our sisters started on [Jan. 1] and continued through the Golden Globes and onward." The group chose to use a white rose to symbolize this mission because they stand "for hope, peace, sympathy, and resistance" — maybe Melania's white pantsuit was in support of that mission.
Others have drew a comparison between Melania's white pantsuit and Hillary Clinton's famous white pantsuit. It is possible, after all, that instead of snubbing Democratic women supporting sexual misconduct survivors, Melania was sporting suffragette white in support of women.
Unfortunately, Twitter will likely never find out whether any of these conspiracy theories are true. It could be that Melania just felt like wearing white; there may be no hidden meaning whatsoever.
In the meantime, though, it's at least fun to analyze.