Melissa Joan Hart Would Be Down For A 'Sabrina' Reboot Cameo — Under A Few Conditions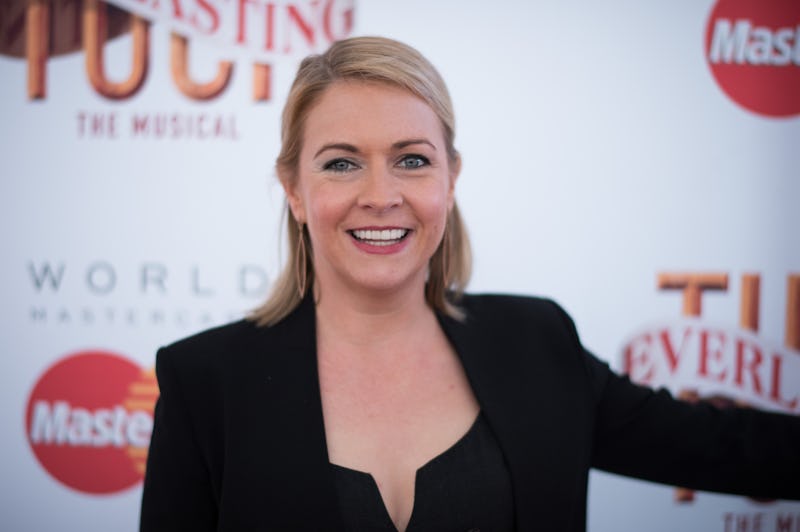 Dave Kotinsky/Getty Images Entertainment/Getty Images
Melissa Joan Hart seems to have had a change of heart when it comes to the Sabrina The Teenage Witch remake. In a new interview with The Hollywood Reporter, Hart commented on Netflix's new dark Sabrina, admitting it's a "smart way" to redo her show and even seemed open to a cameo. This feels like a welcome change, or at least a clarification from just three weeks ago when it was reported that Hart was unenthused about the Sabrina remake. These new comments should make fans a bit happier to know the OG Sabrina isn't totally against the new teenage witch.
When THR asked about the new dark Sabrina, Hart thought this was a good way to bring it back. "I think that if they want to try to redo it the way it was done, they'd have a lot of pushback," she said. "I think it's nice to, if you're going to do a reboot, make it different, and I think that's what they're doing."
This new version, which cast Mad Men's Kiernan Shipka as Sabrina, is definitely going in a darker direction. The series from Riverdale creator Roberto Aguirre-Sacasa is an adaptation of the Archie Comics series The Chilling Adventures of Sabrina. And it sounds like it will be pretty chilling. Entertainment Weekly described the Sabrina series as being "tonally in the vein of Rosemary's Baby and The Exorcist" with a focus on Sabrina's dual nature. Yep, something wicked this way comes in Greendale.
Previously, it was reported that Hart wasn't as positive about this dark take on her former show, which has already been given a 20-episode, two-season order. Entertainment Weekly reported that when asked about the Sabrina remake, Hart first responded: "Indifferent, really."
But, Hart did go on to say that it made sense that they would reboot Sabrina knowing how popular Archie and the rest of his gang are. "People kept asking for it, and they were already doing Riverdale, so I guess it made sense," Hart said before echoing what she would later tell THR. "I think they're doing it in a smart way — change it up, don't make it the same," she said. "If you're going to do the same show, it probably would fall on its face, but I think what they're doing is probably the smartest way to reboot something."
When speaking with THR this time, Hart didn't deny that it was hard to see Sabrina come back. Only because she feels like her Sabrina got to tell her story and, to be fair, she might not want to see someone else mess with her character's satisfying end. "I like the way we left Sabrina," Hart said when THR asked about a possible Sabrina The Teenage Witch reboot. "I think Sabrina ended on a really great note, and I don't think you want to go back and explore that."
Though, Hart did say that Clarissa Explains It All would definitely be worth a revisit. "I think Clarissa ended on a note that could be explored again," she said, "because it didn't really have an ending — it sort of ended." Hey, Netflix, this could be your next reboot, right?
But, despite her initial hesitation, Hart didn't completely count out a possible appearance on this new Sabrina in front of or behind the camera. (She directed her ABC Family sitcom Melissa & Joey and is gearing up to helm this week's episode of The Goldbergs.) "It really depends," she said when THR asked if she'd be interested in appearing in the new Sabrina series. "It would depend on the project, the script. It would have to be really interesting."
While she couldn't imagine how they would bring her into the story — after all, they've already cast Sabrina's aunts Hilda and Zelda — she did say, "If the writers come up with a really brilliant way, and they approach me, I'll definitely consider it, but I'm not expecting it." Basically, fans shouldn't either.
Whatever sparked Hart's latest, more supportive comments on the Sabrina remake, it's clear that fans shouldn't count on the old Sabrina reuniting with the new one. But, at the very least, it sounds like she's open to watching a few episodes. Maybe even Hart wants to get a peek at the new Salem.