Melissa Joan Hart's 'Sabrina' Remake Reaction Is The Opposite Of What Fans Would Expect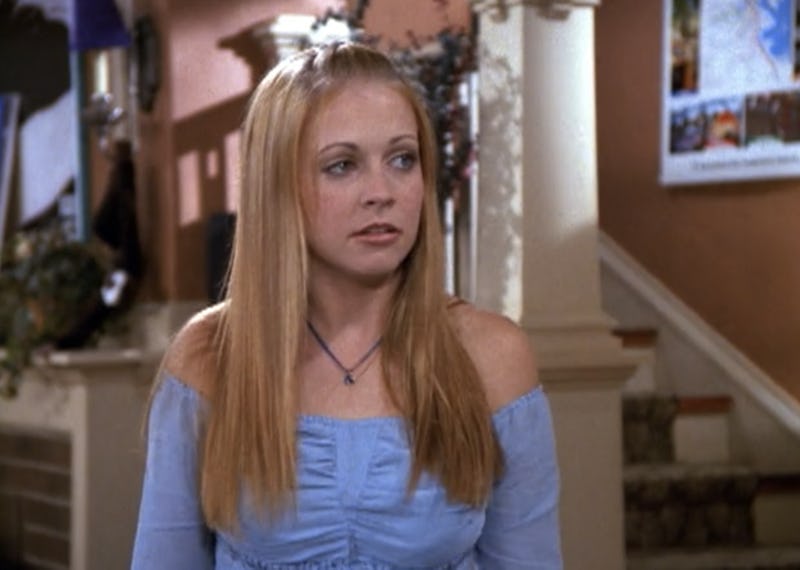 CBS Television Distribution
Cult-classic Sabrina the Teenage Witch is getting another facelift, but this time based off the comic book adaptation titled Chilling Adventures of Sabrina, following a teenaged Sabrina Spellman in the 1960s. And Melissa Joan Hart's response to Netflix's Sabrina remake probably isn't what fans would've expected from the star of the original TV series. According to Entertainment Weekly, Hart wasn't super enthusiastic about the idea.
It's being reported that the Netflix remake will follow in the 2014-launched comic book's footsteps, exploring a more dark and horror-filled storyline than the '90s/early '00s show. According to Deadline, the untitled-project will be helmed by comic book writer Roberto Aguirre-Sacasa, Berlanti Productions, and Warner Bros., just as the Archie Comics-inspired CW hit Riverdale. It's also been announced that Mad Men's Kiernan Shipka will star as the teenage witch, with When the Bough Breaks' Jaz Sinclair playing Sabrina's best friend Rosalind Walker. And before even getting a dose of this magic on screen, Netflix put in a 20-episode, two-season order for the scripted show.
The dark spin on the '90s, happy-go-lucky sitcom sounds exciting, but Hart has mixed feelings about the news. When asked to share her thoughts about the remake, EW reports that the mutli-talent response was simply: "Indifferent, really." And Hart's feelings of indifference are totally relatable across social media. Bottom line: Reboots may be draining the life out of Hollywood.
Though some news about reboots of television's best programming has made a lot of fans' nostalgic dreams come true, on the other hand, the sudden urge to revamp old shows, instead of bringing fresh ideas to life, is discouraging to other creatives hoping to break into the fold.
Whether the result of pure laziness, or just fear of stepping outside of the box, Hollywood seems to be doing the creative industry a disservice by continuing to green-light television revivals of older programs and blockbuster sequels. While speaking with The Hollywood Reporter about the movie industry's recycling pattern in June 2016, movie analyst Jeff Bock declared, "Hollywood is in a creative funk." And sadly, in 2018, it still kind of is.
According to a movie analyst report published by Atlantic, 2016 was on track to be the worst year for movies. As it turned out, pouring money into sequels, only to be surprised by their lack of impact in the theater, showed that consumers weren't as interested in familiar storylines as industry executives believed. And if we're taking into account the social media reactions to a lot of television's newest reboots, the same, of course, can be said for the small screen.
"Nowadays, everybody is just doing the same old stuff again," Hart said in the EW interview about the current pattern in Hollywood. But when it comes to the untitled Sabrina remake, the talent does think that if it must be done, the current team is handling it in the best way possible. She continued:
"If you're going to do the same show, it probably would fall on its face, but I think what they're doing is probably the smartest way to reboot something."
The general consensus on social media is that the recent influx of television reboots — bringing back the same characters, with similar storylines, but placed in today's time and space — will eventually lead to a burnout. And Hart is, at least, grateful that Netflix has decided to take a drastically different approach with the Sabrina remake than her '90s sitcom. "I think they're doing it in a smart way — change it up, don't make it the same," she said.
As for the reboot/remake trend, here's to hoping that it ends sooner than later. But if studios are insistent on keeping the feelings of nostalgia alive, heeding Hart's advice may actually work in their favor.