Melissa Joan Hart's Real-Life Personality Shaped 'Clarissa Explains It All' In A Big Way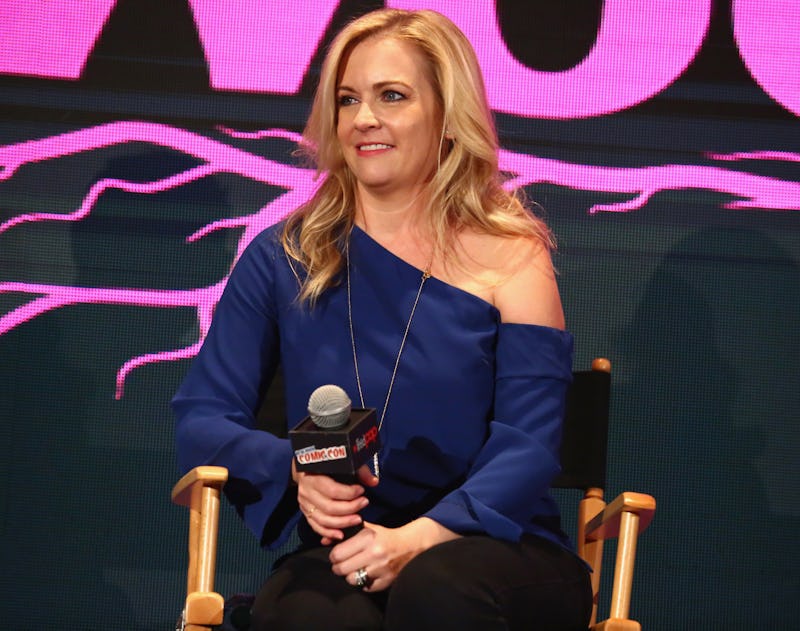 Astrid Stawiarz/Getty Images Entertainment/Getty Images
When one thinks of Clarissa Darling, a few things come to mind, like loud '90s prints, side ponytails, and her best friend's ladder up to her room. As the star revealed, Melissa Joan Hart's Clarissa Explains It All role was influenced by her actual favorite things from that decade — and those details might just be a few of them.
OK, so Hart didn't dress or style her iconic character herself. But her IRL personality is a huge part of why Nickelodeon cast her in that role. Per Entertainment Weekly, an upcoming documentary called The Orange Years: The Nickelodeon Story has so many '90s-era stars talking about their major roles during the network's infancy. Hart reportedly remembers one big moment from her audition for Clarissa, and that was being asked if she liked New Kids On The Block. You know, the One Direction (or Backstreet Boys, or N*SYNC, or 5SOS, etc.) of the late '80s and early '90s.
Per Hart, series creator Mitchell Kriegman asked her if she liked New Kids On The Block. Here's how she remembered it:
"He said, 'Do you like the New Kids on the Block?' and I went, 'Ugh, I hate them!' and then I went, oh no. This guy's in Hollywood, he probably knows them."
Cringe alert.
Fortunately, according to EW, Kriegman enjoyed that about Hart. He asked her for what sort of bands she actually did like, and They Might Be Giants was one of them. (You might not know TMBG by name, but you've definitely heard their music — "Boss Of Me" was the theme song to Malcolm in The Middle, for example.)
For the Nickeoldeon documentary, Hart remembers that her two answers — no to NKOTB, and They Might Be Giants as an alternative — helped the series creators shape Clarissa's personality a little more. They made her a little kookier, a little more alternative, and a little more sure of herself and her tastes than they'd been planning. That has part of what made Clarissa such an endearing character to fans: She was confident, and she was cool, but not too trendy. She was artistic and liked what she liked, and that was that.
In the documentary, which premieres at the DO NYC festival on November 15, former stars spill all kinds of Nickelodeon slime. Both Kenan Thompson and Kel Mitchell (All That, Kenan & Kel) reportedly appear in the documentary, as well as Christine Taylor (Hey Dude), Larisa Oleynik (The Secret World of Alex Mac and let's be honest 10 Things I Hate About You), Marc Summers (host of Double Dare, which by the way, he still does live in Philadelphia!), Danny Tamberelli of The Adventures of Pete & Pete, and more. Yes, more.
Can you think of anyone other than Hart that's had the opportunity to play two icons in the same decade? Seriously, how many other young actors have defined starring characters just by their association with them? It's a testament to Hart's strengths as an actor, and her ability to bring warmth and reliability to two unique teenage roles. Clarissa Darling is so distinct from Sabrina Spellman, but fans love them both — and they're both so perfectly Hart. As fans know now, that wasn't an accident. Clarissa, at least. Whether Hart is a real-life witch is yet to be determined.