'SNL' Adds Two Female Portrayals To Annoy Trump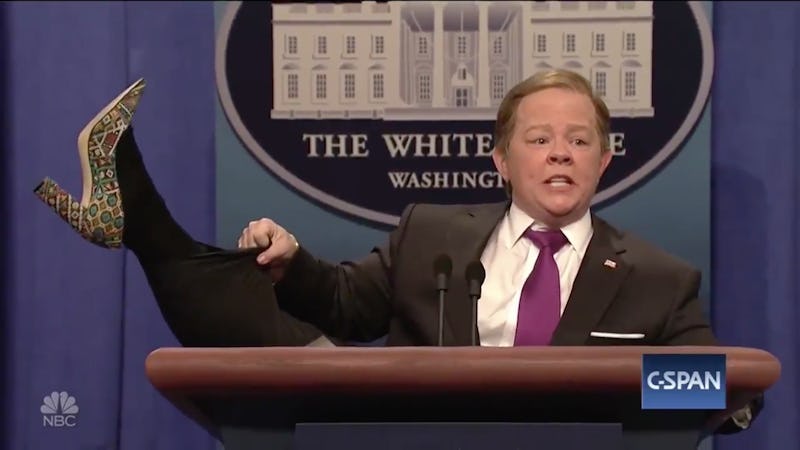 Following her much-discussed portrayal of White House Press Secretary Sean Spicer on last week's episode of Saturday Night Live, Melissa McCarthy reprised her role as Spicer in the show's latest installment. But she wasn't the only woman to portray a male member of Donald Trump's administration this time: Kate McKinnon took on the role of recently-confirmed Attorney General Jeff Sessions, and Leslie Jones later embodied Trump himself. McKinnon's depiction of Sessions is sure to rattle the president, if reports of his annoyance about a woman playing Spicer are to be believed. Jones' Trump will probably rile him up the most.
There were multiple hints throughout the opening skit suggesting that SNL's writers and producers were looking to get deeper under Trump's skin by capitalizing on this particular grievance. McCarthy's Spicer was made to come across as even more feminine — or as Trump would say, "weak," — when he passionately defended Ivanka Trump's clothing and jewelry lines by rocking one of the brand's bracelets and raising his leg to reveal one of the first daughter's high heeled shoes. Spicer also explained the specifics of extreme vetting to the room of reporters by using dolls to act out a couple of hypothetical scenarios (a blonde doll was allowed into America, while a Moana doll was turned away).
McKinnon accurately took on Sessions' Southern accent during her brief appearance. Later in the episode, Jones' Trump skit had the actress claiming to have seen McCarthy's portrayal of Spicer as a groundbreaking moment paving the way for Jones to play the current president. She dismissed questions about it being a critique on Trump's "fragile masculinity" or an attempt to make a comment about race. Sadly, Lorne Michaels crushed her dreams by refusing to give her the part.
Trump has openly blasted Alec Baldwin's interpretation of his personality and mannerisms, saying it "stinks" and "can't get any worse." Whether he'll take a more diplomatic route with Jones remains to be seen.
Spicer described McCarthy's portrayal as "cute" and "funny," though he suggested she "dial it back" a bit and reduce the gum-chewing. It's unlikely we'll get any tweets from Sessions reacting to McKinnon's spoof. If asked by reporters as Spicer was, he'll probably decline to respond.
Whether the three men liked seeing themselves mocked, it's a safe bet that most viewers probably did. McCarthy, McKinnon, and Jones undoubtedly left a good portion of America wishing they really were the White House press secretary, attorney general, and president.