Melissa & Teresa From 'RHONJ" Have Very Different Ideas About What A Wife "Should Do"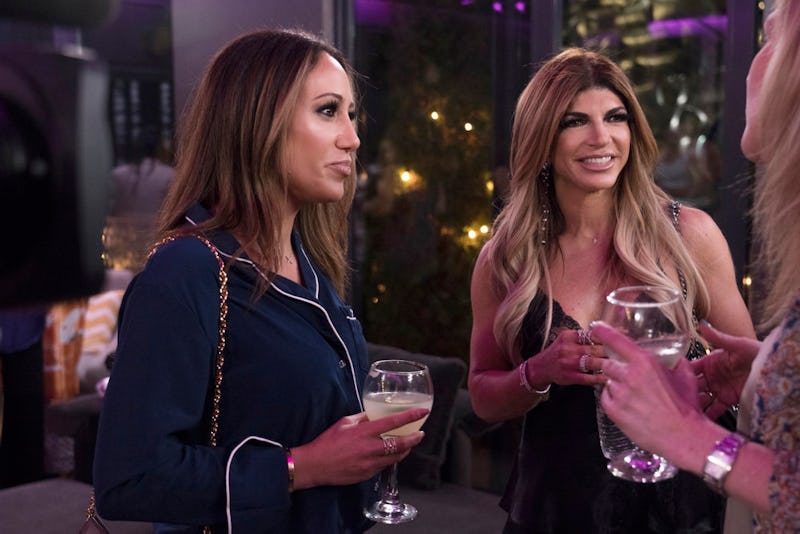 Greg Endries/Bravo
The whole point of being on a reality show like Real Housewives Of New Jersey is to interact with the other women on the program, for better or worse. For cast members like Melissa Gorga and Teresa Giudice, it's more complicated, because they are related — Melissa is married to Teresa's brother, Joe. The two have had their ups and downs over the years and they've always made up. But now, there's another family drama on the horizon and the crux of it comes down to one loaded, but fundamental point — what Teresa and Melissa think a woman's role is in a family.
This season's first point of contention is that Teresa doesn't think that Joe is spending enough time with their father, Giacinto. Their mother, Antonia, died last year, and now that Giacinto is living with Teresa, she needs Joe to step up and take Giacinto off of her hands sometimes. It's a fair request. Giacinto misses Joe, and he doesn't understand why his son can't be bothered to visit him or even call. Joe's argument is that he works 16 hours a day, and because Joe is so stubborn and apparently thinks he is the only one in the world who works, Teresa thinks she has to get through to him a different way — through Melissa, his wife.
In an argument in Oklahoma during the Nov. 21 episode, Teresa yells at Melissa to control her husband and basically make him do what she needs him to do. Melissa counters that she can't "make" her husband do anything, and that's not her place anyway. Teresa says that she is able to guide her own husband to decisions and Melissa should do the same. Clearly, they have very different ideas of the role of women in a household.
Joe, as seen in the very same episode as the Oklahoma argument, wants his 12-year-old daughter to stay home and take care of her family. That's how he was raised, he says. Joe's interjections in Melissa's 2013 book, Love, Italian Style: The Secrets of My Hot and Happy Marriage, are essentially describing marital rape. "Men, I know you think your woman isn't the type who wants to be taken. But trust me, she is," he writes in one horrifying paragraph. "Every girl wants to get her hair pulled once in a while. If your wife says 'no,' turn her around, and rip her clothes off. She wants to be dominated. Women don't realize how easy men are. Just give us what we want."
So yeah, that's what Melissa is married to. Her book backs up a lot of what Joe says about dominating and being submissive, but what's interesting is that since she's started her business, Melissa has become more independent. What Joe calls "sitting in a shop all day" is a full-scale business she started on her own that he doesn't respect. In Season 8, he said that she makes "crumbs" while he brings home whole "cookies."
In an interview with E! News in 2018, Melissa said, "I don't believe in [gender roles in a marriage] like I used to. I wrote a whole book about it and I don't know if I agree with everything I wrote any longer."
Melissa's views on the subject may no longer jive with what she thought five years ago, but she still submits to her husband in a way that makes him think he makes all of the decisions. Teresa seems to think that a man should be allowed be feel like he's in charge when it's really the wife dictating their "schedule," as she says during their fight, and that Melissa should get her husband in line. It's all sorts of gross, given that no one has even floated the idea that Joe's relationship with his father is his responsibility. Or that if Joe is so "about" family, that he should help his sister out, given that she is the sole provider for her family right now.
Teresa thinks that Melissa has some power over Joe, but maybe Melissa knows, despite her enlightenment, that her husband would never go for listening to what she wanted him to do anyway, and she's just going to stay out of it in the name of keeping the peace that they have. That is very fair and understandable.
This disagreement isn't just between Melissa and Teresa, by the way — the rest of the Housewives have fallen in line between their respective thought leader. There are women in the cast like newcomer Jennifer Aydin that see themselves as conduits of their husband, and there are women like Margaret Josephs who would laugh if her husband, Joe (there are a lot of Joe's on this show), told her what to do.
Who's right? It depends on your worldview. In a modern society, strapping women to their husbands like chattel seems barbaric and out of touch. But one thing is for certain — this fight between Teresa and Melissa is way deeper than family. It's about how they see the world.