These Spice Girls Reunion Memes Will Give You All That Joy Can Bring, This I Swear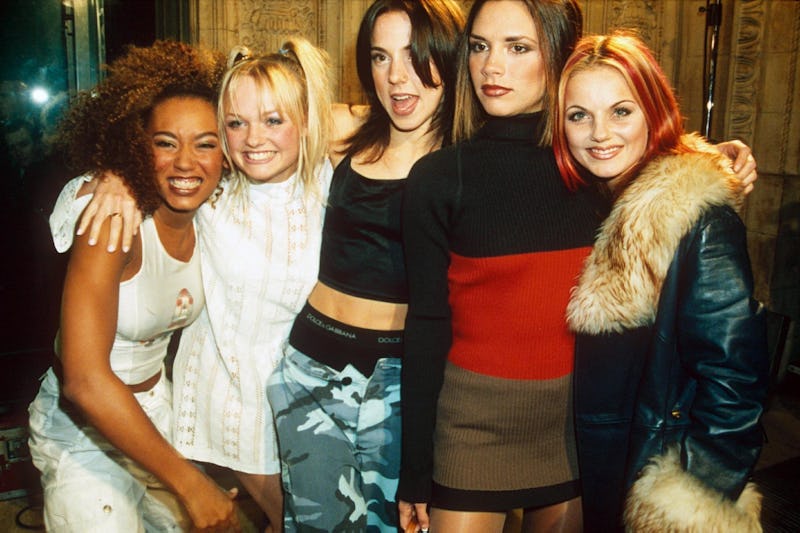 Richard Young/Shutterstock
The Spice Girls are making a comeback and '90s fans around the world have gone into meltdown. Sadly, although the band will reportedly be heading out on tour, there will be one very important person missing. According to The Sun, Victoria Beckham will not be a part of the reunion. The news means mixed feelings for fans — joy at the chance to see their fave pop stars perform, but sadness that iconic member Posh Spice won't be a part of it. And how best to communicate complicated emotions? Memes about the Spice Girls reunion tour, of course.
As soon as rumours began on Sunday night that the Spice Girls had some majorly important news to announce on Monday, social media was set alight with highly relatable fan content. Whether it was excitement at the band's imminent return, devastation at The Sun's reports of VB's decision to stick to fashion designing, or fears around just how much of a dent tickets to see the four remaining members live might make in bank accounts, one thing is for sure — the Spice Girls fandom is feeling all the feels right now.
The first, and purest, feeling was joy, as people shared their reaction to finding out major Spice Girls news was imminent. However, thoughts quickly turned to who should and shouldn't be allowed tickets, with some fans feeling they should be reserved for those who had loved the band since the '90s. As a 1993 baby, I'm making no comment on that one.
Others reflected on the potential impact the tour could have on their bank accounts. Between this and Christmas — wave goodbye any treat yo'self moments for a very long time.
Meanwhile Spice Girls fans from around the world hoped that the tour wouldn't just be UK-based so they'd have a chance to see the band in action too.
And others revealed just what lengths they were willing to go to to get their hands on some tickets.
After the excitement had died down a little, the news that Posh Spice wouldn't be completing the Spice Girls set this time hit some people pretty hard.
While others had fun imagining just how VB turned down the other members, and how she might feel when those tickets go on sale.
On the other hand, certain tweeters had no time for fans who said they'd be boycotting the comeback tour due to Beckham's absence. And to be fair, there are still four remaining members to stan, no need to cut your nose off to Spice your face. Sarrrry.
So if these are anything to go by, even if the Spice Girls reunion can't give fans Victoria Beckham, what it can provide us with is a serious amount of lols. And I suppose that, plus VB's seriously chic fashion designs, will do. Now all you have to is "slam your body down" on that buy button.