These World Cup Defeat Meets 'Love Island' Memes Are Painfully Relatable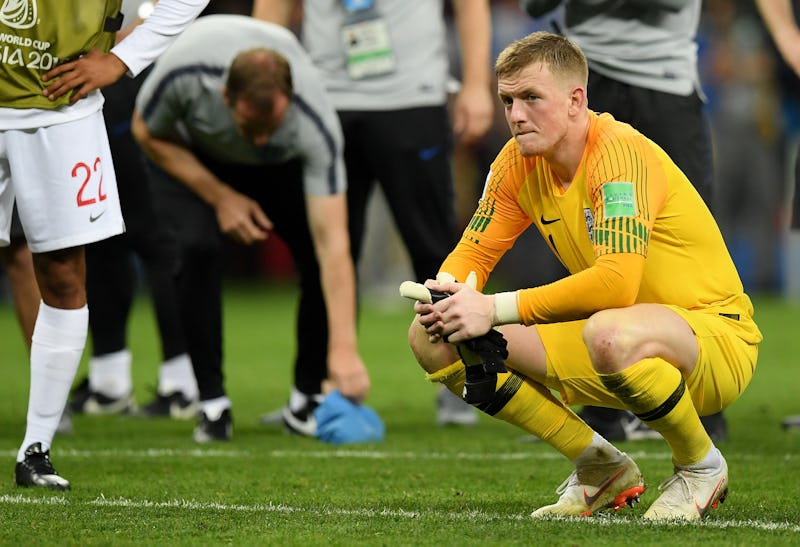 Matthias Hangst/Getty Images Sport/Getty Images
Spirits were pretty high before England played Croatia in the 2018 FIFA World Cup semi-final at the Luzhniki Stadium in Moscow on Wednesday night and I'm not exaggerating by saying almost everyone in England was watching. Nonetheless, those same spirits were downing their sorrows in presumably more spirits when the England team failed to capitalise on what may be the greatest chance to reach the World Cup final in years and lost 2 - 1 in extra time. So, England are officially out of the World Cup but the memes prove we're always have Love Island.
It's still pretty raw but I guess I can touch briefly on the England semi-final versis Croatia. Kieran Trippier lit the coming home match within the first five minutes, when he sunk an absolutely incredible free-kick from just outside the penalty area past Croatia's goalkeeper, Subasić. Nonetheless, it wasn't to last as Ivan Perišić scored the equaliser in the 68th minute and Mario Mandžukić crushed every England fan's coming home dreams in extra time.
So, yeah. The whole of England is pretty much in agreement that the World Cup is now officially cancelled, TBH. Or, at least, England fans who have Twitter.
So, what does any of this have to do with Love Island?
Well, when hopes were still high for an England victory at the end of full time and ahead of extra time, the head honchos of ITV2 decided to delay Love Island by a whole hour to a 10 p.m. start time. You know, just in case the England team got to penalties which obviously, wasn't the case.
So, since England didn't manage to get past extra time successfully, this meant there was just enough time for all you Love Island fans to rush home from wherever you were watching the game, toss your beer-soaked England shirt and mismatched waistcoat in the bin and catch Wednesday's episode of Love Island in full.
My point is, despite the England team being majorly pied by Croatia and dumped from the World Cup, Twitter viewers were sure glad they still have Love Island to watch while they lick their wounds and sober up. Below are just a few of their reactions and just to cheer you up, they're all in meme form:
Nonetheless, such is the distress of some England football fans that they can't even watch Love Island anymore. You know, because the memes prove the dream is really over for another four years at least.
Here are those reactions:
So, what actually happened on Love Island when it finally aired?
Well, new girl Alexandra Cane joined the villa during Wednesday night's episode and took the serially unlucky in love Doctor Alex George on a date. Nonetheless, she is also being pursed by new boy Idris, who viewers are already furious with for misleading Laura about who instigated that Jack and Georgia kiss— so who knows how that all will work out.
But, what for the other Islanders?
Well, despite a lot of English heartache, it was happier news for Megan and Wes, who made things official by becoming boyfriend and girlfriend. As Megan told the other girls: "I've kissed a lot of frogs and I feel like now with Wes, I want him to know how serious I am about him. I couldn't picture myself with anyone else. I want to spend the next three weeks with him."
Seriously? England get kicked out of the World Cup but Megan gets her happy ending? Eugh, I'm going to bed.
Love Island airs on ITV2, Sunday to Friday at 9 p.m.