The PSL Is Back And Twitter Is FREAKING Out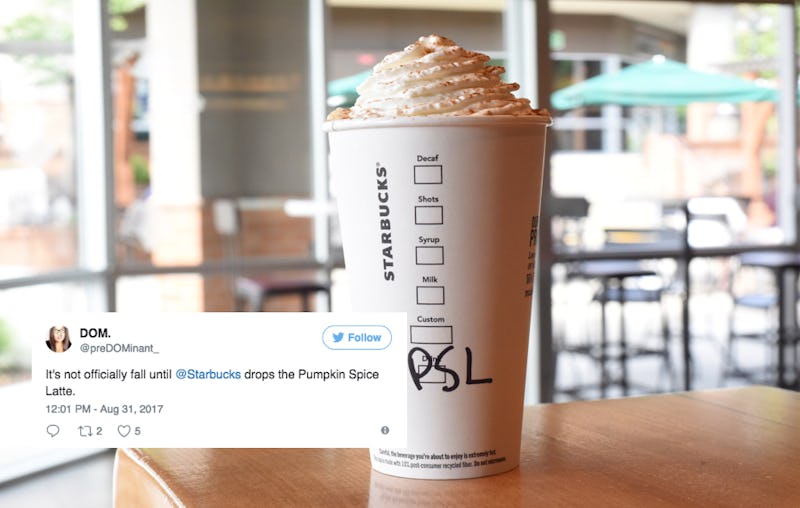 Starbucks
Which came first: the love for fall or the Starbucks Pumpkin Spice Latte? Honestly, sometimes I wonder. When I was a kid, I remember thinking fall was the worst: It meant back to school, no more pool, jackets, gloves, and cold cars that took ages to warm up. But now, everyone loves fall — no one cares about the town pool closing or the beach becoming deserted. Something has definitely changed, and personally, I think it's in huge part due to the PSL returning. I mean, looking at all the tweets and memes about the Pumpkin Spice Latte's return year after year is proof of this enough!
Now, the second the temperature starts to dip at the end of August (or even if it doesn't dip at all) the fall spirit starts to creep up on us all. First the stores put out their fall fashions and crank up the air conditioning so that when we're shopping, we're freezing, and are tricked into thinking it's not too early to buy warm clothes. And then Starbucks updates their menu and brings back the PSL and the leaves instantly crisp — at least, in our minds. I mean, fall doesn't actually start until Sept. 21 — but it sure does seem like the second the PSL it out, the seasons change!
People go crazy for pumpkin-everything. If you don't believe me, here are a few of my favorite PSL memes and tweets that best express the pumpkin thirst that sweeps across the nation, all thanks to Starbucks and their rerelease of the PSL on Sept. 4. It might still be summer, but the PSL is working really hard to change that:
What If The Tables Were Turned?
Never really thought about it like that...
Everyone's Favorite Spice Girl
I mean honestly, she's the most relatable.
Bro
Same. We want it too.
Is Pumpkin Spice A Color?
Because it should be. Ask your stylist if they have it and LMK!
Practically?
You mean literally.
Screw The Calendar
Starbucks will tell you when it's fall.
Literally All Of Us
*Sweats in flannel in 90 degree weather because #fallfashion*
You're Welcome, Ants
Can you blame them tho?
You Guys, Save The Pumpkins!
This actually made me laugh out loud. I'm sure someone out there thinks this is real.
So You Spend It On A PSL
I mean, if you've got enough money to get a PSL, get a PSL.
TFW...
We can all relate, let's be honest.
Can This Please Be A Thing?
Raise your hand if you'd rather get a free load of PSL gift cards than a new car.
Mother Knows Best
Fall is not a season, but a drink made by Starbucks.