You Could Be Getting Your Pumpkin Spice Latté Drink On Real Soon, According To Reddit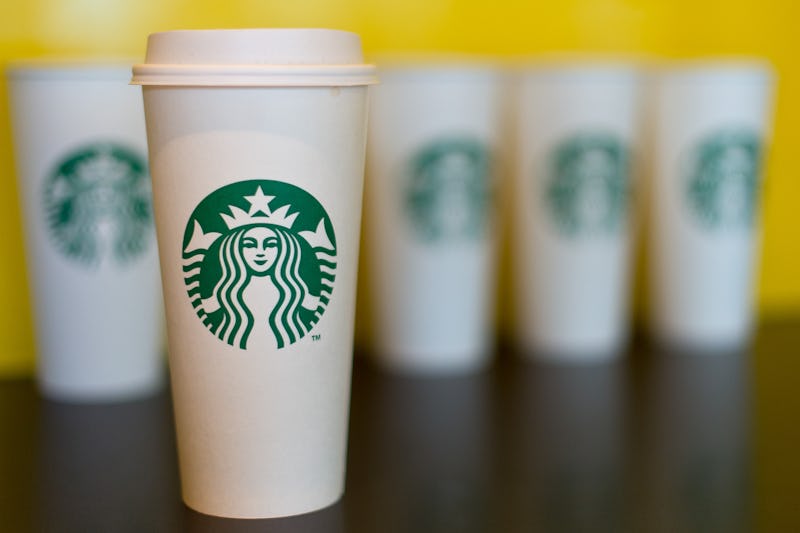 Ben Pruchnie/Getty Images News/Getty Images
If you're on team Pumpkin Spice Latté, you don't care that looking forward to the fall Starbucks menu means also looking forward to fall and fast-forwarding through the end of summer. You want your PSL, you want it now, and you don't care if that means wishing away the last of the beach days. Which is exactly why you're going to freak out over this: There are some intriguing rumors floating around the internet that the Starbucks Pumpkin Spice Latté release date could be pretty, pretty, pretty soon. While we don't have an official confirmation from Starbucks yet (Bustle has reached out to Starbucks for comment, but has not yet heard back), I've done some sleuthing on Reddit, and there are a lot of interesting comments about the Pumpkin Spice Latté release date from users who claim to be baristas at Starbucks locations around the country. Specifically, many seem to imply that it might be Sept. 5.
As you might know, Reddit is a community in which people can anonymously share information with specific groups. As you may also know, there's a Starbucks subreddit, in which employees often share secret information and behind-the-scenes looks at what's going on at the store. While of course I have to put unofficial chatter in the "rumor" category, it's still pretty interesting to read these rumors and daydream about everyone's favorite fall drink returning.
But without further speculation, here are some of the rumors I've spotted on the Starbucks Reddit:
"Just Chill"
This one employee says that customers have to "just chill" until Sept. 5 — implying that the PSL release date could be Sept. 5? IS IT?!
"September!"
This employee says customers have to wait until September, implying that the release is soon, but no specific date.
"It's Arrived"
I mean, if "greencatshomie" is telling the truth and bottles of the PSL sauce have been opened for some, that could mean the release date is soon.
But When?!
Some employees say that their (unspecified) store could be serving it as soon as Sept. 1.
While other employees say that while they may have the ingredients to make the drink by Sept. 1, they won't be serving the drink until Sept. 5. What does it mean?!
The Proof Is In The Sauce
I mean, pics or it didn't happen: it happened. The sauce has arrived at this particular store, there's no refuting the evidence.
Early Release For Rewards Members?
Another theory we can gather from this thread is that the PSL could be available for eligible members (or maybe even just people who ask) on Sept. 1, then the general population on Sept. 5. This could make sense...
Either way, it's safe to say that we're about to get our PSL game on real soon — all that's up in the air is the specific date. #HappyPSL!