Meryl Streep & 'Five Came Back' Are A Perfect Match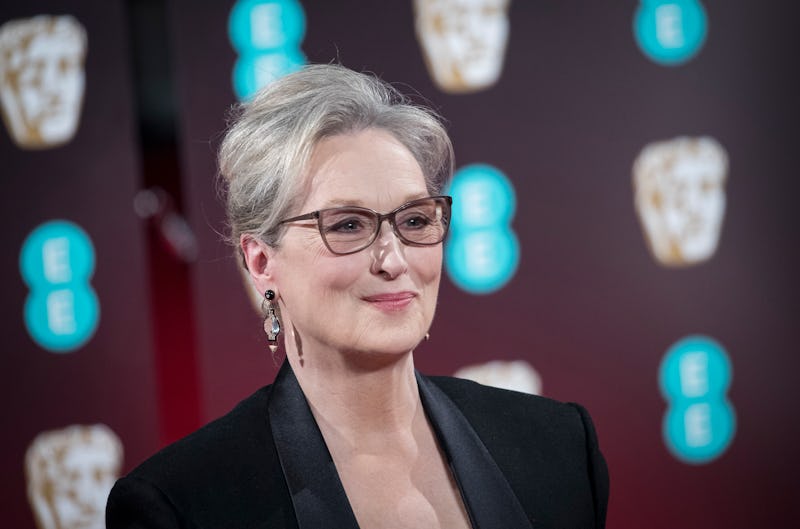 John Phillips/Getty Images Entertainment/Getty Images
The relationship between World War II and Hollywood has long been cemented in the minds of film fans thanks to the array of movies about the events of WWII. The Netflix documentary Five Came Back looks at five directors who served in WWII and how their war experiences impacted their time in Hollywood afterward. Five current filmmakers also give insight on these five male directors and Meryl Streep narrates Five Came Back. While an actress who wasn't even born until after WWII may not be an obvious pick, her previous experience being in films about WWII, her status as a Hollywood icon, and her relationship to some of the featured directors in the documentary prove that Streep was the perfect person to narrate Five Came Back.
Although her reign in Hollywood didn't start until the late 1970s, Streep has been in her fair share of movies about the events of WWII — particularly the Holocaust. Her first onscreen role in a movie was in Julia, which stars Vanessa Redgrave as a woman who battled the Nazis, and Streep's very next role after Julia was in the TV miniseries Holocaust. In 1982, she memorably starred in Sophie's Choice and won a Best Actress Oscar for her portrayal of an Auschwitz survivor. Three years later, she starred as an Englishwoman who fought in the French Resistance in the movie Plenty.
Yet, the decision to make Streep the narrator for Five Came Back had less to do with her previous roles and more to do with the fact that she is Hollywood royalty. As Five Came Back director Laurent Bouzereau told Bustle in an interview, "... we always knew we needed a narrator ... we were thinking, 'I don't know, Ben Affleck or Matt Damon, and no, no, no, no this should be a woman and it should be Meryl Streep.' And luckily she was available."
The writer for Five Came Back, Mark Harris, echoed this sentiment that they just knew Streep was the right person to narrate. He admitted that Streep is "everybody's first choice for everything," but that there was another reason why her narrating this documentary works so well. "I did really like the idea of a woman narrating a WWII documentary, but particularly this woman who seemed to me to have kind of warmth and a moral center and authority and humanity that I really loved," Harris said.
Beyond Streep being able to convey goodness and integrity with just the sound of her voice (no matter what Donald Trump thinks), she also interestingly has a couple connections to the filmmakers involved in the documentary — after all, she is the greatest actress alive today. Five Came Back documents the experiences of John Ford, William Wyler, John Huston, Frank Capra, and George Stevens, who all stepped away from their successful directing careers to serve in WWII. Streep is on the young side to have worked with any of them, but to guide the documentary, Steven Spielberg, Francis Ford Coppola, Guillermo Del Toro, Paul Greengrass, and Lawrence Kasdan give commentary on these five inspirational filmmakers. While you'd think that Streep would have worked with all five of these modern directors before, she only has connections to two of them.
Although it's hard to believe, America's most beloved director — Spielberg — has never directed America's most beloved actress — Streep — in a lead role before. Well, at least until now. Streep is set to star with Tom Hanks in Spielberg's next project, The Post, about The Washington Post publishing the 1971 Pentagon Papers. She had a cameo as the Blue Fairy in Spielberg's A.I. in 2001, but other than that, their paths have only crossed in documentaries. Besides Five Came Back, the pair has been featured in numerous documentaries about Hollywood, like Everything Is Copy about Nora Ephron, and Streep narrated the 15-minute documentary Auschwitz (which you can watch online) that Spielberg produced.
Streep also has a link to Coppola. Both were featured in the HBO documentary I Knew It Was You: Rediscovering John Cazale. Cazale is known for playing Fredo Corleone in Coppola's The Godfather and The Godfather: Part II. Streep dated Cazale for two years before he died from lung cancer. According to Vanity Fair, Streep and Cazale had met performing Measure for Measure for Shakespeare in the Park and one of the reasons she took a part in Deer Hunter was to be with Cazale since he also starred in the film.
Obviously, Streep has a long legacy within Hollywood and even though her time may not have overlapped with the five directors who are the subjects of Five Came Back, she often acts as the moral voice of Hollywood. Her 2017 Golden Globes speech more than proved that and she continues providing a calm voice of reason in her narration of Five Came Back when it premieres on March 31.
Additional reporting by Samantha Rullo